The Place To Be–For The Coming Decade And Beyond
"We read about it online," the 30-something from Los Angeles explained. "Then we saw an ad for a cheap airfare, so we booked a couple of tickets. We're here in the country for a long weekend. I wish we had more time, but we have to be back in LA by Tuesday. We had one night in Panama City. Someone there told us about this place, and we thought it sounded nice, so we came here for a night or two. We're trying to arrange a flight from here to Bocas del Toro. That's probably all we have time for…"
Later, when we were alone, Lief and I looked at each other and said, almost together, "Who were those guys!"
We'd never encountered a couple of tourists quite like them in Panama before. A couple of young, well-dressed, obviously successful American guys who'd hopped a flight for a quick weekend in Panama. Retirees, backpackers, eco-tourists, older gentleman in search of younger female companionship…sure, Panama's got plenty of those. But young urban professionals, for whom money didn't seem to be any object, hopping around the country over a long weekend? That's new.
And those two guys weren't the only ones like them we met this weekend.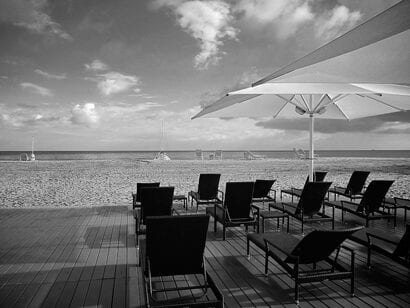 We spent the weekend at Buenaventura, a resort development on Panama's Pacific coast about an hour-and-a-half outside Panama City. We've known Buenaventura since her birth, about 15 years ago. We've watched her these years since as she's grown, slowly at first, more quickly more recently. Back at Buenaventura this weekend, we recognized that this place has come of age.
When we saw Buenaventura for the first time years ago, it was, frankly, just another piece of land with a nice coastline. Our first visit, the clubhouse was under construction, along with a handful of getting-started condos. Today, Buenaventura features the best resort hotel in the country, truly five-star (and that became, just about a month ago, a JW Marriott property); a clubhouse that, with its five swimming pools stretching, one after another, to the beach and the ocean, could be at home on the cover of Conde Nast Traveler magazine; condos, townhouses, private homes, and beachfront villas (for which "villa" is not an inflated description); an 18-hole golf course and golf club; plus several restaurants, shops, a church (where two weddings took place this weekend), and a spa.
Nothing at Buenaventura, Panama is cheap, but it's all a good example of getting what you pay for. The service, the amenities, the food, the ambiance…it's all of a better standard than you'll find anywhere else in this country…better, almost, than you'll find anywhere else in Central America.
At the pool, in the restaurants, at the concierge desk, all weekend, we ran into all kinds of characters we've met before in this country only now and then, never before in such a high concentration–American families with small children, a group of French women, the guys from LA, and an entire busload of upscale gringo tourists.
Tourism in Panama has turned a corner. This country, like Buenaventura, is coming of age, increasingly recognized as a mainstream holiday and beach destination.
For the past five years, since the global real estate market debacles of 2008 and after, people have asked when we expect the collapse to come in Panama. Certainly the Panama City property market is headed for a fall…isn't it? So much construction–of hotels, condos, and commercial space–so much new inventory coming online. How could it all possibly be absorbed? Prices have to tumble, don't they…even crumble?
Panama City prices did soften in the wake of 2008, by about 20% across the board. But they've held their levels since and have even begun appreciating again. I don't see any further tumbling in this market's future anytime soon. Nor in the rest of the country, either.
I haven't been able to confirm this as fact yet, but, last week, I was told by two people I trust and who usually know what they're talking about that Panama banks today have an average liquidity rate in excess of 60%. Meantime, the government of Panama continues to take the proceeds from Panama Canal operations and plow them into never-ending infrastructure and improvement projects across the country.
No, you don't get the feeling that this market is in for any correction. You get the feeling, traveling, doing business, and living in Panama, that this country, like its premier resort offering Buenaventura, even with as far as she's come, is still just getting started. You get the feeling that there's still big upside to be seen…and that this is a place where you'd do well to take a little stake, for the coming decade and beyond.
Kathleen Peddicord
***
Kathleen Peddicord's New Book "How To Buy Real Estate Overseas" Available Now Pre-Release!
Kathleen Peddicord's latest book, published by Wiley & Sons, hits bookstores April 8. Starting now, though, you can buy a copy pre-release and save 36% off the release price!
Go here now to place your order for "How To Buy Real Estate Overseas"!
Image credit: Roger Schultz