This is one of the most successful offers I have ever shared with Overseas Opportunity Letter readers…
And it's closing out very soon, for good.
My family and I, along with more than 2,000 readers, have already jumped on this deal. If you haven't joined us yet, I can try to explain the concept of productive land investments in a more traditional way:
Specifically, this is like stock that's projected to net you 17% for the rest of your life.
This is an investment in long-term farming, with land that you own but don't need to manage or deal with in any way.
Thanks to the growing—and urgent—demand for agricultural produce around the world (including the United States), this type of investment has become incredibly lucrative.
We're talking double-digit returns. Generous double-digit returns.
As I said, I've invested in these offers personally and have put my readers onto them, too. In all cases so far, the numbers have played out as projected, and those of us who got in early are already enjoying the payouts.
Which brings me to today. As of this writing, only 11 hectares of mangos now remain available.
I'll run you through the numbers in a moment, but first, let's take a step back to review the opportunity on the table here, and why today—when you can take advantage of the last five years of development and growth—it's an even better deal than ever.
Organic Farms-In-A-Box: A Sell-Out Project…
Back in early 2014, we began working with a group in Panama with an idea for a mango plantation investment intended specifically for the individual investor. (Mangos are the most widely consumed tree fruit in the world.)
Their plan was to open up their plantation to small investors in an effort to grow more quickly and to achieve some economies of scale. We introduced readers to this opportunity to own their own piece of this mango farm while the development group took care of all of the work—planting, irrigation, fertilization, and eventually caring for the trees and harvesting the crop.
The response was overwhelming. The mango plantation sold out in months.
Later, the same group put together a small plantation of limes, at the behest of one of their biggest U.S. buying groups.
They launched with 100 hectares and sold out in six days.
I have been involved with the launch of many real estate development projects, but I'd never seen anything like it…
Every previous plantation has sold out.
The Top 3 Reasons For The Farm's Success…
For one, the entire plantation (and all produce grown within it) is "Certified As Organic."
This is a critical requirement for bringing the product to market in the United States.
Two: The developer here has been working with a distributor for major organic grocery store chains (you've heard of them) for years now. The distributor can't get enough supply to meet demand in the United States and has repeatedly come back asking them to target organic fruit production.
Every harvest sells out.
Three: And this is an even bigger bonus for you acting now—this project invests in research and development. When that U.S. distributor came back looking for more mangos, a new even tastier variety was created. New and hardier fruit varieties, crop management, harvesting techniques… growing distribution channels, working with the government…
It's all been figured out—successfully.
I've driven down to the farms several times to check this out myself. There are now vast hectares of fruit trees, producing lime, avocado, and mango harvests, which consistently sell out both to Panamanian markets and to a distributor for major chain stores in the United States.
Way back, when we first alerted readers to this opportunity, the biggest risk factor was implementation: Would the developer carry through to do what he was promising he would do?
Back then, you had to ask that question. The developer had acquired the land for the plantation, but clearing and planting hadn't begun.
We early investors started with this…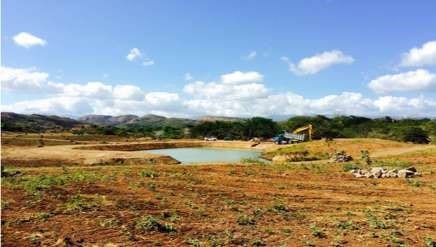 Today, you're getting in on this…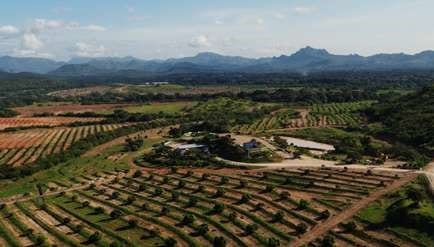 This was a good deal back in 2014, when the risks were yet to play out…
Now, even though the risk is gone, you can still get in at an asking price of only US$41,000 for a hectare of mangos.
The Numbers: US$41K Nets You US$417K Over 30 Years…
At that price, the projected IRR (Internal Rate of Return, the annualized return over the lifetime of the investment) works out to 17% over 30 years.
It works out to nearly US$5,000 in net cash flow in year 3, over US$9,000 by year 5, and US$17,0000+ per year from year 15 on for each hectare of mangos.
All told, we're talking about adding US$417k to your pension fund over the next 30 years. And let's face it… we can't count on Social Security, so this is a heck of a bonus paycheck to get in the door every year during retirement.
Furthermore, while the plantation projects a return on investment for at least 30 years, keep in mind that mango trees can produce for up to 80 years. This is an investment for you… and for your heirs.
Only 11 hectares remain available for these mangos…
All avocado and lime hectares have sold out.

And, remember, every investment comes with full and free title to the land.
I just signed my title documents last month and should have the registered title in a couple weeks.
You own the land; the farming company works it for you, from seed to harvest… meaning this is a completely turn-key proposition.
If you've been waiting to invest in these fruit plantations for any reason, the time for waiting is over… it's now or never…
The developer has announced they are closing out all current plantations and they are selling out fast: remaining inventory is only 11 hectares of mangos.
These are expected to be sold out before the end of the year.
Lief Simon