When I first visited China in 1994, there were more bicycles on the streets of Chengdu, the capital of Sichuan province, than cars.
Roads were just being built throughout the country. The economy was on the verge of fully embracing a capitalist model after decades of failed communist policies.
I stayed at the Jinjiang Hotel, the first five-star hotel in Chengdu. I marveled at the marble work, the remote control for the drapes, and the great breakfast buffet. There was no internet back then, at least not for the public. Sending things to people via fax was still the norm.
Fast-forward to today. Shanghai is unrecognizable from what it looked like 23 years ago. Reclaimed land has allowed new development on the East Bank of the Huangpu River. The skyline is second only to Manhattan's.
When I land in China, I like to do so during the day or early evening, especially if I'm landing in Shanghai. That way I can take the subway. When I get in later, I am at the mercy of the airport cabbies. That's always an expensive experience.
I flew into Shanghai from Delhi on Air India. That was my first mistake. Air India is a notoriously bad airline prone to major delays. I wanted to save a few bucks, and its nonstop ticket was half the cost of the next option.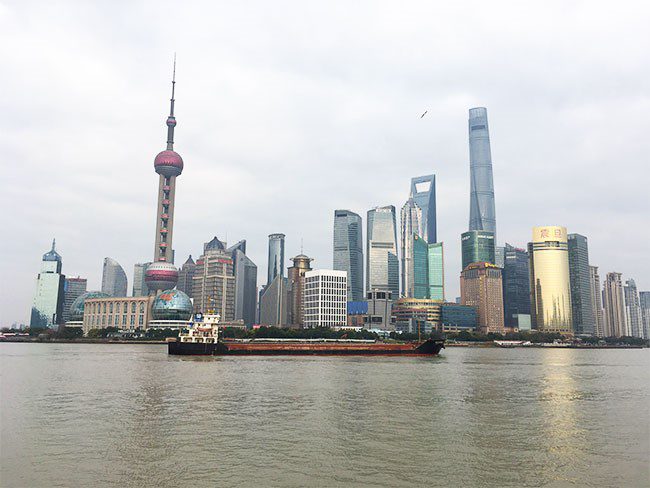 Instead of arriving at 8 p.m., I arrived at 11 p.m. The last subway into town leaves at 11:30 p.m. By the time I deplaned and made it through immigration, it was past 11:30. I had to find other transportation options.
One taxi driver offered to take me to my hotel for 350 yuan (about US$50). I offered 250 yuan. He refused.
At this point, I knew I was hours away from a pillow. I made my way down to the airport bus terminal, looking to hop on the night bus into town.
Shanghai is quite safe, in case you're thinking I was out of my mind.
I stumbled upon a second cabbie. He offered to take me to the hotel for 250 yuan. I balked and offered 150 yuan (US$22). He accepted.
That kind of price drop, from the original US$50 to US$22, is how things progress in China. You bargain… for everything. I probably could have bargained the next guy down to US$15, but that would have taken another hour and I was sleepy.
I was still upset about having missed the subway. Had I made it on time, it would have dropped me directly beneath my hotel at a cost of a whopping 65 cents!
On The Ground
My primary goal for this trip was to see what was happening on the ground.
In short, Shanghai is a booming metropolis. The pollution is bad but not as bad as in Beijing or New Delhi, so the place is phenomenally livable.
The infrastructure is outstanding, from the two local international airports and the massive maze of highways, overpasses, and toll roads to the excellent and super-cheap subway systems and the excellent city roads, pedestrian-only streets, and sidewalks.
For a city of 24 million people, it's amazing how well things flow. Just know, however, that you can't cross the road without looking in both directions at least three times. Drivers in this city have the right of way!
The strong dollar is a huge boon for travelers like me. If you've got dollars to spend, Shanghai is dirt cheap. Subway rides around town are rarely more than the equivalent of 50 cents. You can grab a meal for a few bucks if you want to eat like a local, and hotels are abundant and likewise cheap.
I stayed in a five-star property, maybe the second-best hotel in town, and I paid less than US$150 per night. The same hotel with the same amenities and lesser service would have cost me close to US$1,000 a night in New York City.
The Story Of Zhang
Perhaps the most eye-opening part of the trip, besides the fact that I could still buy high-quality knockoffs I wanted for the same price as I could five years ago, was the conversation with my friend Zhang, the head of a large biopharmaceutical company in the country.
Zhang opened his first factory outside Shanghai 12 years ago. He paid a million dollars for the land and borrowed a million dollars for the building. Today, the land and building are worth more than US$15 million.
That's the story all around Shanghai. Fortunes have been made with land and buildings.
And it shows in all the glitz and glamour. The city is probably second only to Dubai when it comes to conspicuous consumption.
Zhang met me at the Flair Bar, atop the Ritz-Carlton. The view was of the Oriental Pearl Tower and parts of the Pudong skyline at night.

We had met before, so we dispensed with the small talk and got right down to business. I wanted to know how Zhang was making money.
The simple answer is labor. Zhang pays his factory workers the equivalent of US$300 per month for six-day weeks. He sells his products both inside and outside China, including in the United States.
His margins are beyond incredible.
I knew that Zhang was making big money in Shanghai, but what I didn't know was that he is scoping out two other locations for expansion where labor is even cheaper—Vietnam and Cambodia.
According to Zhang, he is setting up factories there for a fraction what he paid for his first factory in Shanghai more than a dozen years ago. To top it off, he is paying his Cambodian and Vietnamese workforce the equivalent of US$150 per month, half what he is paying his Shanghai workforce.
How You And I Can Take A Position
China can be an excellent choice for an entrepreneur like Zhang looking to build a business.
What about the rest of us?
Since the yuan is loosely pegged to the dollar, the rise in the dollar has strengthened the yuan. That has been detrimental to Chinese exports and is why the yuan is already undergoing a devaluation (10% in 2016).
These issues make investing in China a questionable venture right now.
We could take advantage of the bargain prices that Asian and emerging market shares are offering… only to see that investment fall when the confrontation between the United States and China heats up.
Right now, many of the investments I am looking at are trading at discounts of between 10% and 15% to their net asset values. That's excellent.
But then I recall that those same valuations dropped to discounts of more than 40% in 1997 during the Asian financial collapse. The illiquidity and panics in emerging markets have to be experienced to be understood.
I've been there, done that, and profited from it. But it wasn't pretty.
Some days you'd watch your investments fall by 15% or more, and other days you'd see them rise by the same amount or more. Headline risk was everywhere. Think the United States in 2008 but on steroids.
China is approaching that point of critical mass where local demand produces organic growth. While still reliant on exports for growth in general, the country is not at the mercy of exports anymore.
Anecdotally, I spoke with one of the managers at the Ritz-Carlton at length. I asked in particular about the hotel's clientele. I was expecting to hear that the majority of guests are foreigners, but I was wrong. I was told that more than 80% of the hotel's guests are from China and other parts of Asia. Ten years ago, the reverse would have been true.
But while China and the Chinese are spending both at home and abroad, the spending is debt-fueled. For now, debt service is being met through a variety of means, including government subsidization of bank losses through write-offs and creative accounting.
That can last only as long as the growth continues… meaning that, no matter how attractive the valuations are in some sectors, any investment in China must be viewed as a speculation.
Karim Rahemtulla
Co-founder and Editor, Beyond The Dollar