Historic Cities retain their charm, but the world is changing.
We live in the urban age, the age of the metropolis. For the first time in history, more than half of the global population lives in urban areas.
This is increasing. For most people born after 2000, cities are the future: 60% of the population will live in cities within the next two decades.
In developing nations, new cities are springing up in response to the growing demand. Hours of meticulous planning go into the grid layouts. Designed with the modern world in mind, these cities aim to be the perfect place for modern life.
Still, UNESCO World Heritage Sites draw tourists from around the world, soaking in the sights, sounds, and culture. Cities with a rich history are usually a hit with expats and retirees but also digital nomads looking for Instagram-friendly locations.
The World Is Changing Faster Than Ever Before
In a world where phones, TVs, and even cars are updated more regularly than ever, the old cities should have been well and truly left behind. Despite this, we still love historic cities.
Even though they have been haphazardly created, with little space for parking. Even though we frequently get lost down narrow winding streets that seem to lead nowhere. We persevere through the indecipherable public transport systems and strange zoning laws—none of these things count for much when weighed against a city's character.
Although the original industries they relied on may have vanished, new technology and changes in the way people work are making historic cities relevant again.
Here is a list of historic cities which are drawing interest from retirees, digital nomads, and entrepreneurs.
Hoi An, Vietnam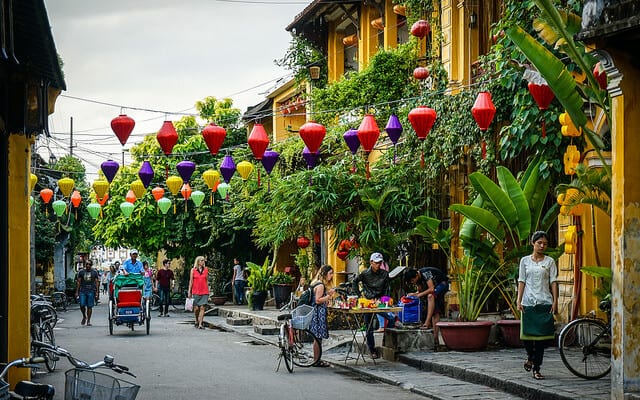 Hoi An is an ancient city which started out as a trading port. Like many port towns, Hoi An has long been home to a variety of cultures that combine to give the town its identity.
Hoi An is one of the best preserved towns in Vietnam. Watching the traditional boats pass along the canal, it's easy to imagine you have gone back in time.
Easy flights from Ho Chi Minh and Hanoi have put Hoi An back on the map, and garnered more attention from tourists. Digital nomads enjoy  the low cost of living and fast internet connections available. High demand has led to more properties being built to western standards.
Hoi An is home to some of the best food in Vietnam, and the ideal place to learn traditional cooking methods. Cooking classes in English are available for all abilities. It's a recommended place to get tailor-made clothing. In Vietnam you'll find that the prices and quality of workmanship is as fine as you can find anywhere.
The Climate 
The climate in Hoi An is different from the rest of southeast Asia. From January to June the weather is hot and sunny, peaking in July and August when the temperatures get intense. From September to December is the rainy season, and it can rain most days so you'll need to get used to grey skies.
Things To Do
Hoi An has some spectacular, well preserved temples. The nearby My Son temple and Marble Mountains caves are decaying Hindu buildings dating back to the 4th century. You have to pay a fee to gain access to the ancient town within, the money is used for town maintenance. The fee also keeps the crowds down as there are a high number of tourists in the region. The beach towns close to Hoi An are quiet and unassuming with fewer tourists and expats, and the nearby national parks provide excellent hiking spots.
Getting About In Hoi An
If you're staying in Hoi An long term, you will need to consider getting a scooter or motorbike. Public transport is cheap but not the best. However the heavy traffic makes owning a car impractical.
Prices are so cheap that you can get a restaurant meal for under US$5. If you want lunch from a street cart, it will be about US$1. As with other places in Asia, you can avoid cooking your own meals altogether and not be out of pocket.
Santo Domingo, Dominican Republic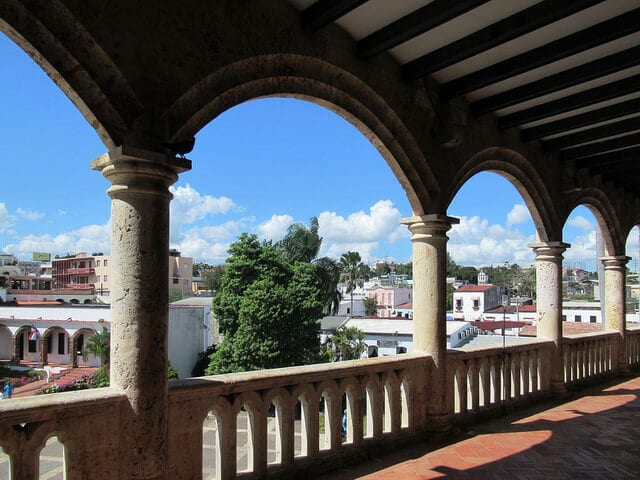 The capital of the Dominican Republic is a picturesque colonial city in the Caribbean. The city was built by Bartholomew Columbus, brother of Christopher Columbus. Santo Domingo was the second Spanish city in the New World.
Santo Domingo is unusual in the Hispanic Caribbean for having French influence—the island was ruled by France from 1801 until 1821. French style architecture remains in Santo Domingo, sitting alongside the Spanish.
Santo Domingo has a diverse restaurant and food scene. Depending on what you are looking for, you can find anything from traditional eateries and comedores to fine eating. A special mention goes out for the astounding variety of fresh seafood.
Historic Architecture
One striking example of a historical building is Fortaleza Ozama, a UNESCO World Heritage site, built in 1502 by the Spanish, and it's a well preserved fort from Santo Domingo's Colonial past. It sits on the Ozama River. It was used as a prison as recently as the 1960s but, more recently, it has opened up for public tours.
Santo Domingo has the Universidad Autónoma de Santo Domingo (UASD), one of the oldest Universities in the Western Hemisphere. In 1538, a papal bull was issued officially recognizing UASD as a university.
Santo Domingo is has a varied culture. You can find lively dancing venues where people love to dance to the local merengue music. The country has an established expat community made up from people of all nationalities. European culture is especially strong, with France, Italy, Germany and the U.K. all well represented.
Santo Domingo boasts a number of outstanding museums. Located within the colonial area, the museums provide a fascinating perspective of what life was like through the ages. You will find treasures salvaged from sunken ships alongside various ceramics and everyday items.
Residency Options In The Dominican Republic
The Dominican Republic is currently one of the best places in the world for obtaining a residency and you can quickly and easily gain your citizenship here. The Dominican Republic currently has no restrictions against foreigners buying real estate, which is encouraging a lot of foreign investment. If you are looking for a more secure future by diversifying offshore, the Dominican Republic is an option worth considering.
Granada, Nicaragua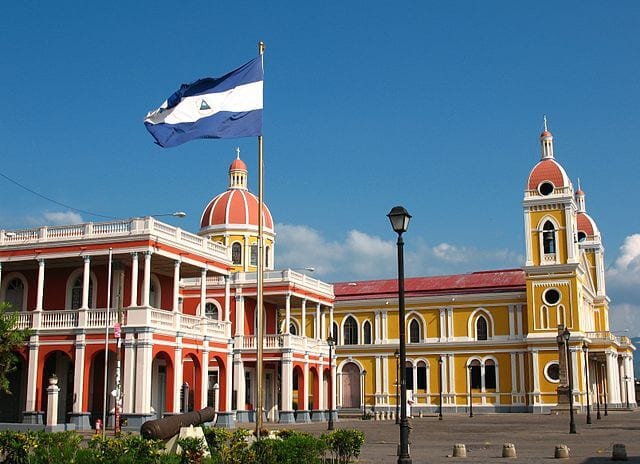 Called "The Paris of Central America", Granada sits on the shores of Lake Nicaragua. Hernández de Córdoba named it in honor of the city Granada from his native Spain. The favorable location led to Granada becoming a thriving trade center. The wealth of the city and volume of trade passing through, attracted the interest of pirates.
Granada's Pirate History
The notorious Henry Morgan launched a stealth attack in 1665, and made off with around 500,000 sterling silver pounds after sacking the city. Later on, William Walker conquered the city with the intention of becoming ruler over South and Central America. He had initial success, to the point of being recognized as the ruler of Nicaragua for a time. After a short-lived reign ended, he tried to burn the city down before fleeing.
Unlike Panama City, who had to completely rebuild after being burned down by its own governor, Granada is a well preserved historical city. The abundance of colonial buildings make it a favorite with photographers. Horse-drawn carriages are still popular here and provide a scenic link to the past.
Is It Safe?
Granada is a safe city and opportunist crimes, such as stealing phones or iPod, are a danger, but more serious crime is rare. Most expats and tourists report feeling safe in Grenada. By taking basic precautions you should steer clear of any problems.
Granada has plenty of museums documenting its rich history. Those with a sweet tooth will appreciate the ChocoMuseo. Here you can learn about the country's chocolate-producing history and enjoy samples.
Granada is one of the most affordable expat locations in the world. You can comfortably survive on US$1,000 per month and live like a king on US$2,000.
Valletta, Malta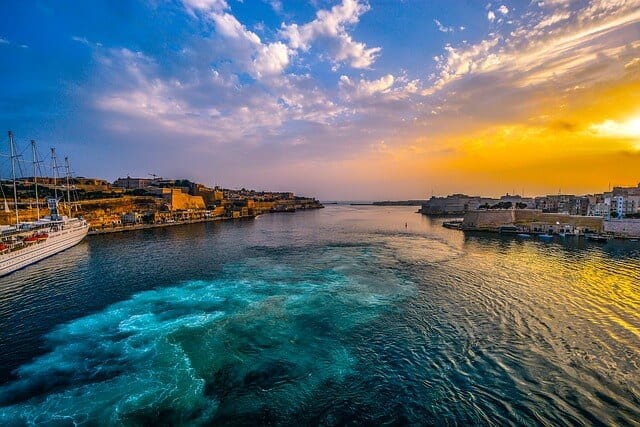 One of the smallest capital cities in Europe, Valletta dates back to the 1500s, the times of the Christian crusades. Built by the Knights of Malta (Knights Hospitaller) on what was then an empty peninsula, because of the important location. The Hospitallers had need for a stop off point for ships travelling to and from the Middle East during the Crusades. Valletta became fast an important strategic location for the knights.
As an important port, the fortification of Valletta became a priority. Money poured in from the Vatican and Prince Philip II of Spain, and building started in 1566. Francesco Laparelli, a military engineer, drew up the plans and work was completed in 1571.
One Of The First Planned Cities
In the following years the city continued its rapid growth. Valletta is one of the first examples of a planned city, with most of the roads designed with defense in mind.
In 1814, Malta officially became part of the British Empire. It became an important stop off for the British trade ships headed to India. During the World War II, Malta found use as an allied naval base and, to this day, has a lot of British customs.
The baroque buildings from the time remain beautifully preserved today. Although Valletta took heavy bombing during WW2, much of the city survived.
Exploring Under The City
Valletta is home to a mysterious labyrinth of underground tunnels. We know little about what lies under the city. We do know of a huge reservoir, so big, it needs a boat to cross. However the area is strictly off limits, which has led to some interesting and wild speculation.
Valetta became a European Capital of Culture in 2018, and its future looks bright. Lots of tech companies operate out of Malta nowadays, and, recently, lots of cryptocurrency companies have moved their headquarters here.
Budapest, Hungary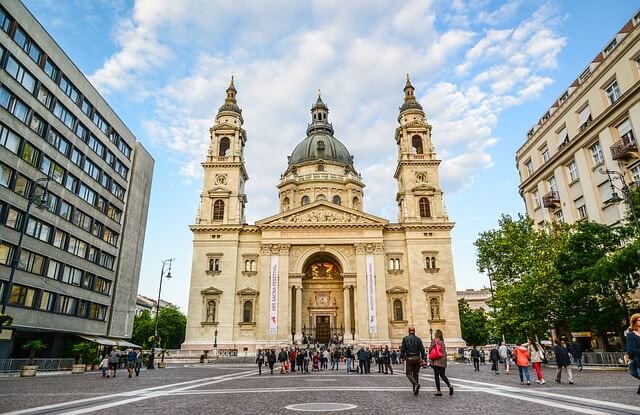 Originally three cities, Budapest was born after the cities of Buda, Pest, and Obuda merged. Buda was a royal town with Pest being the trading center. Obuda was the oldest of the three, tracing its history all the way back to Roman times. In 1849 the Chain Bridge opened and linked the three by road.
Budapest has one of the finest opera houses in the world, the neo-Renaissance Hungarian State Opera House. Here, you can visit the Opera for the same as a cinema ticket in the States. A city which prides itself on culture, its residents always have plenty to do.
Budapest has an established, reliable public transport system that contains a metro, tram, and bus system. The trams run at all hours, making them a convenient way of getting around. The ticket collectors work all hours as well so don't risk not buying a ticket. Budapest is a city for pedestrians, and many people choose to walk and take in the spectacular architecture.
The City Of Spas
Budapest has lots of thermal springs and the nickname "City of Spas". Doctors prescribe spas, which are one of the world's most enjoyable treatments. If you are mercifully free of aches and pains, the architecture around them alone is worth a visit.
Hungary offers an EU residency for a property investment of 300,000 euros. This generous policy has attracted lots of Chinese and Russian investors, causing real estate prices to skyrocket.
Budapest is home to a large number of digital nomads who love the food, scenery, and fast internet connections. Internet is superfast in Budapest and costs around US$40 per month.
Short term rental property can be hard to find in Budapest. Most landlords aim to get tenants who will stay for at least one year. Since most real estate agents speak English, finding property won't be difficult. In fact, renting as a foreigner has an advantage because most landlords prefer to rent to expats (known locally as "diplomats").
George Town, Malaysia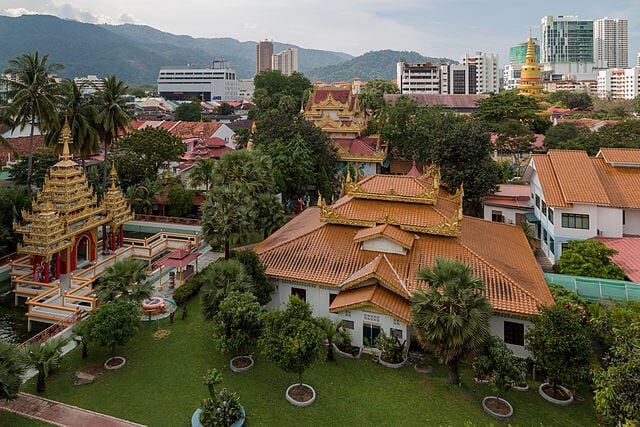 George Town takes its name from King George III of England. Established in 1786 by the British East India Company, it was the first British settlement in Southeast Asia.
In 2008 George Town became a World Heritage Site. As you'd expect, the city center is home to many impressive historical buildings. However, the whole city has something to offer, even if you venture out from the center you can find buildings from the British Colonial Period throughout.
Eating Options In George Town
George Town is one of the food capitals of the world. Locals combine Chinese, Indian, and Malaysian cuisine with Western food to create a range of dishes and different flavors.
Fine dining is easily found, although, it's street vendors who have some of the best food, look out for long queues that signal tasty food worth waiting for. The locals usually know best. A high turnover means you won't wait for your food too long.
One of the major attractions of George Town are the Penang Botanical Gardens. These owe their existence to the British, who planted a spice garden in the beginning to try to compete with the Dutch. Later on, controlling the spice became a way to control Asia. Nutmeg and canary nuts made up the majority of the gardens in those days, and were shipped across the world.
In 1884 the modern gardens began appearing for recreation. They are a popular tourist attraction located on the outskirts of the city. The gardens are a popular place to do yoga, meditation, or to take a stroll and get some fresh air.
Digital Nomads
George Town is popular with digital nomads. If your office is a laptop, the low cost of living and reliable internet make George Town an ideal location. The health care is international-standard and a fraction of what you would pay in the States. The infrastructure is modern and well maintained.
We hope you enjoyed this article on historical cities around the world. Let us know your favorites, in the comments below.
Oliver Lovett