Collins English Dictionary defines a small town as a place "where people are friendly, honest, and polite." While that might sound like a place that died in the last millennium, they still exist. You just have to know where to find them. We take a look at the best overseas options for small town living.
The media portrays big cities as glamorous, exciting places where something is always happening, but life in a big city has its drawbacks. Although wages are usually higher, the cost of living is, too. Crime may be a problem, and the time spent commuting to work can be ungodly. Heavy traffic brings out the worst in people, and a bad journey home can impact your valuable downtime after work.
Living in a small town, however, has its benefits. For starters, living in a small town is safer. Violent crime is minimal, and children can play outside without worry. This is especially true overseas in areas where neighbors know each other and look out for the communities' wellbeing.
Small towns move at a gentler pace—it's a place to become part of a close-knit community that enjoys a slower, more affordable, living with decongested roadways and better air quality. People don't come to a small town to stress about the number of hours in the day.If you've spent a long time in a big city, this change of pace can be pronounced. Life in a big city passes in a constant state of flux..
If you enjoy being part of a close-knit community you're more likely to find this in a small town. In a big city your face is just one of many million. In a small town, you will find it easier to strike up the personal relationships thathelp build a community.
Save Money And Live Better
Living in a small town, your cost of living is lower. House prices, especially in less developed countries, are far less than in a big city. In a small town it's easier to increase your savings, as there are fewer temptations to spend money. Big cities have lots of distractions, and most of them are competing for your dollars. In a small town you won't find so many places trying to separate you from your hard-earned cash. When you do decide to go out, for example to the movies, you'll be pleasantly surprised. Movies and other events are seldom sold out, so if you want to go and see that new film on opening night, you can.
Living in a small town comes with health benefits. One of the first things you'll notice is how fresh the air is. In some big cities, pollution has reached critical levels and the air quality is low. In the evenings light pollution blocks a view of the stars. Being able to look up into the night sky and see a blanket of stars overhead is just another perk of living in a small town.
The lack of traffic in small towns is another blessing. In some cases you won't need to drive in your daily life, only for trips out of town. In a small town it's easier to bike, or even walk to work. Driving round a small town can seem like a walk in the park compared with rush hour traffic in a big city. The lack of pollution will make you healthier, and avoiding the stress caused by rush hour traffic may even put years onto your life.
While there are definitely fewer jobs in small towns, there's also less competition. If you find a role you are suitable for, you've a much better chance of success in a small town. If you are looking to start a business, you have a better chance of success in a town where you will find little competition.
And why settle for a small town in the States when small towns overseas have just as much (if not more) to offer.
Las Terrenas, Dominican Republic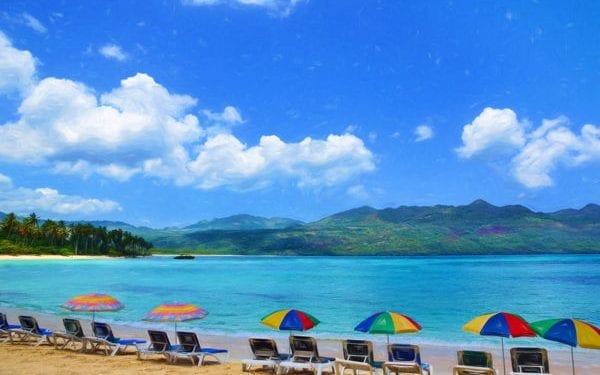 The quiet town of Las Terrenas is popular with expats from across the world, especially Europe. You'll find people from France, Germany, Holland, Switzerland, and the U.K. living together alongside the locals in one of the most culturally diverse towns in the Caribbean. Many have opened small businesses that grant the people of Las Terrenas access to Swiss chocolate, French pastries, imported German meats, and more.
The town itself is made up of small streets—perfect for walking or enjoying a drink outside one of the town's bars and cafés. The predominantly French architecture, unusual for the Caribbean, attracts people looking for a break from Spanish colonial style architecture. However, the main reason people come here is for the beach. It runs for over 15-kms of palm-lined splendor and is a match for any beach in the world.
Las Terrenas has the lowest crime rate in the Dominican Republic and some of the best infrastructure. The European influence has extended to housing, with lots of houses built and furnished to this standard. The Samana-Santo Domingo highway connects Las Terrenas with Santo Domingo, the nation's capital, in just two hours. The local airport, El Catey, has regular flights to the U.S.' East Coast and to Canada.
Salamanca, Spain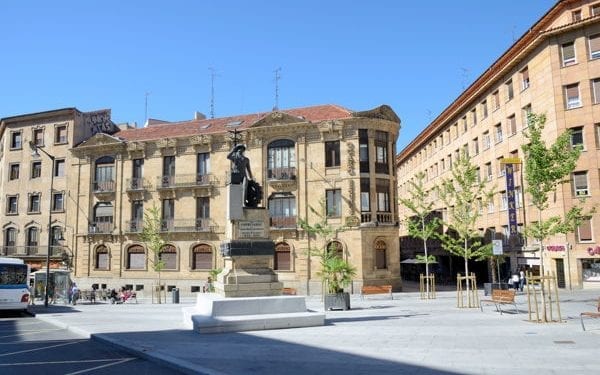 Salamanca is home to the University of Salamanca, Spain's first university. This historic place of learning is the fourth oldest university in the world and attracts students from across the globe. Students contribute to the positive and energetic atmosphere in Salamanca, and the large student population keeps prices down. Students are budget conscious, therefore, quirky bars and cafés have to keep prices relatively low to remain competitive.
Salamanca has a long and storied history. The town on the hill has been home to Vacceans, Romans, Goths, and Moors, all of whom left some of their culture behind. Renaissance and Baroque buildings were later added, providing a visual history of Salamanca through its architecture.
Salamanca is wonderfully located for exploring both Spain and Portugal. Madrid is a two-hour drive away, and Portugal is a three-hour drive away. Salamanca is famed for its surrounding countryside made up of quiet villages with cobbled streets, set among the various lakes and rivers, mountains and canyons.
Despite its size, Salamanca retains its small town feel thanks to the warmth of its people and slow pace of life.
San Ignacio, Belize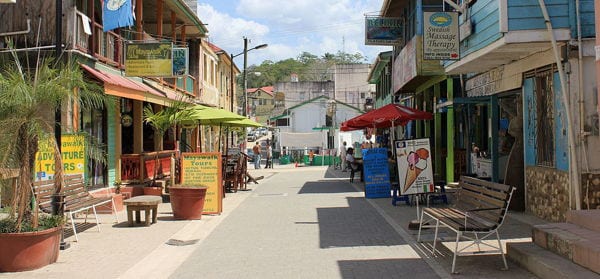 From the moment you drive over an old wooden bridge into San Ignacio, you become aware of how far you are from the hustle and bustle of modern, big-city life. Still, San Ignacio is the second largest town in Belize, and there is plenty going on.
Local produce is often a hallmark of a small town and vital to the local economy. Arriving in San Ignacio, you find the ever-expanding market area. From Thursday to Saturday, San Ignacio is home to a farmers' market selling fresh, seasonal produce. You can also find herbal bug remedies, local wines, and homemade soaps.
San Ignacio benefits from warm weather year-round. The average maximum temperature is 85 degrees Fahrenheit, and the maximum low is 69 degrees. Belize is mostly hurricane-free, which is something to consider when living near the Caribbean. Only 5% of hurricanes that hit the Caribbean make it to Belize.
The cost of living in San Ignacio is lower than Ambergris Caye, a Belize expat favorite. San Ignacio also features access to American goods, quality bars, restaurants, and pedestrianized streets lined with different shops.
Santa Catalina, Panama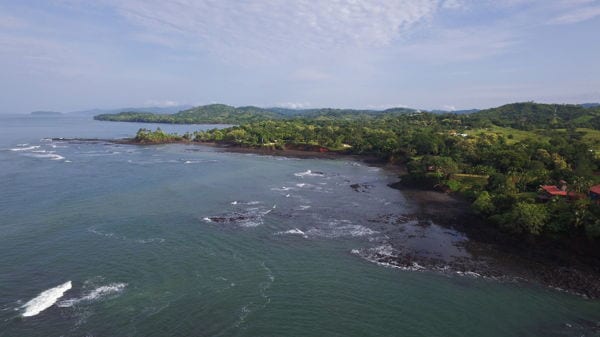 Santa Catalina was a humble fishing village for many years until the 1970s when three men arrived on horseback and changed the town forever. The men were surfers searching for Panama's best surf breaks. And in Santa Catalina, they found what they were looking for.
Today, Santa Catalina attracts surfers world-wide. The breaks have turned a quiet village into an internationally famous destination. The town remains small, though, and you can walk from one end to the other in 30 minutes. It also retains a safe and friendly feel. The people here know each other and stop to say hello on the street.
Santa Catalina isn't a party town. People are here to connect with nature, especially the ocean. If you're looking for a small town that allows you to get in tune with nature, Santa Catalina is the place. The waters are home to a large number of fish species, hence the amount of snorkeling available. Migratory whales also pass through from August to October.
Infrastructure isn't a strongpoint. You wouldn't be able to live here as a digital nomad due to unreliable internet connection. The town also lacks an ATM and chain grocery store. However, fresh produce is widely available and inexpensive. Santa Catalina has an excellent restaurant scene. There are lots of creative chefs taking advantage of the organic ingredients and fresh seafood.
Carcassonne, France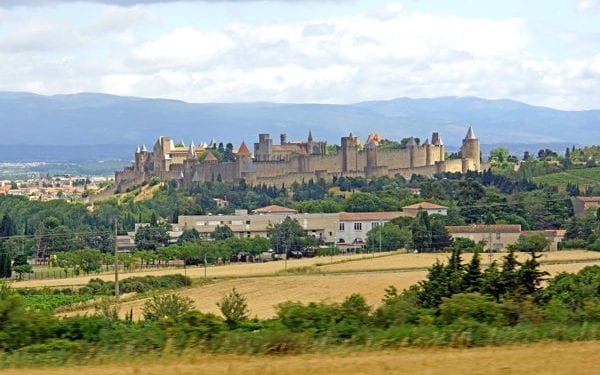 According to popular legend, Carcassonne is the inspiration behind the famous Disney castle. As you walk around Carcassonne, seeing the turrets, towers, and cobbled streets, it's easy find truth in this. Its inspirational architecture has made Carcassonne popular with tourists, but despite this, the town retains a quiet feel with a relaxed pace of life and little noise pollution, as the stone buildings seem to absorb most of the noise.
The town is surrounded by scenic villages and rolling vineyards. Some of France's best wines are produced in the area. Narbonne and its beaches are a 40-minute drive, and the blue Mediterranean waters are perfect for swimming during summer.
Aside from the UNESCO World Heritage castle, Carcassonne is home to some fine boutique artist's workshops. There are Michelin-starred restaurants and a farmers market selling an array of locally produced goods, including fresh fruit, vegetables, meat, and dairy products, is held three times a week.
Bled, Slovenia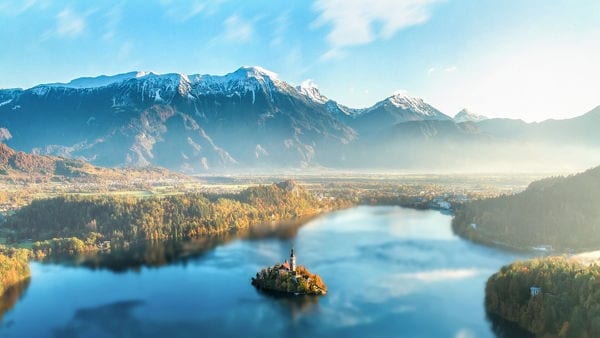 Situated in northwest Slovenia on the dazzlingly blue Lake Bled is the town of Bled. Bled is the only island in Slovenia. The island, situated in the middle of the lake, is home to a castle that looks like something out of a fairytale. The lake is picturesque, and when the mists rolls in, it even looks a little otherworldly.
Pletnas, traditional wooden rowing boats, have been taking visitors across the lake to the island for years and remain popular to this day. During summer months the lake is filled with small sail boats and swimmers. The water temperature is tolerable, but to call it warm would be going too far.
One of the main attractions of living in Bled is its location. Set in the spectacular Slovenian countryside, Bled is perfect for people who love spending time outdoors. Nearby Mount Vogel offers a view across the lake and of the majestic Alps. Vintgar Gorge has a landscaped trail and wooden walking path. The path runs alongside the river whose waters somehow retain a turquoise blue through all seasons.
If you move to Slovenia you may come across a language barrier. English is widely spoken in the capital (Ljubljana),  In popular tourist areas, and by anyone under 30 or so. However, those in rural areas and especially the older generations tend to speak only Slovenian or German. There are only a few expats living in Slovenia, but that number is likely to increase as more people discover the charm of Central Europe.
Faro, Portugal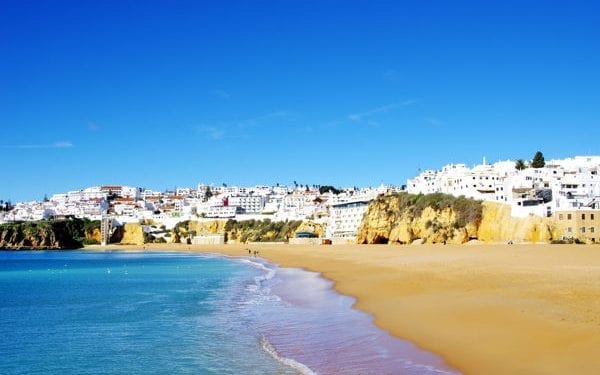 Located along the south coast of Portugal is one of the most popular tourist and expat destinations in Portugal—Faro. Faro has well developed infrastructure, is a popular retirement destination (thanks to the excellent climate and pace of life), and Faro Airport handles most of the flights for tourists arriving into the Algarve.
Given the popularity it has with tourists, Faro is a great place to earn extra income by renting out a room, hosting a B&B, or simply renting out the entire property. With over 3,000 hours of sunshine, it's not an exaggeration to say the sun shines all year. Winters are mild and only last a couple of months.
Old Town Faro, located in the center, is a maze of narrow, cobbled streets close to the marina. Faro Municipal Market is the place to buy all your fresh fruit and vegetables. It's open from 8:30 a.m. to 7 p.m. during the week, and 9 a.m. to 1 p.m. on the weekend.
Durango, Mexico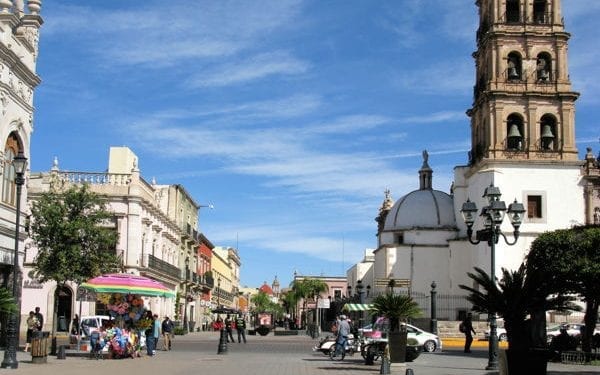 Durango is a Mexican town with a high standard of living, great weather, and affordable real estate. Remarkably, it's also a town without an expat community. If authentic Mexico exists, it's here. English isn't widely spoken, so you will need to speak Spanish or learn it quickly if you want to integrate into life here.
Durango sits high in the Sierra Madre mountain range. The surrounding countryside will look familiar to anyone who watched old western movies. Over a hundred Hollywood movies were shot here, and during Durango's film making heyday, all the major western stars filmed here. Some of the movie sets still remain, and there are tour companies that take you to them.
For a long time, Durango was a little isolated due to its location. Now a new highway connects it with the coastal region of Mazatlán. This means you can easily drive to the coast for the weekend. Mazatlán is a fast-growing area and tourist hot spot. It's likely that the highway will attract new visitors and money to Durango, especially when people start looking to retreat somewhere cooler during hot weather sets in.
We hope you enjoyed this article on the best options for small town living overseas. Please let us know your favorite towns, in the comments section below.
Oliver Lovett