While many people are aware that Saint Patrick wasn't actually born in Ireland, the story of how he ended up in Ireland is less widely-known.
Patrick was born into a wealthy family in Britain during the 4th century. His family was Roman, which has caused some historians to question if the Patron Saint of Ireland could actually be Italian.
Unfortunately, there's not enough evidence to say with any certainty. While we know that Patrick's father was a Roman diplomat, there's nothing to suggest that Patrick (or Patricius as he was called) was born in Italy.
While still a youth, Patrick was kidnapped into slavery by Irish pirates. The pirates took him to Ireland where he remained in slavery for six years. During this time Patrick found religion. He started to pray in earnest and vowed that when he was free, he would devote his life to God. Freedom came, and Saint Patrick entered the clergy in France.
In 432, Saint Patrick returned to Ireland. During one of his meditations in France, he received a vision telling him that this was to be his calling. At the time, Christianity was beginning to gain momentum in Ireland. However, the Druids were not convinced by this new religion, preferring their own, long-established ways. Many Christians were being met with suspicion at best and, at worst, the type of enmity only Druids can provide.
Whether or not he was protected by the saints, Patrick succeeded in his mission. Patrick challenged and defeated the Druids, allowing Christianity to spread freely.
St. Patrick's methods of teaching Christianity remain with us today. The three-leafed shamrock, a symbol of Ireland and the Celtic people, was used by St. Patrick to explain the Holy Trinity.
St. Patrick gained fame for banishing all of Ireland's snakes into the sea. Ireland does remain free of snakes, whether due to St. Patrick or a lack of snakes to begin with is open to debate.
Patrick went on to become a bishop and later the Patron Saint of Ireland and Apostle of Ireland.
Patrick had many successes as a missionary and played a key role in shaping modern Ireland. He baptized countless people and provided valuable moral guidance at a critical point in Ireland's evolution. Having served as a slave, he was able to speak strongly about the harm it caused and motivated many in Ireland to turn away from the practice.
It wasn't until the 1600s that celebrations for Saint Patrick's Day in Ireland were introduced by the Catholic Church. Originally, these celebrations were fairly modest in nature. People would gather to remember Saint Patrick and share a feast on the day of his death.
The lavish celebrations we know today have their roots in the United States. The first of the modern parades was held in Boston in 1737. This celebration by the Irish community was as much to celebrate Irish culture and bring the community together as it was a religious festival. The idea took off in Irish immigrant communities throughout the United States.
Today, St. Patrick's Day is celebrated in more countries than any other national holiday. Buildings across the globe are illuminated in green to mark the event. However, but for the Irish rebellion, these buildings would be glowing blue. The Irish soldiers wore green in their battles with the blue-clad English soldiers. With blue so strongly associated with the English army, the modern-day green became the symbol of the day.
St. Patrick's Day Around The World
United States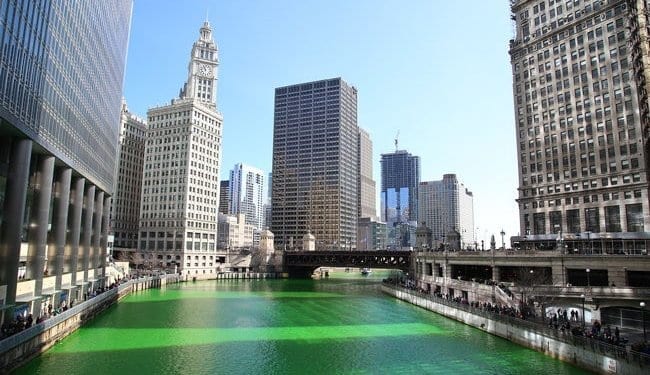 New York
 This year's St. Patrick's Day parade will be on Saturday, March 16. Any year that March 17 falls on a Sunday, the parade is moved to the Saturday before. Every year, the parade starts at 11 a.m. on 44th Street, winds through the city, and ends at around 5 p.m. on 86th Street. It is one of New York's biggest festivals and attracts a quarter of a million marchers and over two million spectators every year.
Chicago
Chicago has the most visually impressive St. Patrick's Day celebrations of all. Every year, the Chicago River is dyed emerald green. Depending on wind conditions, it can remain this way for days. This tradition has been going on for over 50 years and takes place the Saturday before.
Boston
Every year, hometown band Dropkick Murphys play gigs for St. Patrick's Day in Boston. This year is no exception. Local pubs serve up the traditional dish of corned beef and cabbage, a meal eaten on this day for hundreds of years. Boston has one of the biggest Irish contingents in the United States, and St. Patrick's Day is a major event.
Europe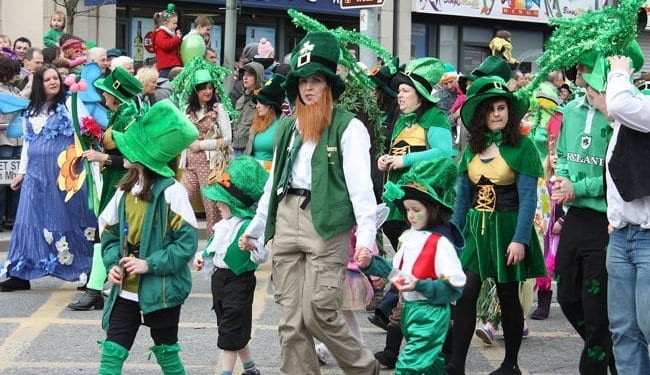 Paris, France
In 2018, Paris hosted its first ever St. Patrick's Day parade. In honor of the event, monuments such as the Sacre Coeur basilica were lit up in green. Disneyland also got in on the act. Irish dancers were hired and traditional Irish music was performed. At night, the park was illuminated by a series of green fireworks.
In 2019, Disney will celebrate St. Patrick's Day with special Irish-themed events and Disney characters dressed in Irish costumes. There is no parade planned this year, but Paris has some great Irish pubs, like The Quiet Man, and Stolly's, where you can knock back a Guinness and enjoy traditional Irish dishes.
London, England
London's celebrations this year are under the theme #LondonIsOpen, as a way of inviting people from across the world to celebrate St. Patrick's Day. There are two main events: a festival made up of bars, pubs, and small events throughout the city, and a parade. The parade attracts over 125,000 people each year, and features the usual marching bands, and floats. It runs from Green Park through Whitehall and ends in Trafalgar Square with a traditional Irish music and dancing show.
Brussels, Belgium
The Irish Embassy in Brussels makes sure the city gets involved in the celebrations. Brussels Grand Palace is illuminated with the colors of the Irish flag, and other buildings and shops turn green to mark the occasion.
Belgian beers are some of the best in the world.., but for St Patrick's Day, it has to be a pint of black stuff. There are a few Irish bars to visit, and many of the local bars bring in stout and Guinness for the occasion.
Dublin, Ireland
In Ireland, celebrations last five days with the biggest party reserved for the 17th. This is the ultimate place to celebrate St. Patrick's Day. It's one of the busiest times of the year to visit Dublin, so be sure to book everything well in advance to avoid disappointment.
Temple Bar can get insanely busy on St. Patrick's Day, and after the afternoon parades, most locals will head to their favorite "local" haunts elsewhere in Dublin. For those who choose to stay and brave the crowds, the party continues until 3 a.m.
Portugal
In Portugal, the Irish Embassy lights up three big monuments in a green glow: the statue of Christ in Lisbon, the Museu Condes de Castro Guimarães in Cascais, and the statue of Duque da Terceira at the Lisbon port. Interestingly, the museum in Cascais was built by a descendant of Hugh O'Neil of Tyrone, an Irish Lord.
There are no major parades or festivals to attend, but Portugal has plenty of Irish pubs and societies who mark the day. If you're looking for something a little more formal, the Irish Association of Portugal hosts a dinner with dancing and music. Otherwise, head to your nearest Irish bar and let the Guinness flow.
Latin America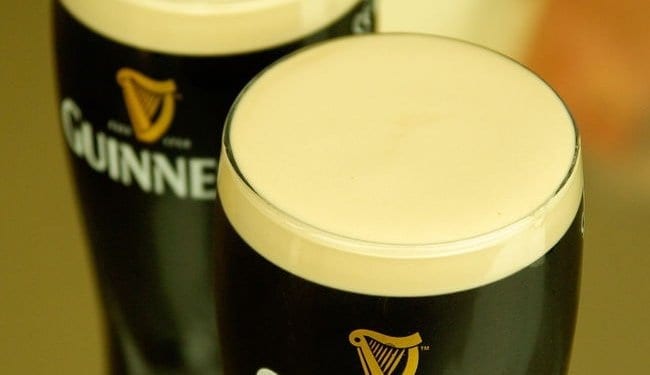 Buenos Aires, Argentina
There are approximately 500,000 Irish in Argentina, and many of them descend on Buenos Aires for the St. Patrick's Day celebrations. The big celebrations start on the Saturday before St. Patrick's Day, which means this year's event is on March 16. In recent years, the city has tried to move the celebrations to the week before to lessen the die-hard crowds.
Revelers gather in the Retiro neighborhood, home of many of the cities Irish pubs. What started out as a community event has turned into a huge all-day celebration with blaring Celtic music and people drinking on the streets.
Belize
Probably not the first place you would associate with St. Patrick's Day celebrations, but Belize is a country full of surprises. Irish and Anglo-Celtic people have been in Belize for centuries. During the 1600s, Belize was often used by British pirates. The treacherous reefs around Belize made it a perfect hideout. Later on, the Irish arrived as woodsmen, drawn by Belize's bounty of timber.
Belizeans like to get into the St. Patrick's Day spirit each year, so you'll see plenty of green in clothing and decorations. Chances are you'll see more than a couple of glasses being raised, too. Belize produces its very own stout beer, Belikin Stout. This is the traditional St. Patrick's Day drink in Belize, but you can also find lots of Guinness. In fact, Guinness is one of Belize's most popular drinks, and the Belize Brewing Company has been licensed to bottle it locally since 1989.
Brazil
lthough the Irish have never had a strong presence in Brazil, St. Patrick' Day is a festival that's becoming more popular each year. The famous Christ The Redeemer Statue in Rio is illuminated green, and a special ceremony takes place at its base. Other Brazilian cities that go green for this celebration include Brasilia and São Paulo.
You can find some authentic Irish pubs in Rio celebrating with the traditional "green beer" and sometimes free whisky shots. How about avoiding the green beers and celebrating with some green caipirinhas instead?
Montserrat, Leeward Islands, Lesser Antilles
Montserrat is sometimes called the Emerald Isle of the Caribbean. In the 17th century, Irish Catholics were exiled by Oliver Cromwell as indentured servants and sent to Montserrat. The Irish settled and turned Montserrat into an important trading point in the Atlantic.
The Irish influence remains to this day, and Montserrat is the only country other than Ireland where St. Patrick's Day is a national holiday.
Where will you be celebrating St. Patrick's Day in 2019? Let us know in the comments below.
Oliver Lovett