Imagine your ideal lifestyle. Then look at the numbers in that context. Where will the budget you've got buy you the lifestyle you're looking for? You can also think about your pension and other sources of income that will help you live day to day.
Of course, there are places all over the world where you could live a better life than you do now—and at a very affordable price. But how you manage to do this successfully comes down to your own definition of a good lifestyle—and matching that with the right location.
As you figure this out, you need to be completely honest with yourself. Be prepared to compromise. But don't try to tell yourself that you can do without all the things you love or you'll end up miserable in your own home…
Mazatlán, Mexico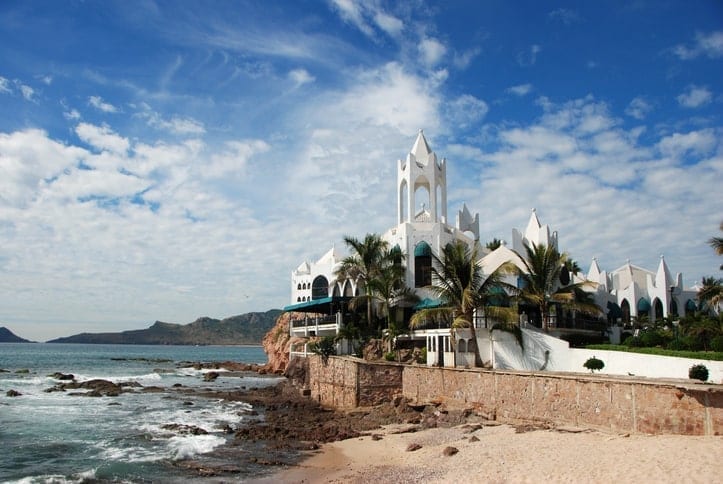 Your Budget Living In Mazatlán
One of the biggest benefits of living in Mazatlán is the low cost of living. At today's favorable exchange rates, prices all over Mexico are a tremendous bargain.
Basic items for a couple in Mazatlán will cost you about 21,000 pesos per month if you own your own apartment and 27,000 pesos if you rent a house near the beach.
By "basic items" we mean housing, utilities, food, and entertainment. This does not include automotive or medical costs. You may also need to budget for occasional travel, trips to your home country, holiday gifts, and other odds and ends.
Basics aside, we recommend about US$2,000 to enjoy the best of what Mazatlán has to offer if you own your residence and about US$2,400 if you don't.
Dinning Out
Dinner for two in the best of the city's fine dining establishments will cost about 1,200 pesos, including wine and the tip. A more casual restaurant on the water will run about 600 pesos with drinks.
Groceries
Food prices can vary depending on the number of American and Canadian imported items you buy. Fortunately for expats, you can buy most anything in Mexico that you can in the States. This is nice if you have certain items that you can't live without.
What's more, many "American" goods are made in Mexico, so you can get these items at a local price. Otherwise, imported items will be more expensive. You'll save plenty by using local equivalents for American or Canadian brands.
Owning A Car In Mazatlán
The cost of a car will depend on whether you bring it with you or buy one in Mexico. Operating an American or Canadian car, including 20 gallons of gas, will cost about 3,000 pesos per month. This is in addition to your home country costs for insurance and registration.
If you buy and register a car in Mexico, it'll cost about 2,450 pesos per month, including 20 gallons of gas with no "back home" costs.
Algarve, Portugal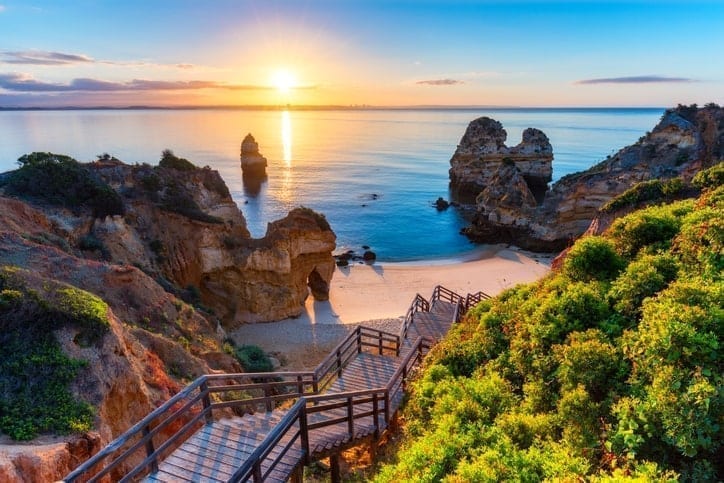 Living here, you can embrace the best of a Continental lifestyle on a shoestring budget. The Algarve is legitimately one of the cheapest places in the world to live—and live well—today. The cost of living in Portugal is among the lowest in Western Europe, on average 30% lower than in any other country of the region.
The even better news is that this budget buys a standard of living that has nothing to do with scraping by or making do. Living in the Algarve, even on a limited income or a retirement pension, your days could be filled with diverse and engaging activities, your evenings spent enjoying dinners out with friends.
It's All About The Local Lifestyle
As Portugal's popularity has expanded considerably in the last two years, prices have increased, but not noticeably, especially if you live a local rather than an imported lifestyle.
And this kind of lifestyle is easy to plug into here, with ready sources of fresh produce, meat, and fish everywhere you go. Within a few minutes' walk of your apartment, you'll be sure to find numerous mom-and-pop produce and butcher shops where prices are affordable, and all the goods are locally sourced.
Recent Portugal transplant, Jana Oliver, says "We spend about 380 euros (US$432) per month on shopping—36% less than our grocery bill in Atlanta. An added benefit to this savings and convenience is a much healthier diet."
Cuenca, Ecuador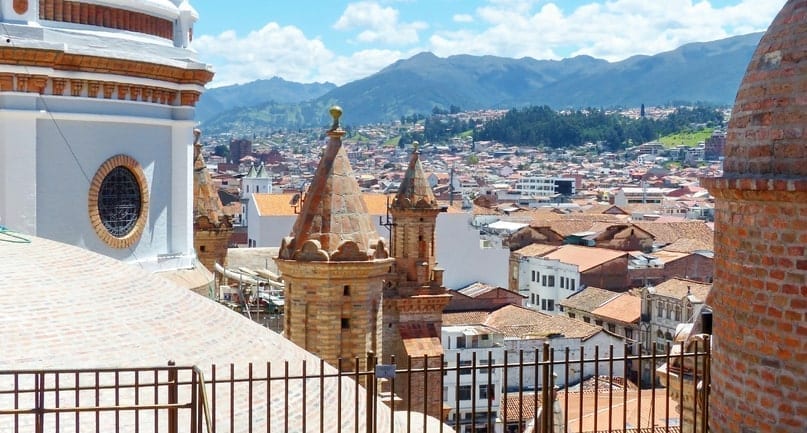 Despite exaggerated claims of just how cheap it can be to live here, the cost of living is indeed one of Ecuador's best-selling points.
Why Ecuador Is Such A Bargain
The savings come not just from point-of-sale purchases but from a lifestyle change.
Transport
Take car ownership, for example. Instead of the two cars in the driveway that most expat couples had before leaving North America, most have none in Ecuador. Expats get by with public transportation, resulting in hundreds of dollars in savings per month. The few expats who do own cars have only one.
Housing
In a survey by Cuenca's foreign affairs office, more than 85% of expats said they had downsized their housing arrangements from back home.
Among the categories offering the biggest savings in Ecuador is housing. The average purchase price of a home in Ecuador is less than 50% of a comparable property in the States.
For instance, compare US$145,000 to US$325,000, (based on 2018 statistics from the Asociación de Corredores de Bienes Raíces del Ecuador, ACBIR, and the U.S. Census Bureau respectively). Renting in Ecuador is an even a better deal, US$375 compared to US$1,350 in the States (again, based on 2018 rates from ACBIR in Ecuador; U.S. figure from ABODO).
Utilities
You'll also save a lot in utilities. Because of its elevation and location near the equator, homes in Cuenca don't require air conditioning or heating, other than the occasional use of a space heater on chilly mornings.
Sweetening the deal even further, gas costs about 15% the international market rate because the government subsidizes it. Almost all homes in Cuenca use gas for cooking, hot water, and clothes dryers. You'll rarely pay more than US$6 or US$7 a month, including the home delivery of gas cylinders if necessary (most condominiums have central gas). Gas usage helps lower electric bills, which rarely run more than US$60 even for large homes.
Additional Areas Where You'll Save Money
Big savings also await you in full-pay dental and medical care, health insurance, eating out, and groceries, although the latter depends on whether you are buying local products or imports. In addition, many cultural events, including symphony orchestra performances, are free in Cuenca.
Thanks to Ecuador's 2016 trade agreement with the EU, a wide variety of items have lower prices. Prices for imported food, cars, clothing, cosmetics, liquor, and electronics have dropped by 50%—in some cases, more. A bottle of Johnnie Walker Red Label scotch that cost US$55 in 2015, now costs about US$19. A 40-inch smart TV priced at US$800 three years ago, now sells for $450.
As a rule of thumb, almost all imported goods cost more than local products. Although tariffs have dropped substantially, new-car prices are 20% to 25% more than in North America. Almost all electronics, including computers, cell phones, and stereo equipment, cost more… except for two cell phone brands manufactured in Cuenca. Most appliances cost more too… but prices of Cuenca-made Indurama models are comparable in price to imported units, or even less.
Chiang Mai, Thailand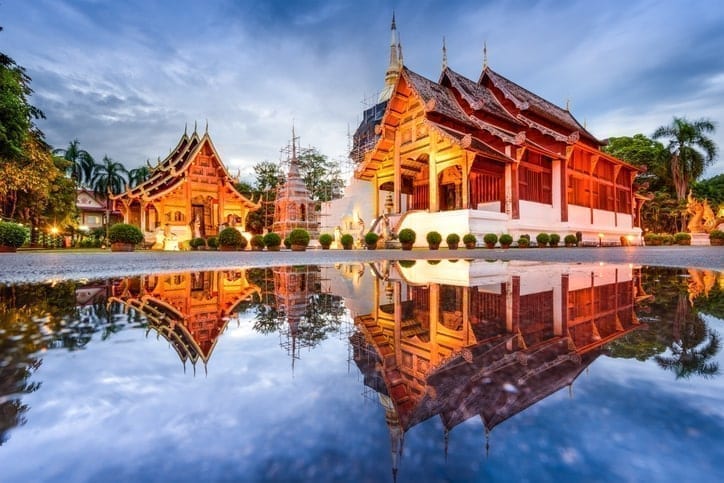 Chiang Mai, Thailand is an inexpensive place to live by almost any standard… The top three monthly expenditures most expats and retirees will face are housing, food, and transportation.
Transport
Transportation costs only a few bucks a day here using tuk-tuks, baht buses, and the occasional taxi.
Housing
Housing in Chiang Mai is likewise extremely affordable… for just a few hundred a month you can live in a nice place with all the creature comforts. For 10,000 baht you could get a two-bedroom bungalow with a garden, for 25,000 baht closer to a three-bedroom villa with a private swimming pool.
For 15,000 baht you can get a spacious one- or two-bedroom flat with hot water, air conditioning, nice furnishings, and good Wi-Fi (utilities and basic cable are normally included).
Food In Chiang Mai
When it comes to eating, many expats claim it's cheaper to eat out than to buy groceries, and with all the food options in the city, it's not hard to eat out for every meal.
It may be an affordable place to eat, but drinking is another story. Prices for alcoholic beverages are ruled by import duties and taxes. Depending on your poison, it can get expensive.
Città Sant' Angelo, Italy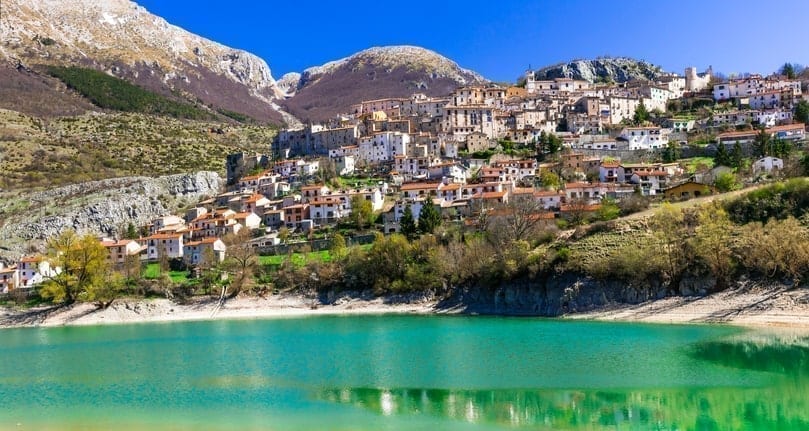 In general, this region of Italy is fantastically affordable.
Food In Italy
You can eat like royalty here on a pittance. So much food (and pasta and wine and oil… etc.) is produced locally, it's like getting everything at a huge discount. Most locals shop markets and small shops to buy local.
In Città Sant'Angelo, you'll have to head out of town to find the nearest supermarket, within the city walls, you can hop from one mom-and-pop to another—one for your meat, another for your bread, your produce, pasta, etc.
Weather In Italy
The climate is mild enough to go without heating or cooling, but there are four seasons, so you'll likely use air conditioning or heating for at least a few months a year. One upside is that most homes come with one or more fireplaces that help heat the house—and many even have wood burning ovens built into the kitchens.
Housing In Italy
For rent, you can find a little apartment for 200 or 300 euros, though to give you more options, we've indicated 600 on our budget. For 600 euros, you pretty much have the pick of the town. Or you could choose to live outside the historical center and settle in one of the modern, suburban-style homes just minutes outside the city walls. Opting for this route gives you a multistory townhome, a garage, a small garden, and generally a little more breathing room…