In the center of the courtyard, shoulder to shoulder and bent over a small map, stood Lief, our Paris property manager Linda, the representative of the building association (or syndic) of our apartment in Montmartre, and one of our neighbors… a French lady we met for the first time today named Madame Glading.
I stood off in the corner, watching and listening…
"In the title documents it is shown as #24," Lief offered.

"Well, that would be through that door there," the guy from the syndic replied.
"But we have been down there," Linda interjected, "and it is not there. We have looked and looked, but we cannot find it."
"Ah, but it must be there. It is on the map. It must be there," the young syndic rep replied with confidence.
In France, if it is written, signed, stamped, and notarized… it is so.
"So we must go look again," he continued.
Fortunately, Madame Glading had the key. She unlocked the old wooden door, and the group of us followed her down the small and winding stone steps into the darkness below.
Underneath every apartment building in Paris of a certain age and older lies a maze of tunnels and caverns carved out of the dirt.
The French call these subterranean spaces caves. Originally they were used to store wine.
Today they still can be used to store wine. In department and hardware stores in this country, you find shelves, racks, and cupboards intended specifically for holding wine bottles in caves.
Today, though, these building basements also serve as storage units, good places to keep things like bicycles, ski gear, and household items you don't use very often.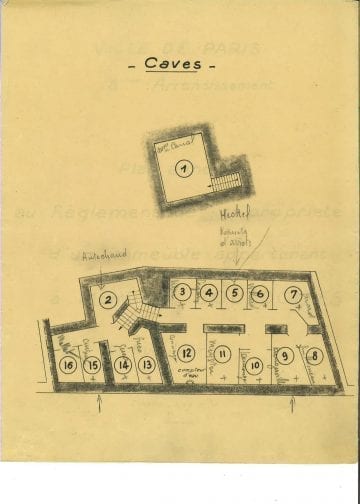 Both of our apartments in Paris have caves. The trouble is, we haven't been able to find the cave that we have been assured lies beneath our apartment in Montmartre.
It's referenced in our title documents… and shown on the map of the building… but it doesn't seem to exist in real life.
Thus our meeting this morning with the syndic's representative and Madame Glading.
Up and down the maze of narrow dirt pathways we followed the syndic guy and our neighbor, who has lived in the building all her life.
"This one is mine," she explained with a smile pointing at one cave door.
"This one belongs to Monsieur So-and-so… and that one is the cave of Madame Such-and-such…"
Every cave was accounted for… and still no cave #24…
Back up the tiny stone steps our troupe traveled… back out into the bright sunlight of the courtyard… where we stood again bent over the building map.
"It's impossible," declared the guy from the syndic.
"You have a cave. You must have a cave! I will look into this…"
"Yes, it's very strange," Madame Glading concurred.
Nothing else to do in the moment, so we agreed all to carry on with our day and await news from the syndic about our great cave mystery.
"Thank you so much for your help, Madame Glading," I offered in my best French. "I'm so glad to make your acquaintance today…"
"Ah, you are American?" she asked.
Hard as I try, there's no disguising my accent.
"Yes," I replied.
"I am so glad to know you," she exclaimed.
"My husband is American," she continued enthusiastically. "He is from California.
"Now I have someone to help me practice my English," she continued.
"Do not worry. We will sort out your cave problem," she told me. "Meantime, please let me know if you need anything else. I'm so happy to have you as a neighbor…"
And so it goes… as has been our experience all these years we've been spending time in Paris… being made to feel at ease and at home and finding help at hand when we need it.
No question we're Americans… but our neighbors welcome us as though one of them.
Kathleen Peddicord