Portugal Has The Best Value Lifestyle In First World, Old World Europe
In 2015, Portugal celebrated a new record. The number of international visitors to the country broke the 10-million mark for the first time.
Still, 10.8 million (at the final count) doesn't look so impressive when you consider neighboring Spain's influx of over 60 million, France's 84.5 million… and even Poland's 16 million.
For some reason, Portugal—once a leader in world exploration and discovery—remains off the radar of European and farther-flung international visitors.
This, of course, is good news for those of you in search of a longer stay in one of Europe's finest havens…
Because Portugal remains off the radar, its beaches remain unspoiled. Its cities (with their romantic, historic past and all the charm of Old Europe) are less swarmed with visitors and have a safer and more relaxed feel.
And it's why you'll find more bang for your buck here than anywhere else in First World, Old World Europe. Costs here are as much as 30% lower than the country's Euro neighbors.
Time is drawing near on our own voyage into Portugal. This summer, we'll be hosting our second Live and Invest in Portugal Conference from the Tivoli Carvoeiro Beach Resort in the heart of the Algarve.
Here, with all the comforts of a luxury vacation, you'll get to experience the best of Portugal's Algarve—the area that will be our main focus for the event (though we will cover investment opportunities in other parts of the country, too).
It's hard to talk about the Algarve and not gush about its beaches and dramatic Atlantic coastline.
But there's much more to the area than its towering, craggy cliffs and golden and white sands. And, if you're among the guests we'll welcome here in July, I hope you'll get to enjoy some of its other delights…
For starters, the food here represents the best of the Mediterranean diet—with an emphasis on fresh, mouth-watering seafood. A couple can enjoy a shrimp or tuna lunch (with local wine) for about US$20. Bacalhau, as mentioned in the Huffpost quote above, is the Portuguese word for cod. It features on almost every menu… and is always a safe bet.
The Algarve, of course, is Europe's—if not the world's—finest golf destination. October is golfing high season here. Visiting in July, you're in low season (in golfing terms), meaning quieter courses and lower green fees—though you'll want to stick to early morning/late afternoon tee times to avoid the intense heat.
About an hour from our base in Carvoeiro is Cape St. Vincent, which, for nervous European sailors, once marked the "end of the world." It's well worth the trip over to see Europe and Portugal's most southwestern tip… and its magnificent lighthouse.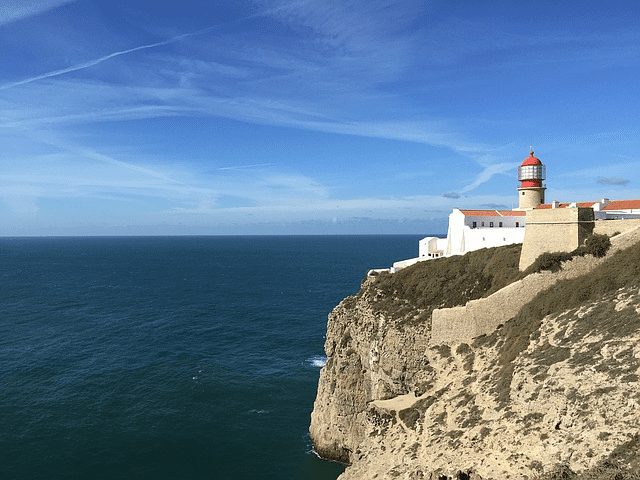 Cape St. Vincent also marks the end-point of the Rota Vicentina Fisherman's Trail—a circuit comprising 120 kms of coastal trails through stunning national parkland. These are quiet paths where you can enjoy the best of nature yourself. Be warned, this is not an adventure to be taken in the summer months… but certainly something to enjoy in cooler temperatures if you decide to make a base around these parts.
Die-hard walkers should note that Cape St. Vincent is also the last stop on the 5,000-kilometer-long "E9" European walking trail that starts in Estonia…
Valentine Fouché
Editor, Live and Invest Overseas Confidential