Moving into week seven of quarantine in Paris, my lockdown routine revolves around writing to you, dear reader… filming twice-weekly podcasts… participating in daily Zoom calls… and walking to the grocery store more than it makes sense for any human to do. But, as going for supplies is my only permitted outing, I've made a game of finding new routes to the three markets near my apartment.
I've also planted window boxes, cleaned out our closets, and helped Lief to organize his wine cellar.
My Live and Invest Overseas staff—divided now between Panama and Ireland—have found far more inspiring ways to fill their locked-down days…
CFO April Hess, enjoying the quarantine in Panama in the comfort of her home atLos Isloteson this country's western Azuero coast, for example, reports:
"I have spent my down time working on a massive 3,000-piece puzzle that is going to become a piece of art in our aquarium room. I have become obsessed with finishing it before the lockdown is lifted.
"I have become a very creative cocktail maker, using long-lost ingredients from the back of the liquor cupboard for my nightly libation. Oh, how I miss wine now that our wine rack is empty and Panama weeks ago closed all liquor stores across the country.
"Otherwise, I'm watching the landscape green up after the first rains of the season and a troupe of capuchin monkeys that has settled in our backyard…"
Web Director Brian Swift is toughing out lockdown on the coast of Tramore, Ireland:
"Normally, I wake up around 7 and walk the dog for an hour. This morning, I went surfing instead…"
Real Estate Marketing Director Mairead Walsh, also at home in Tramore for the duration, writes:
"'Luxury lockdown' is my motto. I'm going for nice wine with dinner, brie and crackers after.
"I bake with my daughter Realtin now that we've more time. We're eating scones by the plateful with jam and cream.
"My neighbor drops down homemade sourdough bread, which we top with fresh eggs from our own hens.
"The kids do school work around the kitchen table, and later we play basketball and hurling and go cycling and for walks. Cherry blossoms and magnolia are all blooming in the garden now.
"We have a fun (if nerdy) project going on, where the kids record the birds they spot in the garden, and we check the name in Irish. The 'goldfinch,' for example, islasair choile, which means 'flame of the woods' in its Irish translation…"
Lahardan Financial Manager Abby Perez is waiting out the quarantine in her apartment in Panama City:
"As we can't go out to hike and travel, my boyfriend and I decided to set up our tent in the parking lot. We love being outdoors, and we enjoy watching the planets and constellations at night. We set a timer and wait for the International Space Station to pass by just to watch that bright thing flying above us.
"My boyfriend wants to make a small fire to make s'mores. I hope our neighbors don't call the police on us!"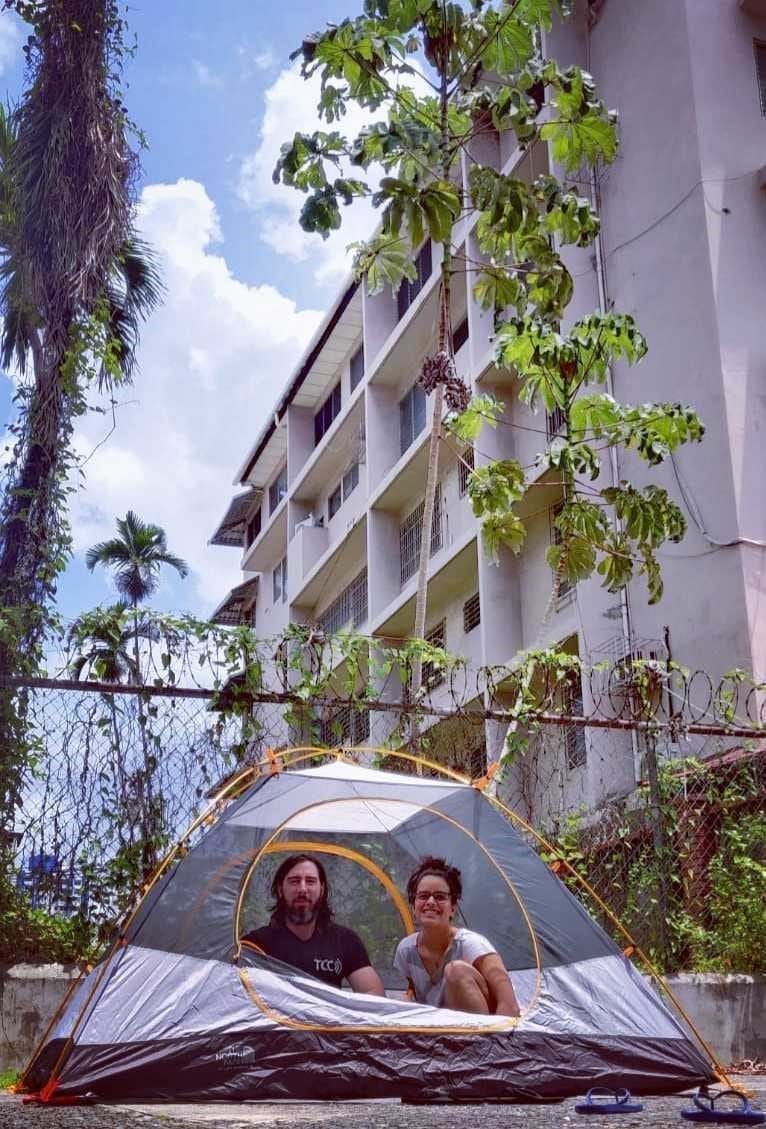 Overseas Property AlertEditor Lynn Mulvihill, another among our Irish contingent in Tramore, writes:
"In the beginning, I was looking for any excuse to go to the shops. But, as the restrictions became tighter and the queues outside supermarkets even longer, I made it a once-a-week activity.
"We're lucky here in Ireland to be able to go out for exercise. We try to vary our route every day while keeping within the allocated 2 kilometers of home… the four kids on their bikes with me running alongside them.
"Between my own work, homeschooling, and serving meals and snacks every couple of hours, the days just seem to be flying by. My biggest lockdown experiment is sourdough bread (I'm waiting for my starter to be ready any day now).
"My sister and I have resurrected our old letter-writing practice. These aren't ordinary letters. Everything is communicated in a Jane Austen style (we started doing this back in school, but there's been a 20-year hiatus). The great thing is that you don't need to have anything major happening in your life to turn it into an Austen-esque drama.
"Tomorrow, I'll be helping 9-year-old Grace make a ballerina doll from a sewing kit her aunt sent for her birthday this week. Over to YouTube for some hand-stitching refreshers…"
SEO Marketing Manager Sarah Fitzsimons reports in from Carlow, Ireland:
"I grew up in the countryside, and, as I have lived in both
Waterford City
and Melbourne, Australia, for the last nine years, I have made the most of moving back to my childhood home in the countryside during this lockdown and have been getting out in our surprisingly gorgeous weather as much as I can.
"We have six chickens here at home, so I have been helping look after them. The other three chickens were busy laying their eggs while this picture was being taken…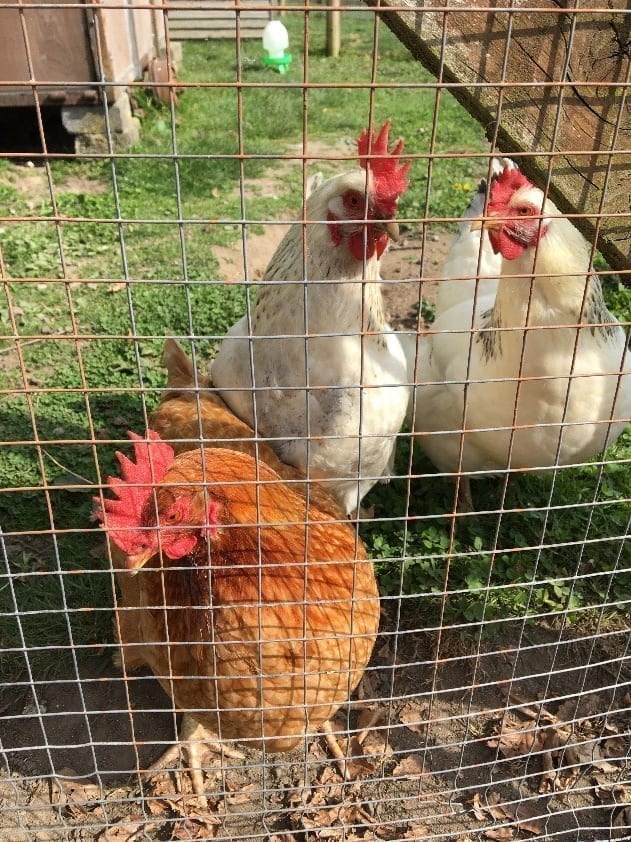 "My father also has sheep here, and we have just come to the end of lambing season. I just love sitting watching the lambs running around in the sun.
"I have been visiting my Grandmother. I walk over and speak to her through a slightly cracked open kitchen window 2 meters away…"
Panama LetterEditor Adriana Valdez managed to escape Panama City just before the lockdown and is enjoying her quarantine in Boquete:
"I'm falling more in love with this place every day. I've never liked the city, so I feel incredibly lucky to have made it out on time and to be able to spend this time surrounded by Mother Nature.
"I wake at 6 a.m., in time to see the orange and pink sunrise…
"Then I grab a cup of coffee and sit on the porch listening to the birds…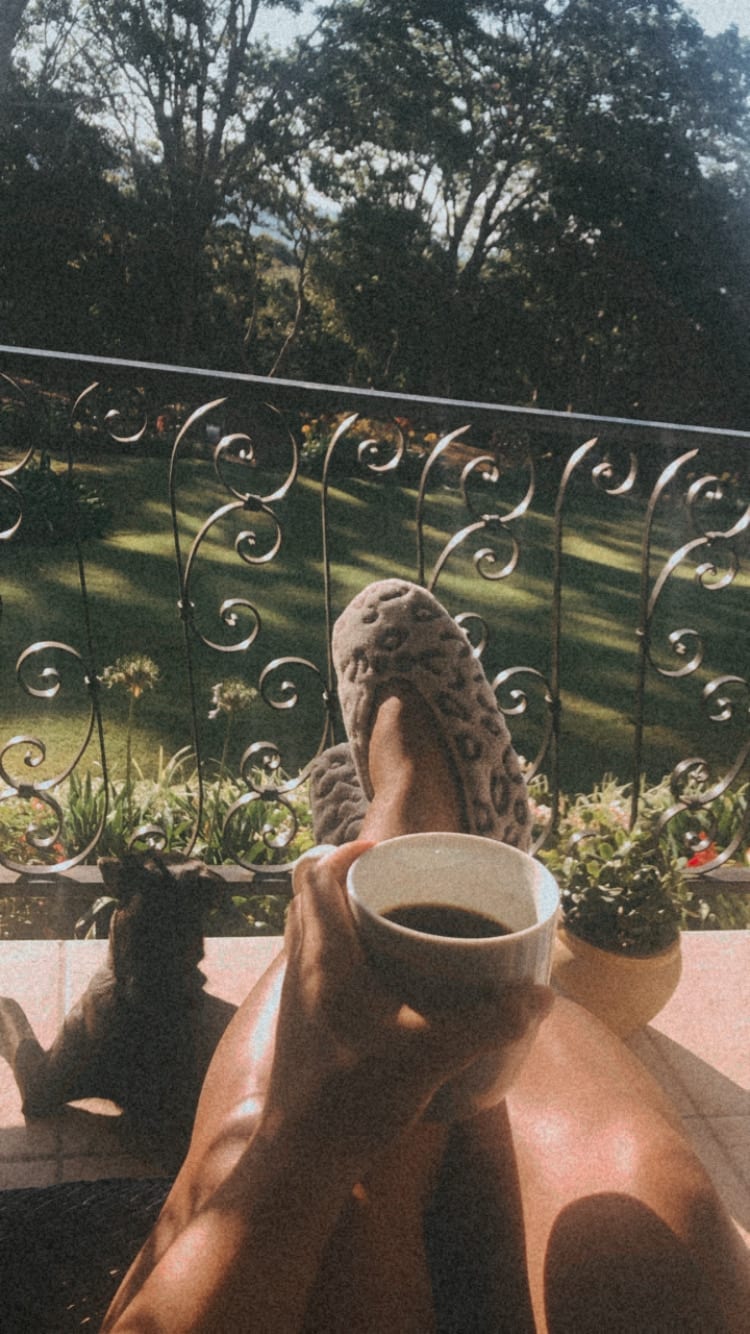 InvestGPSSales Consultant Félim Bradbury, who is Irish-born but living now in Panama City, having read of the lockdown adventures of Team LIOS, writes:
"I'm enjoying hearing about everyone's quarantine capers, but, unfortunately, I don't have a whole lot to contribute. I'm stuck in an apartment in Panamaunder full lockdown, allowed out only three days per week for two hours at a time.
"Reading about the rich and colorful lives of my workmates around the world has made me realize just how bloody miserable I am!
"My new hobby will be to assume the lives of my windswept and interesting colleagues.
"Today I will be Mairead out in the back garden playing with the kids and bird-spotting in the sweet, fresh Irish air.
"Tomorrow I might be a surfer like Brian… or imagine I'm Adriana soaking up the sun in Boquete…"
Kathleen Peddicord