Among my best memories of the places we've called home are the views.
In Panama City, our view has been of the Bay of Panama and the queue of ships awaiting their turns to passage the Panama Canal.
You will read these words Sunday morning. As I write, though, it's Friday evening. I'm sitting at my favorite open-air rooftop bar on Avenida Balboa (Cabana, in the Yoo tower), looking out at the bay, the canal, and the long line of freighters, sipping a cold glass of Prosecco, and trying to imprint the scene in my memory.
This weekend Lief and I reposition from Panama City to Paris, and the image I see before me now is the impression I want to carry with me…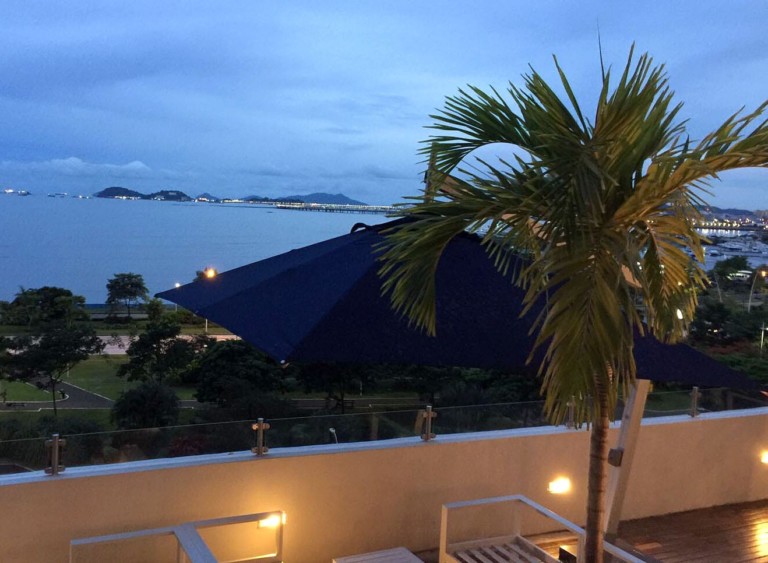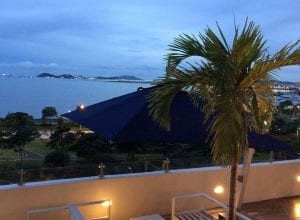 This view is a symbol of Panama, a country whose origins and history are all wrapped up in its geographic situation. Starting some 500 years ago, the Spanish arrived at these shores and recognized the opportunity presented by the geography. Today, the entire world seeks out this isthmus in the same spirit… and today's Panama takes full advantage.
Panama is open for business, and her canal shop is busier than ever. Canal cash flow continues to fuel not only boom town Panama City but impressive growth countrywide.
Are we leaving Panama? Nah, not really.
Last week, our son graduated high school, the official trigger for the launch of our next stage. As you read this, Lief and I are taking the first steps toward putting our ultimate plan into play.
We're settling back into our little apartment in Paris' 7th arrondissement, the place we bought years ago to serve as a cornerstone of our long-term life. From that base and now child-free, we'll come and go—including, of course, to and from Panama City, where our Live and Invest Overseas business continues to expand. Our crackerjack staff in the Hub of the Americas will now step up to assume greater roles. As the business grows, so do they.
"Are you excited about your return to Paris?" everyone at last week's Offshore Wealth Summit in Panama wanted to know.
Of course. Not only because, for me, life in Paris is as good as life gets… but also because this move marks a long-awaited, much-anticipated transition. As our son is preparing to take his first independent steps post high school, our LIOS group, likewise, is ready to stand tall without constant support from Lief and me.
We take bittersweet pride on both scores.
And we can't wait to see where a little more freedom leads both Jackson and Live and Invest Overseas.
From Baltimore to Waterford to Paris to Panama City… now back to Paris…
And just getting started.
Kathleen Peddicord