The truth?
When my husband Lief Simon and I decided to stake a long-term claim on the western coast of Panama's Azuero Peninsula, we had no idea what we were getting ourselves into.
Lief identified what he and I agreed was the most beautiful piece of beachfront property either of us had ever seen anywhere in the world. Lief negotiated for its purchase, and we worked with land planners in the States to design the master-planned community we named Los Islotes.
We won't do that again.
As a nice guy we met last week put it when he asked what our connection to the area was and Lief replied to explain that we're the developers behind Los Islotes:
"Ah, big, ambitious project!"
Big, ambitious project in a region of Panama almost completely ignored up until the time we sighted it.
When we began telling people about Panama's western Azuero coast, even Panamanians had never heard of it. In this part of this country abundantly blessed by Nature but untouched by man, we were pioneers.
Being a pioneer is lonely work.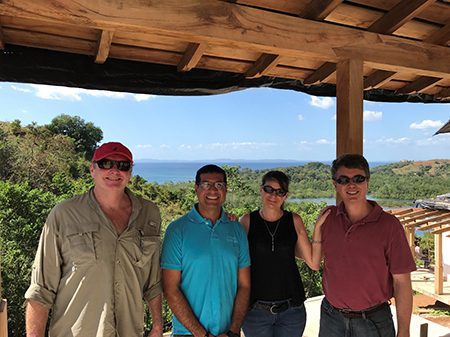 Lief and I spent time at Los Islotes last week. We visit once a month now to inspect progress, meet with our builder, and tour the property with our project manager.
Two big takeaways from last week's trip…
First, the rains have stopped.
The sun is shining almost too bright to bear. The green hills glisten and the ocean sparkles. In every direction, the scene is achingly beautiful and bright.
Ah, the dry season… known locally as summertime. This is the season to embrace the best of what Panama has to offer… swimming, fishing, surfing, and snorkeling offshore from some of the world's most glorious shorelines. If you want to see Panama at her finest, this is the time of year to come on down.
The second thing that struck me during last week's visit to the western Azuero coast… for the first time ever… is that we pioneers are finally less alone.
"How many expats would you say live out here now?" I asked an expat friend who moved to the area a year-and-a-half ago.
"More than 200," she told me.
"We attended an expat get-together before Christmas," April continued. "I couldn't believe all the expats I met there who I'd never seen before. And there are more of us all the time!"
We've been focused on things like permits, licenses, the installation of underground water systems, and the construction of our Founder's Lodge. Now we look up from that work and see that, while we've been so occupied, a community has taken shape around us.
The town known as Torio, nothing more than a sign along the roadside when we passed through for the first time, is at the heart of it. In Torio today are hostels and surfer hotels, restaurants and bars… with names like Shaka Bar, Cabañas Torio, Palati Fini, Hotel el Sol…
Our Los Islotes team met for dinner Thursday night at the Monkey Shack.
"We have reservations," I said to Monkey Shack proprietor Andy as I approached. "We're a little early…"
"No problem," Andy replied. "Early is fine. You should know, though, that I'm operating without juice. The electricity has been out since about 2 this afternoon."
"Lucky you don't need it," I offered, nodding in the direction of the wood-fired pizza oven to my left.
"Indeed," Andy said with a smile. "If you're OK with pizza, we're good."
"Pizza sounds great," I said, taking a seat at one of the outdoor picnic tables.
Andy's brick-oven pizza is excellent. I recommend the Meat Lover's.
I had to ask, though… what was this not-old-enough-to-be-retired guy doing making homemade pizza over an open fire in Torio, Panama…
"I was in the computer industry," Andy told us. "Back in the States, I had my own businesses… worked hard… did well… had that whole life.
"But, after a while, I just couldn't stand it anymore. After a while, I wanted something else… something more interesting… something more fun.
"I read online about Panama… now here I am. My wife and I have been spending several months here each year for the past three. We're thinking now of making the move permanent.
"The first year we came down, my wife drove our truck, and I followed on my motorcycle. That was a trip. If you like motorcycles, I recommend it. Beautiful country between Colorado and Panama…"
After the sun set and the power still hadn't come back on, other diners arrived with flashlights and hurricane lamps. The bunch of us sat around the picnic tables eating pizza, drinking wine, and enjoying the feeling of community.
The next morning we ran into a couple of our Los Islotes owners, Shannen and his wife Marlene, who are spending a month getting to know the area.
"We're having the time of our lives," Shannen told us.
"Last night we helped with the turtles," he exclaimed.
"Helped with the turtles?" I wondered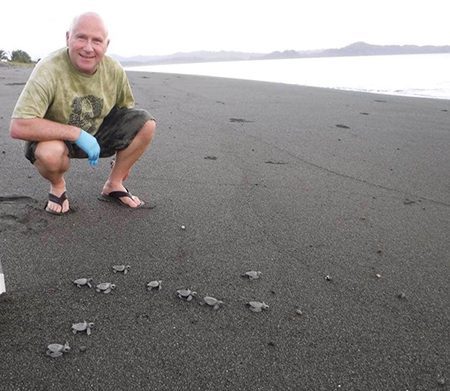 "This is turtle nesting season," he explained. "The turtles come up onto the beach at night to lay their eggs. Every season a group gets together to protect the eggs. If they're not kept safe, poachers snatch them. We helped to safeguard the eggs last night… then we went back early this morning to help release hatched turtles into the sea.
"What a great experience," Shannen said. "You guys really should try it."
"We've been meeting so many great people," Marlene interjected, "and having so many adventures."
"We've been fishing, kayaking, hiking… " Shannen added.
"Come around here," he urged. "Look," he said, pointing up to a bunch of bananas suspended from the roof of their deck.
"We picked those ourselves. Our own bananas!"
"The other day we saw a toucan," Marlene told us. "Then we sat beneath the trees over there and watched a whole family of monkeys… "
"Angel from Los Islotes invited us over to his house for drinks one evening," Shannen continued. "What a view from his front porch. We watched the sunset… maybe the most memorable sunset of my life."
Very fortunately, as Lief and I age beyond the stage when the idea of pioneering seems more like fun than hard work, the region of Panama where we decided years ago to put down deep roots is turning the corner from frontier to welcoming, like-minded community.
Los Islotes Project Manager Angel confirmed three other things during last week's meetings that, likewise, made us very happy.
First, our Founder's Lodge will be completed in April. Now begins the fun part. We're shopping for appliances and a wine fridge, choosing bathroom fixtures, and designing custom bookcases for the living room.
Second, work begins next Wednesday on our beach club. "Rancho Playa" we're calling it. Phase one will be finished, like the Founder's Lodge, in April and will include an open-air clubhouse with a bar. Owners are cordially invited to join me for a drink beachside anytime they're in residence.
Third, we're nearly ready for the official launch of our first Los Islotes condos.
More owners means an even bigger community.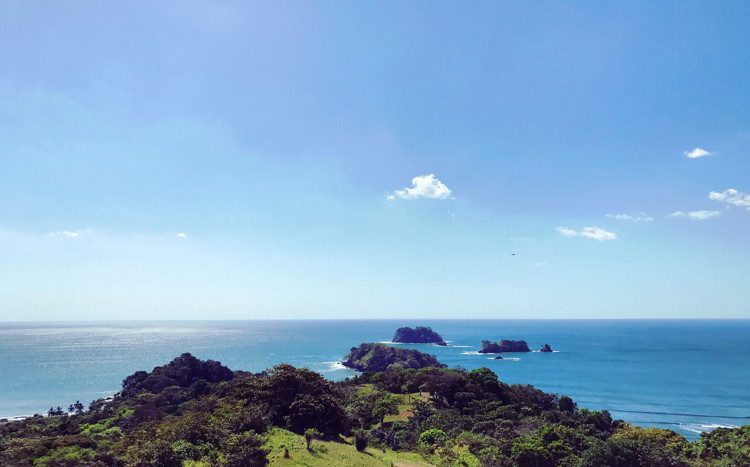 And, out at Los Islotes, after the sparkling and bright blue ocean, community is everything.
Kathleen Peddicord