Abruzzo is far and away our top choice for the best value in Italy.
This corner of the country is true Italy…
With all of the romance, vistas, and history of places like Tuscany, but at a dramatically lower, more local cost of living.
Yesterday, we started you on a virtual tour of this diverse area with long, sandy coasts and snowy mountain tops. Today is Part II of our journey through Abruzzo's countryside…
Popoli—A Health Sanctuary With Properties Starting Under US$6K…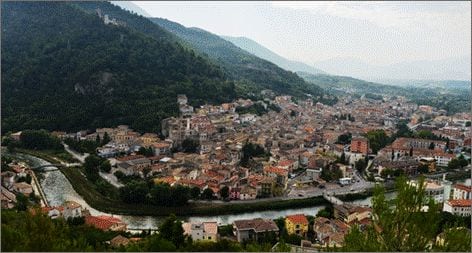 Popoli, built at the source of three rivers, is also known as "the Lady of the Waters." A medieval and baroque town just minutes from some of the most sought-after thermal springs in the country, Popoli is practically begging people to come and buy up its incredibly cheap, historically significant homes…
Locals have been moving out of town to big cities over several years now, and walking the streets, it seems as though at least half the real estate is for sale. Think 5,000 euros for a 50-to-60-square-meter property from the 15th century… and there are even tax breaks for those coming to buy and fix up these gems.
Popoli is known as the birthplace of General Corradino D'Ascanio, an Italian aeronautical engineer who designed the first production helicopter for local manufacturer, Agusta, and designed the first motor scooter for Ferdinando Innocenti, going on to help Enrico Piaggio produce the original Vespa.
Visit his museum, housed in the beautiful and towering Taverna Ducale, just off the plaza that's home to the Palazzo Ducale. The manager tells me that even if it doesn't look open, just give a knock and usually someone is there and happy to let in visitors (and he says this is true of most historical sites and small museums).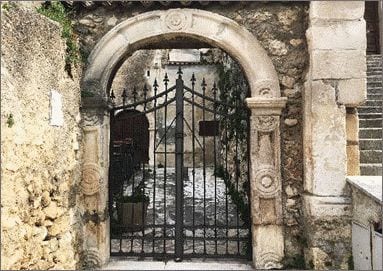 Walking these sleepy streets you see long-time neighbors stop and chat as they go about their day… a group of old men argue outside the local café. Cats stalk between the winding stone streets, looking curiously at the large party walking by—evidently not a common sight in this sparsely populated town.
So engrossed in note-taking while we rested for a quick coffee (there's always time for a coffee in Italy!), I left my purse on the back of my chair as I walked out…
Before I took more than a few steps from the door, at least three people in the café, including the barista, were running out, shouting after me that I had forgotten my purse. This is a small-town kind of place where you can count on people's honesty and neighborliness.
The biggest draw for Popoli is the nearby thermal health center and associated nature reserve with its sulfur springs. The town also has a large, modern sports center.
The Terme di Popoli, just a few minutes up the hill, is one of the leading health and rehabilitation centers in the country, drawing medical tourists and spa-goers from all over. During the high season, the facility sees 1,000 or more patients per day.
The spring has been used since antiquity for healing purposes, and its water is recognized today by the Ministry of Health as an effective treatment in the fields of rheumatology, otolaryngology, pulmonology, dermatology, phlebology, and gastroenterology. The mud that's used is taken from the spring's bed and then kept in huge vats for a year to perfect the mineral components.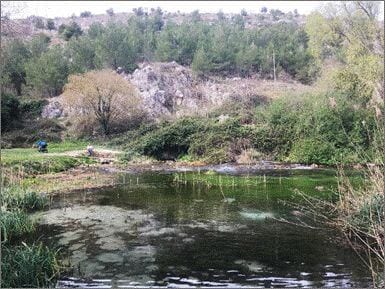 I spoke with several current and former patients and all swore by the results. One expat from Utah with chronic bronchitis went for a two-week treatment years ago and reports no attacks since, and it's said to be especially effective for arthritis.
You can seek a prescription to come to Terme and have it covered by insurance (once a year). The two-week bronchitis treatment I mentioned cost the patient only 49 euros out of pocket as a co-pay, the rest was covered by insurance.
Otherwise, prices range from just 2 euros for a cup of the sulfur water (touted for its anti-inflammatory properties, and being good for digestion and all the organs—it only tastes a little eggy… try not to smell before drinking) and 7.50 euros for a nebulizing treatment, up to 45 euros for a mud-and-mineral bath and massage, and 46 euros for lymphatic drainage. Packages are available for everything.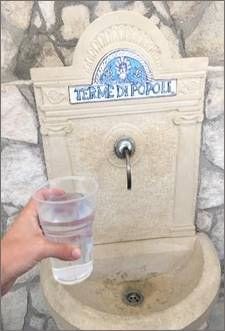 Bottom line, Popoli may be one of the most pleasant and picturesque places in the world for someone to recuperate or retire…
Those with ongoing health treatments that could be taken care of at Terme should pay particular attention to this amiable, slow-paced little town.
That concludes our virtual tour for today, but we still have plenty of places to visit.
Tomorrow I'll introduce you to your best options along Abruzzo's long sandy and rocky coast.
This coast was conquered by the Romans in 214 B.C., but these days it's a hip beach town that you could mistake for Southern California… if the prices for everything weren't so low.
I'll pick up the conversation here tomorrow…
Kat Kalashian