"Cowboys worked hard… 12-hour days chasing cattle, branding ponies, what have you… 6 days a week," explained the Texan.
"Come Sunday, the last thing they wanted to do was get up early and go to church.
"So the pastor and the womenfolk here in town, they came up with an idea to make going to church on a Sunday morning a more appealing idea for the menfolk.
"They added a shooting contest.
"Here's how it worked," our new friend continued, motioning for us to follow him out into the field.
Our cowboy guide, Mike "Shotgun" Franklin, led us to a spot where he'd thrown a double-headed ax at a tree trunk. One of the ax's blades was embedded into the trunk deeply, leaving the other blade edge facing outward.
We watched as Shotgun affixed a small, thin piece of board on either side of the ax head… wondering, frankly, what in the world was going on.
"So the pastor and the women," he said, picking up his story where he'd left off back at the camp, "they set up a target just like this one in the yard outside the church.
"Then, after services were over, all the men came out into the yard and took turns firing their rifles at the ax head. The aim was to hit the blade of the ax straight on and split the bullet… so that you'd shoot both pieces of board with one shot.
"Now something like that… a chance to split a bullet on an ax," he added, looking up at us with a big grin…
"That was worth getting out of bed for come Sunday morning.
"Who wants to go first?" Shotgun asked.
Earlier this month we hosted our annual Retire Overseas Conference, this year in Las Vegas. After the close of the event, Lief and I flew to San Antonio with a small group of friends who'd traveled to Vegas to participate in the program.
We've made it a tradition… to follow each Retire Overseas Conference with a new Stateside adventure… in the company of friends from around the world.
This year it was friends from Portugal, Belize, and Panama who were able to carve out time in their schedules… and it was our friend from Belize who identified the day's activity—a "Western Shoot."
We arrived early at the little Western town set a half-hour outside San Antonio… pulled on holsters and hats… loaded our pistols… grabbed our rifles… and set off to rid the place of bad guys.
A gang of no-good varmints tried to hold up the stage as it rode into town and relieve it of its lockbox full of gold… but we stopped the bunch of them in their tracks with our six-shooters…
The dealer in the saloon got it into his head to try to cheat our friend at blackjack… but we couldn't let that happen… so we fired one shot apiece into the swindlin' dealer and all five of his double-dealing friends.
After a good day's work chasing down the black hats in town, it was time for some fun. That's when our guide introduced us to the split-the-bullet competition.
Lief split his bullet on the first try (I have the two symmetrically-pierced boards to prove it)… and every other cowboy among us made the shot, too, including our Portuguese attorney-friend who had never before fired a gun.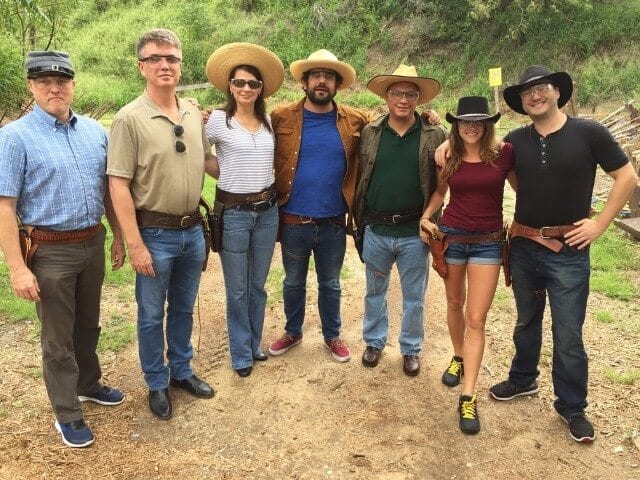 Not everyone would be up for a day of Western shooting in the Texas sun, but, somehow, after three decades moving and doing business around the world the way we have, Lief and I have been lucky enough to find and form friendships with several dozen folks for whom the idea isn't cuckoo but irresistible once put on the table.
These are hard-working, super-smart, uber-successful people who share a worldview and who have learned not to take themselves or anything else too seriously.
People seizing opportunity at every turn… including an opportunity to spend a few hours together in San Antonio earlier this month playing cowboy.
The allure is the like-minded company. Spending time and doing business with these guys is, for us, the biggest benefit of the live-and-invest-overseas lifestyle Lief and I try to embrace.
We're already planning our next adventure…
Kathleen Peddicord