"He who controls the spice, controls the universe." – Frank Herbert, Dune
Like a lot of things in modern life, it's easy to take herbs and spices for granted. But there was a time when wars raged over the humble powders found in our spice racks and kitchen cupboards.
Spices have been important to mankind almost from the start. Early man used spices and leaves as a way of preserving meat. The strong taste of spices were used to cover the flavor of meat that was no longer fresh.
Early man had an instinctive knowledge of the healing power of different herbs. To this day, many still prefer to use plant-based treatments. (Not surprising when so many of our modern day drugs were developed by studying the healing property of a certain herb before developing a synthetic version.)
Ancient Egypt was the first culture to document their use of spices. Not only did they use spices and herbs in the mummification of pharaohs but also for medicines and perfumes. Workers building the great pyramids were fed a diet, including a lot of garlic, onion, and spices, as the Egyptians knew this would allow them to maintain a healthy condition for longer.
By the time the bible was written, spices had reached a prominent place in a number of cultures. The bible mentions spices being given as gifts and used for trading. Indeed, Jesus was gifted gold, frankincense and myrrh, and the wise men valued spices on par with gold.
Over the course of hundreds of years, the Middle East became the world's spice hub. From 1000 B.C., Arabs took control of the lucrative spice trade that provided the backbone to their economy. By now, demand was growing in Europe. Cinnamon, nutmeg, amongst others, were bought from China and India, then transported across the Middle East and into Europe.
During the Middle-Ages, spices started taking on significance in Europe. Before long, they were regarded as the ultimate luxury and status symbol. Access to a variety of spices was one of the ways the rich liked to display their wealth.
The Start Of The Modern Spice Trade
With vast amounts of money to be made, it wasn't long before European nations wanted a fast, direct, connection to the Far East. During the late 15th century, European powers started exploring the possibility of sailing there.
Previously, all trade had been conducted via the spice route. This meant paying the fees charged by Middle Eastern traders or attempting the hazardous journey themselves. Venice and the Ottoman Empire had control over the route and were growing increasingly rich from the tariffs they charged. It was against their interests to allow European traders an easy passage, and bandits were commonplace.
When a Portuguese explorer named Bartoloméu Dias and his crew became the first to sail round the Cape of Good Hope, a new route was opened up to Europe. The race was on to get ships to the Far East.
Soon after, Christopher Columbus discovered the New World. Different spices (such as allspice) were imported as a new age of spice arrived.
Spice markets today still have much in common with the ones from long ago. Wandering through a spice market is a treat for the senses. Walking between different stalls, your eyes take in powders of every color, arranged in tubs or piled high in hemp sacks. Different smells, competing calls, and bartering of tradesmen swirl through the air.
Barcelona, Spain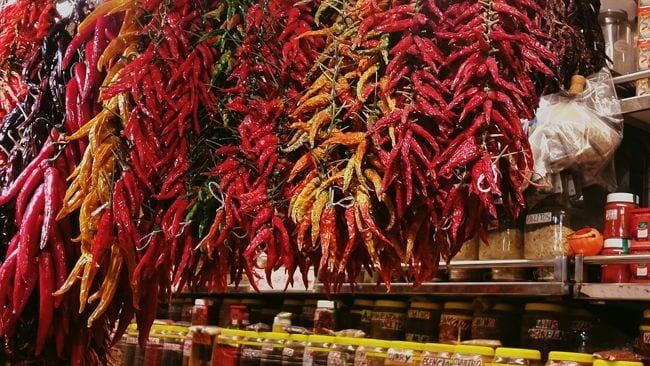 Spain is the spiritual home of paprika, one of the most popular and versatile spices in the world. Paprika is made of two peppers, capsicum and annuum, which originated in Mexico. The Spanish were the first to import them and turn them into powder. It's milder than most other spices. For this reason it is used to add flavor without turning up the heat.
Fittingly, paprika continues to thrive in Spain. Today, Barcelona is home to a gold medal winning paprika, de la Vera paprika. This is one of the markets main claims to fame.
The Boqueria market dates back to at least 1217. It started out as a small, open-air market that sold meat, predominantly pork, and was linked to the existing market of Plaça Nova. In 1853 a structured market was built and in 1914 the metal roof was finished.
The market is popular among tourists and gets crowded as the day wears on. Most locals make sure they're in and out before 10:30 a.m. After that tourists meander from stall to stall, leisurely sampling delicious produce at a slow pace, causing heavy foot traffic. Saturday is the busiest day, which is when local families come to buy their weekly products.
You can find more than just herbs and spices. There are stalls selling fresh fruit and fruit salads, pastries and fresh seafood. Different hams and cured meat hang from ceilings. You can even find plants and flowers, handmade wallets, scarves, and hats.
Istanbul, Turkey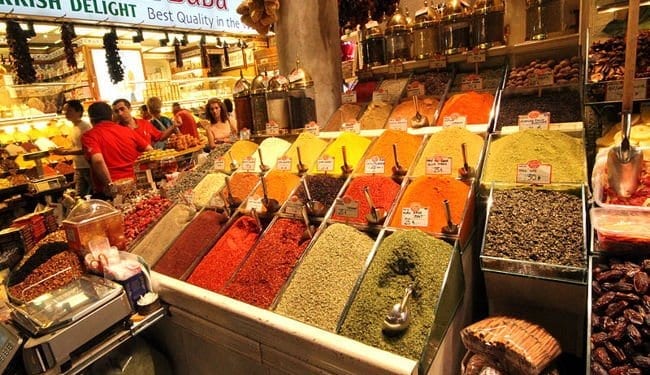 The Spice Bazaar in Istanbul, sometimes called the Egyptian Bazaar or Corn Market, dates back to 1664. It was allegedly built with money that came from the Ottoman Empire's holdings in Egypt. It has long been a hub of the spice trade in Istanbul, historically one of the most important cities for spice trading.
The market contains every spice you can name and hundreds more you have never heard of. Spices of every color and smell are displayed on an endless array of stalls. There are a couple of traditionally used Turkish spices you should make an effort to seek out while you're here. The first is pul biber. These are dried red pepper flakes that you find on the tables of restaurants throughout Turkey. Spiciness varies according to the peppers used. It's a popular condiment used for seasoning during the cooking process.
The other thing to look out for is nar ekşisi, a type of pomegranate syrup. In Turkey this is used primarily in salads in place of vinegar. Some people use it as a marinade for fish and chicken.
The Spice Bazaar doesn't only sell spices, though. Turkish people love tea, which you can find here in every flavor imaginable. You can also find cheese, olives, coffee, nuts, and dried fruits. Plus, of course, Turkish delight.
The Spice Bazaar is open between 9 a.m. to 7 p.m. every day. It only closes for public holidays.
Oaxaca, Mexico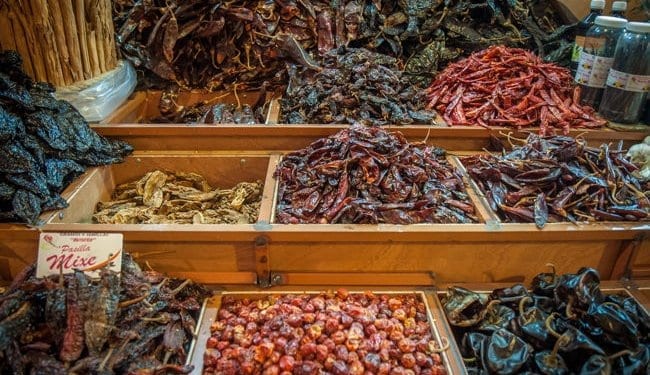 Oaxaca, in Mexico, is a small city with a big reputation in food. Chefs from around the world take trips to Oaxaca. The town is perfectly positioned to take advantage of the different climates found in Mexico. The nearby areas feature cultures that date back to long before the Spanish arrived.
The Ethnobotanical Garden in Oaxaca is the pride of the state. Containing nearly 1,000 species of plants and herbs, the number of flavors a chef can choose from is endless. Fortunately, recipes and cooking techniques have been passed down through the ages.
If you're feeling adventurous, try the chapulines. These are grasshoppers that have been fried or toasted along with chili, garlic, and lime. You can eat them on their own or as part of a taco. Scientists have put insects forward as an answer to global food shortages—perhaps chapulines are a taste of the future.
Marrakech, Morocco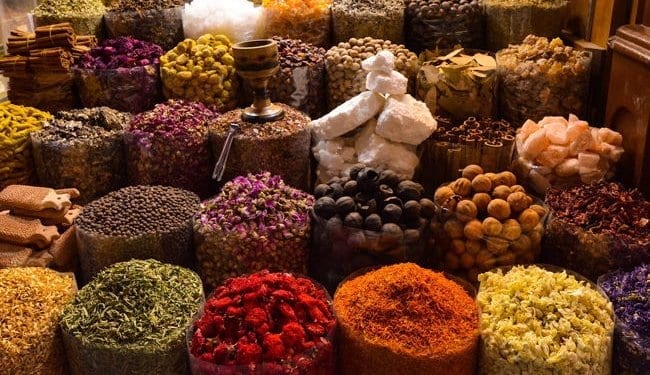 It seems like every town in Morocco has a spice market. Moroccan culture and cuisine are intrinsically linked to spices, and the colors and smells follow you wherever you go. Prices at Moroccan markets are generally marked up. Depending on your negotiating skills, you can expect to get at least 50% off, possibly more. Negotiating about the price is a fundamental part of the culture. Custom dictates that you will be offered a mint tea to drink as you go through the negotiations.
Saffron is the most expensive spice in the world and one of the most popular spices to buy in Morocco. But be warned, not all saffron sold in Morocco is genuine. If you're buying at a souk, rather than at a saffron plant, you will need to have your wits about you. Look for saffron that is vivid red, long, and thin. Buying the powder from a market is not recommended.
Saffron is often used for its medicinal properties. Wealthy Romans, however, used saffron in luxury baths. Today the spice is used to season paella and other seafood dishes, along with curry and even cheese. Other popular spices, such as cumin and cinnamon, are native to Morocco. Turmeric, ginger, and paprika are staples of Moroccan cuisine, and you can find them at the Marrakech market and throughout Morocco.
Hanoi, Vietnam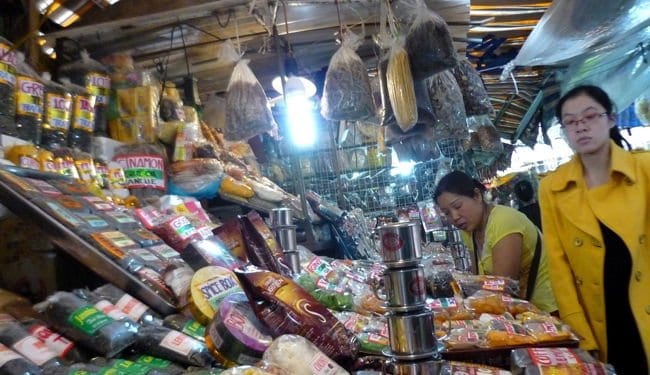 Vietnamese food is famed for its delicate and creative use of spices, and spice markets can be found throughout the country. Hanoi has numerous markets, both official and unofficial. The unofficial markets tend to spill over the sidewalks and into the streets, often causing major congestion. As a result, authorities are cracking down on the unofficial markets, but they're still rife in the city and popular with their patrons.
The traditional spices used in Vietnamese cooking are chili, lemongrass, ginger, Vietnamese mint, and Thai basil. You can buy prepared sauces and pastes at the spice markets. Other favorites, such as fish sauce, sambal oelek, shrimp paste, and rice vinegar, are easily available.
The best known market is the Dong Xuan Market, the biggest indoor market in Hanoi. Set out over four floors, this market has everything from spices, and fresh meat and vegetables to fabrics, luggage, and furniture. The streets around this market have lots of spice markets, so be prepared to negotiate for the best rates.
Cho Hom is generally considered Hanoi's premiere spice market. All the spices you need, along with fresh produce, can be found here. Miles and miles of fabrics can also be purchased and taken to a local tailor for customized clothing at an unbeatable price.
Tehran, Iran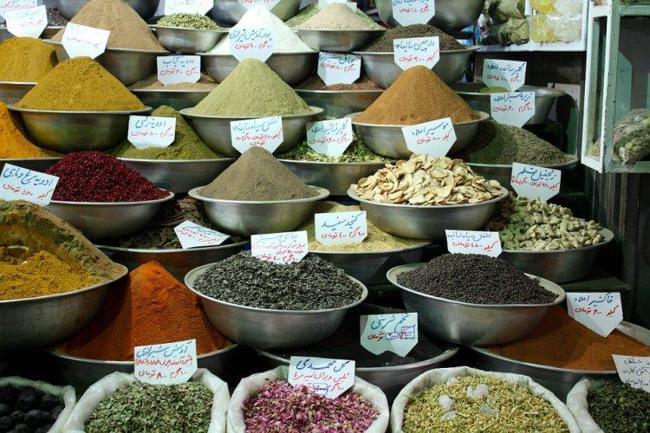 Iranians love spice markets as much as they love using fresh spices in their cooking. Iranian cuisine is often referred to as Persian cuisine, but this isn't entirely true. Although Persians had a major influence on Iranian cuisine, they aren't the only group who contributed to its wide array of flavors.
Much of the food eaten across the Middle East has roots that can be traced back to Iranian food. As the Persian Empire expanded, its food went further afield, moving through Europe via the Greeks and later the Romans.
Despite its cost, saffron is the most popular spice in Iran. It has been used in the country for cooking for over 3,000 years, making it an essential part of their heritage. Iran produces some of the best saffron in the world: sargol saffron. This is collected from the top of the flower and should be a bright crimson color with a strong smell. Check if it has been properly dried and easily breaks, otherwise you might be paying extra for moisture trapped inside.
The best market for buying spice is Tajrish, an outdoor bazaar featuring all spices associated with Iranian cuisine. Fresh citrus fruits and pickled vegetables sit next to herbs and spices.
Beringharjo, Indonesia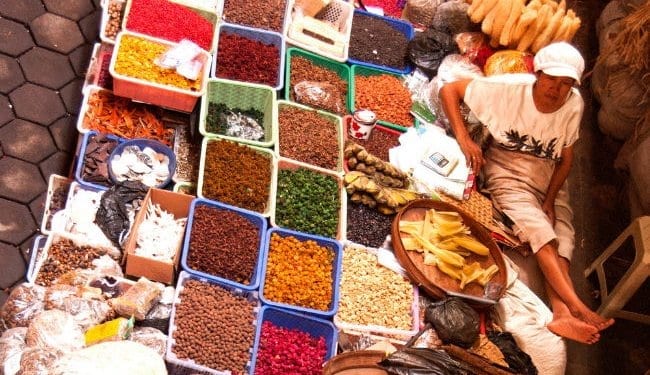 Indonesia has a long and rich association with spices. It's one of the countries that benefited most from the original spice trade. To this day, matters of spice are a serious business. The climate is perfect for growing herbs and spices, and many of the world's favorite herbs and spices are grown in Indonesia.
The Beringharjo is an ancient market in the city of Yogyakarta, and one of the region's best spice markets. Take a leaf out of the local's book and arrive early. This will allow you to pick up the best deals while avoiding the midday-madness. The market is especially busy on weekends.
The center of the market is a two-story building. This was the original location of the market, but over time it spilled over into the surrounding streets. The spice market is on the second floor. On your way upstairs you'll experience the distinctive smell of javanese herbs. The market stocks both herbs used for medicinal purposes, as well as spices used for cooking.
If you're a tourist, be ready to haggle. Locals put a hefty premium on their products for tourists, but they're always willing to negotiate a fairer price. The market opens early in the morning and closes at 4:30 p.m.
Delhi, India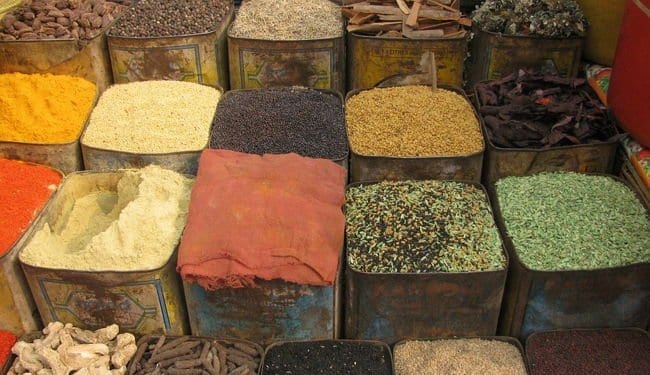 Khari Baoli is the largest spice market in Asia. The bustling market is popular with local restaurants and store holders who come here to buy their spices wholesale. Khari Baoli market dates back to around 1650 and the name translates, mysteriously, as "salty step-well."
The most popular spices in Indian food are cardamom, turmeric, brown cumin, mustard, and red chili powder. At least one of these spices are usually found in most Indian dishes.
Khari Baoli is located close to the Old Delhi Railway Station and is a 10-minute walk from the Chandni Chowk metro. The market only closes on Sundays and public holidays.
We hope you enjoyed this article on the world's best spice markets. Let us know your favorites in the comments section below.
Oliver Lovett