Counting Down To Christmas In Panama
If you grew up in the Northern Hemisphere, as I did, it's difficult to get excited about the holiday season in the tropics.
As I write from my home office in Panama City, it's sunny and warm (that is, hot and humid)… just like it always is. Nevertheless, I unpack the Christmas boxes and decorate the apartment as I have done every year, no matter where my family and I ring in the season… in Ireland, Paris, and now Panama.
Living an international lifestyle means making adjustments. Christmas in Panama has been one of them for us. With no intervening holidays like Halloween or Thanksgiving, the Christmas decorations come out in stores here in early September. If you don't buy your Christmas paraphernalia in this country before the end of October, you may not be able to find what you want.
On the other hand, whatever's left by November is on sale.
In Ireland, we went to a local tree farm each year to choose our Christmas tree, cut it down, and haul it home. In Paris, we bought our tree from the neighborhood florist. In Panama, we wait to hear that the shipment of fir trees (there's only one) has finally cleared customs and head down to the local food wholesaler who clears out his enormous refrigerated room to take delivery of the hundreds of trees he ships in from Canada each year.
And we buy two of them, one for home and a second for the office.
Then we spend an evening with our multi-national employees—they who have moved to Panama from Finland and Russia, Canada and the United States, Jamaica and Venezuela, and beyond… coming from as far away as Taiwan to this little isthmus—drinking mulled wine, listening to Christmas carols, and dressing our business for the holidays.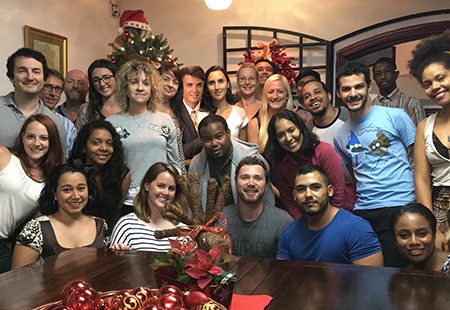 Our first Christmas in Panama City, eight years ago, we bought our tree from the Super 99 grocery store near our apartment. We chose it from among the 4- and 5-foot trees leaning against the front of the store, baking day after day in the hot sun, took it home, and watched as our little tree lost nearly all its needles well before the 25th rolled around.
Our second Christmas in Panama City, we asked for help. Where's the best place to buy a tree in this city, we wondered of friends. A big, live tree…
We were directed to a shop called Tzanetatos, on Vía Brasil, a warehouse with pallets of hams, wine, olives, and other holiday fixings, and, in a giant refrigerated area, fresh Christmas trees, delivered direct from Canada.
Ah, this is more like it, we thought as we stood in the refrigerated unit in our short sleeves and sandals, shivering and rubbing our hands together for warmth. We chose the tallest tree they had, took it home, and enjoyed it through the New Year.
We've returned to this same spot for our tree every year since, remembering to wear sweaters. Some shoppers come dressed in snow parkas.
Celebrating Christmas down here in the tropics, we never have snow, but we do enjoy the scent of pine and fresh needles underfoot.
In past years, we've also enjoyed watching our son participate in his school Christmas pageant. The eight-and-a-half years we've been in Panama, Jackson has attended Panama City's French school, l'École Paul Gauguin.
Our first year in Panama, Paul Gauguin's Christmas pageant took place in the 300-year-old Teatro Anita Villalaz in the center of Casco Viejo's Plaza de Francia. Even back then, when the student body was much smaller than it is today, it made for as eclectic a collection of small children as you might ever find.
Jackson introduced us to his friends from all over the world; some have names I couldn't pronounce even after Jackson repeated them for me three or four times. Finally, embarrassed for me, he gave up, suggesting that, if I have something to say to a particular child, he'd be happy to relay the message for me.
Some of these children, then and now, have lived in three or four other countries already, though they've only barely begun their little lives. Most speak Spanish and French; others also speak English, Italian, German, Japanese, Chinese… They switch among languages effortlessly and manage to communicate among themselves cheerfully and with far less misunderstanding than you might expect…
As do many expats of every age in the multi-cultural melting pot that is Panama City.
That first Christmas, on stage in the grand old theater on Plaza Francia, the young-but-worldly bunch from École Paul Gauguin, Jackson among them, performed Christmas songs in Spanish, French, and English, including some we recognized and many we didn't.
"Children in Palestine and children in Israel, children from the Americas and also from China, this day, let us think only of Christmas," began one song in French.
Christmas isn't the only holiday adjustment you make living in Panama…
Every country has its own independence day… or days. Panama has three, all bundled into November. These Fiestas Patrias are promptly followed by Mother's Day on Dec. 8, meaning that you're looking at a month of shortened work weeks in this country… followed by Christmas and New Year's.
Add to that the law that dictates a Monday off if New Year's Day falls on a Sunday, as it does for 2017, and Martyrs' Day on Jan. 9, a national holiday to commemorate the deaths of student activists in the 60s, you've got about three months of very little work getting done.
We get better each year at not letting that reality bother us too much.
Kathleen Peddicord