The Cambridge Dictionary defines self-sufficiency as the quality or state of being able to provide everything you need, especially food, without the help of other people or countries and the quality of being able to take care of yourself, to be happy, or to deal with problems, without help from other people.
We all have our own ideas of what self-sufficiency is to us, but that is the most basic definition. For some self-sufficiency means complete independence and consumption of nothing that is not produced by them.
Modern day practices for this include sustainable agriculture, permaculture, renewable energy, and autonomous building. These types of practices provide many benefits, such as freedom from dependence on any country to support you. Self-sufficiency also protects you from unexpected changes in life, it protects your money while also helping to protect the environment.
If you're at all intrigued by the idea, here are a few things you should now about the self-sufficient life…
First, you don't need a farming background. Whether you live in the city or country… whether you keep a garden or just some potted plants on your balcony… this is open to everyone. All you need is a love of nature and an interest in growing some of your own fruits, vegetables, and herbs.
Likewise, you don't need to drop everything to become a full-time farmer. This is something you can do on a small or large scale, whatever you're comfortable with… and as time allows.
Most of all, self-sufficiency is not giving up on luxuries. It's about having more control over your whole life… giving you and your family freedom and independence… and the satisfaction and rewards that come from growing your own.
What Do I Need To Become Self-Sufficient?
In order to be able to achieve self-sufficiency you must first make sure all your basic needs are met. The most basic needs being air; water, food, shelter, sanitation and hygiene.
After we meet those basic needs, we can then work on meeting our own goals of self-sufficiency by working on things like financial self-sufficiency and interdependence.
Financial Self-Sufficiency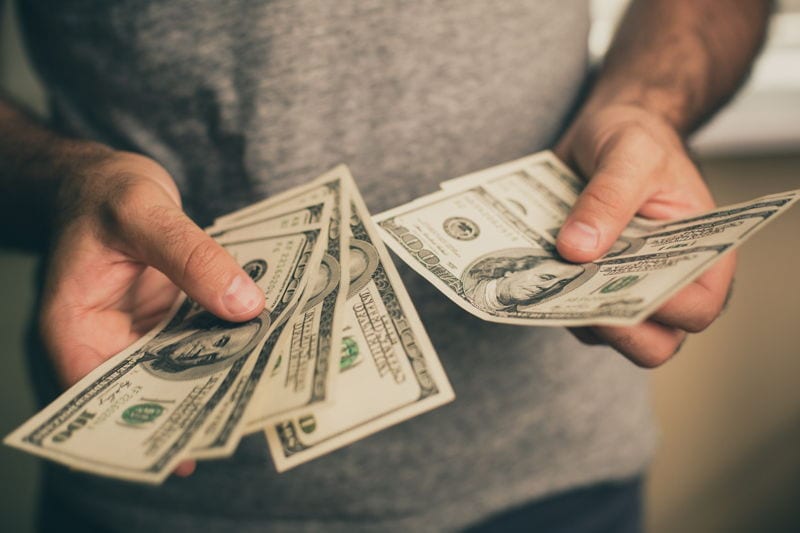 Being able to pay bills doesn't mean someone is self-sufficient and able to make it on their own without the assistance of family and credit cards. Self-sufficiency requires steps towards building a sustainable income, savings and staying out of financial debt.
What does it mean to be financially self-sufficient?
Being free from debts so that you are not bound to any lender.
Having multiple sources of income so that you still have the ability to make money if one income disappears.
Having skills or products available for barter or trade should the monetary system collapse.
In order to achieve this, you will need to secure your financial footing.
Income
You can earn an income that exceeds your monthly bills, and still not be self-sufficient. If you don't have emergency money stashed away or assets you can sell in the event of a financial crisis you will still find yourself dependent on your family and friends. The first step towards financial freedom, or self-sufficiency is to put away a safety net. This also means putting money into a retirement fund so you won't need to rely on family and friends when you reach the age.
Debt
As long as you owe someone else money can never consider yourself financially independent. And if you are at the point that you are earning enough financially to make it on your own, there is no reason not to pay others interest when you buy things.
Savings
If you are earning more than you are spending, and you have little to no debt, you should be saving. If you're not saving you are living close to the edge. And on that edge just a little setback can set you on the course of getting loans and debts that you can't pay. In order to achieve financial freedom, it is important to save money for emergencies, unemployment and retirement whenever possible.
Multiple Sources Of Income
If you ask any billionaire, and they will tell you that they have more than one revenue stream. Business fail all the time and a savvy investor will always have a contingency in case one does fail. As a Live and Invest Overseas reader, you are probably aware that the best option to protect yourself financially is by owning property overseas.
Interdependence
Self-sufficiency does not mean isolation. In fact, interdependence is an important part of being self-sufficient. Interdependence means that there is a connection between two subjects where each can meet a need that the other has. Besides that, in reality we humans need interaction, and the ability to trade for that which we don't produce ourselves. Human interaction and trade are as old as humanity itself.
In fact, the way to be most successful living in a foreign country is by communicating and learning from others, whether it's other expats or native citizens. There are many advantages to being an active part of your local community, you learn about local customs and culture, you may be offered better bargains on goods or services and you form relationships, building trust with potential trading partners.