The streets of central Paris were silent and still this morning until well past the usual rush hour of a workday morning… with not a tourist in sight even here in the city's historic heart at the height of the holiday season.
Our apartment was silent and still, too, long past our normal stirring hour. Like the rest of this city, Lief and Jackson were taking advantage of the holiday to enjoy an extended night's sleep.
Then, about 9 a.m., I heard the drums and the trumpets of Bastille Day as the parade passed nearby our street.
The main event Bastille Day military procession is traveling down the Champs-Élysées as I write, as it has this day nearly every July 14 since 1880, headed for the Place de la Concorde.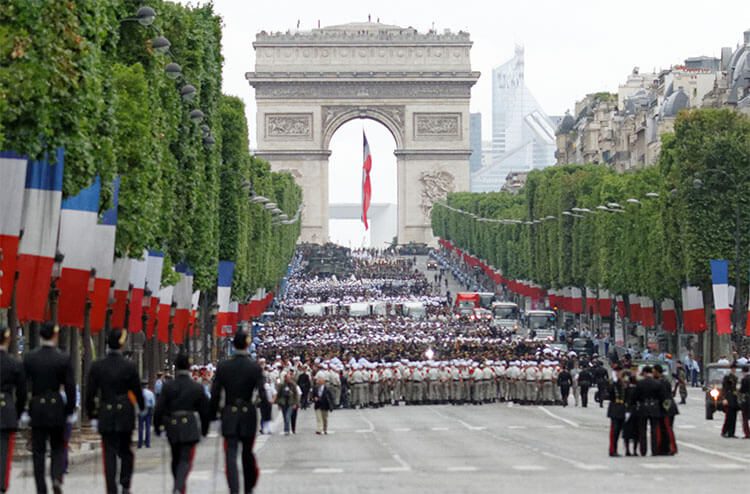 Among the parade's participants this year is U.S. President Donald Trump, who accepted French President Emmanuel Macron's invitation to come to Paris this Quatorze Juillet to help commemorate the 100th anniversary of America's entry into the First World War alongside the French.
Passing over our neighborhood one by one on the way to the show are more than 50 fighter planes and helicopters. A roaring whooossshhh rattles our 300-year-old foundations as each flies by.
Last night, President and Mrs. Trump dined with President and Mrs. Macron. The power couples enjoyed caviar and lobster at the Michelin-starred Jules Verne restaurant located on the Eiffel Tower's second floor. This morning they stood together at Place de la Concorde to oversee the parade scene.
Tonight's festivities will focus on the Champ de Mars, the gardens that stretch between the Eiffel Tower and the École Militaire. The historic green space will be like Times Square on New Year's Eve. Lief and I will be nowhere around, but young Jackson says he and friends are planning to brave the crowd.
Instead, Lief and I are thinking that we'll make the trip across town to Montmartre to take in the show from an elevated (and we hope less riotous) position.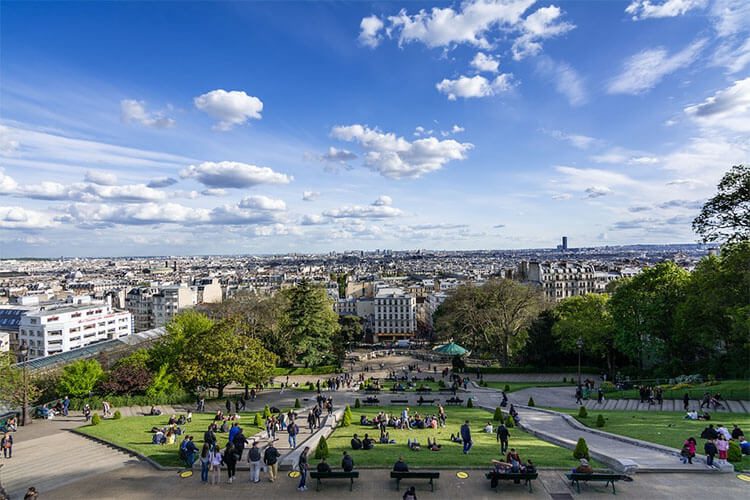 It's chilly and gray this morning, as it has been all week. Feels more like autumn than midsummer, but we don't mind. We appreciate Paris in any season.
This summer, as you know, marks our official repositioning to this city. From here on out, we'll be coming and going from Charles de Gaulle airport.
"If you were lucky enough to have lived in Paris as a young man," wrote Ernest Hemingway, "it stays with you the rest of your life, for Paris is a moveable feast."
I was lucky enough to have lived in Paris as a younger woman with two small children. I have carried the memories of that time with me these nine years since…
Memories of walking Jackson, ages 4 through 8, to school every morning, in all weather, rain and a few times snow, some winter mornings pre-dawn, both of us enjoying every step, playing word games in English and in French, pointing out new window displays, waving to our corner butcher and neighborhood grocer and cheeseman, who'd sometimes offer us free bites of Camembert or Brie…
Memories of standing on the corner of Rue du Bac and the Boulevard St. Germain in December holding Jackson's hand as he and I would linger to look up and down the "grand boulevard," as he called it, lit up for the season, tiny white lights strung in every tree and around every shopfront…
Memories of making the trek with both children each November from our apartment along the Seine to Rue St. Paul in the 4th and the shop known as Thanksgiving for the supplies to prepare our annual feast as Americans in Paris…
Sunday afternoons at the W.H. Smith bookstore on Rue de Rivoli shopping for books in English… of Saturdays in the Tuileries gardens, sailing boats in the fountains in spring, riding the Ferris wheel at the carnival in summer, and watching Jackson run through great piles of fallen leaves come fall…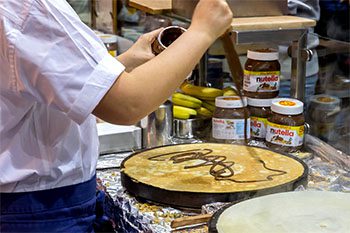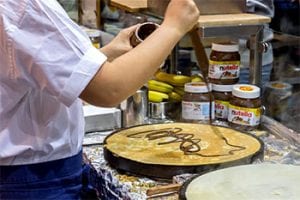 Crepes with Nutella, picnics in the Luxembourg Gardens, Jackson learning to ride a bicycle on the cobblestones of our courtyard…
The children struggling to learn French… and our daughter's first French boyfriend who had a lot to do with Kaitlin finally overcoming the language hurdle…
The four of us cramped into an apartment that is one-fifth the size of the house we'd moved from in Ireland, four Americans learning to downsize on the fly because four people in 112 square meters doesn't leave a lot of wiggle room…
Ah, those were the days.
No, wait… those are the days. I now find myself lucky enough to be returning to Paris!
Time to go make some new Paris memories.
Happy Bastille Day.
Kathleen Peddicord