Colombia could be the best travel bargain in the world right now because of great exchange rates in almost any foreign currency, especially U.S. dollars. Twelve months ago the Colombian peso was 1,850 to the U.S dollar. Today a dollar can bring 2,992 pesos and will most certainly surpass 3,000. Prices within Colombia are not being increased to adjust for the foreign currency conversion. This means that Colombia is almost 40% cheaper, than it was one year ago for travelers with U.S. dollars.
Colombia has long been a budget-travel bargain with plentiful, affordable guesthouses and hostels. It is easy to eat well, travel and enjoy tours for less than other South American destinations.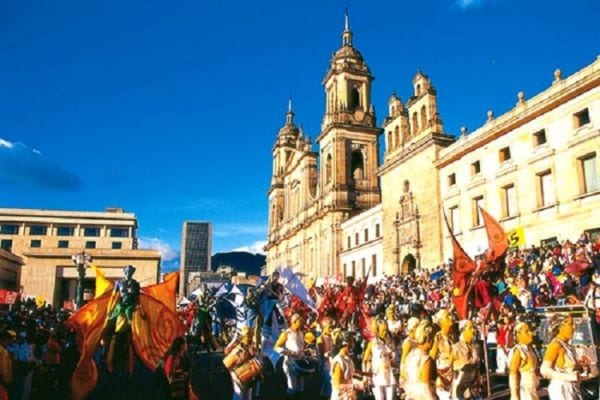 For example, a good pizza is 25,000 Colombian pesos and glass of wine, 14,000 pesos at most pizzerias in Bogota. This would have cost you US$19 one year ago, but today is just US$13. The same goes for rates at any locally-owned boutique hotels, attractions, or tours priced in pesos.
This is great news for the savvy international traveler, but what about those who do not know anything about Colombia?
Since emerging from decades of civil unrest, Colombia has established itself as one of the world's top travel destinations. Traveling in Colombia is a marvel of diversity. This exquisite South American nation is blessed with natural beauty. With lofty Andean peaks, and pristine Amazon jungle. Not to mention mysterious archaeological sites, colonial treasures and thriving cities. The huge landscape borders both the Pacific Ocean and the Caribbean Sea, with beautiful beaches, islands and coral reefs.
It's a joy to travel Colombia. Security in Colombia has improved significantly in recent years, including in tourist and business travel destinations such as Bogota, Cartagena, Barranquilla, Medellin, and Cali. Tens of thousands of U.S. citizens safely visit Colombia each year for tourism, business, university studies, and volunteer work.
At the heart of it all is Bogota, the pulsating capital. Once synonymous with drug cartels and gangs, the city has recast itself as one of South America's trendiest destinations. A place of hip bars and street art, vibrant markets and colorful architecture. Sprawled across the Andean plateau, Bogota offers a fabulous mix of old and new; the cobbled streets of La Candelaria offer a stark contrast to the urban chic of Zona Rosa.
Many of Colombia's colonial towns have been painstakingly preserved. Cartagena a UNESCO world heritage site, is one that warrants a visit.
But there is more to Colombia than magnificent scenery. The culture is magical and is alive with festivals and music. Cali is s high-energy city known as the Salsa capitol of Colombia. Barranquilla hosts a spectacular carnival to rival Rio's, and the people are friendly and welcoming.
If you are looking for fun, travel, and adventure without emptying the bank, then Colombia should be considered. Few places around the world offer the level of diverse culture and geographical beauty as Colombia. Take advantage of it while you can.
Comments