Spain is always ready to take your senses for a drive anytime. Definitely, it pays homage in almost every corner to their national motto "Plus Ultra" roughly meaning "Further Beyond". With its welcoming, colorful people and towns, life feels here like it's under an unyielding flow. It feels spirituous, as this country's fine wine, incredible music, breathtaking sights and places of interest are all deliciously intoxicating.
You can find something for almost every taste in Spain. Whether it's city beach stretches like those in Malaga, Marbella, and Valencia… Paradisiac groups of islands like Tenerife, The Canary Islands, and Palma… Culturally rich cities like Madrid and Seville… Snowy settings in the mountains of the Pyrenees, and towns that seemingly have the best mix of everything, like Barcelona.
Right now, Spain's tourism is the country's primary source of income. With all the recent neighboring terrorism warnings cycling around Europe, flocks of tourists from the US around the block and the world are turning to Spain as a safe, precious haven for vacations.
And why wouldn't they? Spain offers an array of activities, landmarks, and cultural levels so ample it's ridiculous. All of that at affordable prices when in comparison to other European counterparts. Tourism here is so good in fact, that some parts of the country have to tax tourists higher and/or cater to more upscale audiences. This in order to try and mitigate the sheer flow of people that visit their tourist spots every year and avoid saturation.
Whether you are planning a first-time trip to Spain or considering living here, this next list of Spain's top 10 places to visit is guaranteed as must-have experiences to try in the Iberian kingdom.
The Prado Museum, Madrid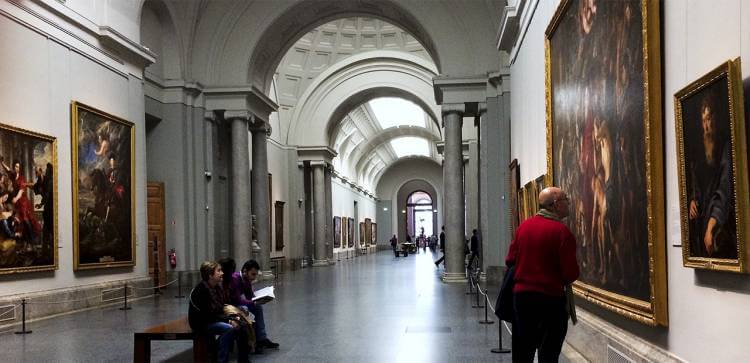 The #1 art museum in Spain is also one of the most visited museums in the world. The Prado hosts one of the biggest and finest collections of artworks in the face of the earth. And unarguably the best collection of Spanish art in its walls. Coming here is a total must for tourists and expats alike.
The collections range from 8,200 drawings, 7,600 paintings, 1,000 sculptures as well as another sizable number of other pieces and documents. You could pass weeks here without revisiting the same sculpture. And like if it weren't enough, there's a planned extension of 16% nearby the Salón de Reinos set for completion in 2019.
The best-known piece on display for this amazing building, designed by architect Juan Villanueva in 1785, is Las Meninas, by famous Spanish painter Velázquez. The level of detail and complexity in this pieces' composition is nothing short of astounding. It is one of the most analyzed and heralded works in western painting in history. Approaching the painting's wall, and not only look, but observe every stroke and feature of this piece is worth the whole ticket by itself.
Ibiza Island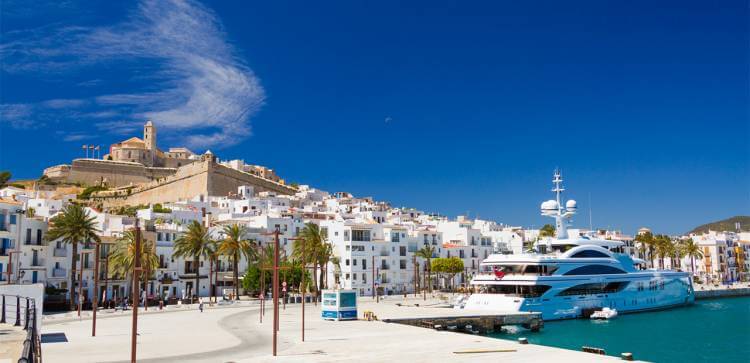 One of the most widely known go-to party destinations in the world, Ibiza is a little island on the East Coast of Spain, near Valencia.
It is renowned by its bustling nightlife, revered as the apotheosis of electronic music festivals and clubs, and summer party scene. Lately though, the government has been working to turn Ibiza's image to cater to a more family-oriented kind of tourism. They are trying to drive away part of the flocks of teenage and young adult party-goers that tend to over do it while staying on the island.
If you want to party hard, the must-go clubs are Privilege, DC-10, and the cherry on top, Amnesia Ibiza. You'll have the experience of your life in any of these venues, "Project X" style.
But Ibiza is not all nightclubs, as Ibiza has so much to offer. You can take ferry or boat to Formentera, a tiny island some miles north for outstanding beach settings… Then go diving its clear and warm waters in summer. Take the Ibiza Tourist Train, and visit the many other spectacular beaches it has on its menu. Ibiza is an experience all by herself.
Islas Canarias (The Canary Islands)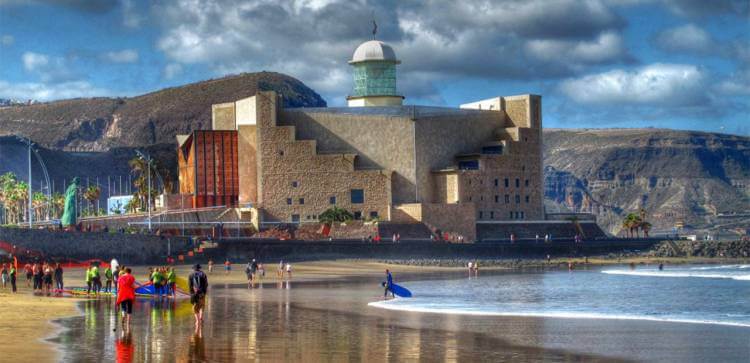 The more relaxed Canary Islands offer a more "beach retreat" setting than Ibiza. While it doesn't feature a full-blast party style, the nightlife here can offer good options. But the cherry on top of the Canary Islands are the vast, and I mean VAST arrange of beach tourism it offers.
You have reclusive, intimate little islands like Lanzarote, Gomera, and Hierro… First-grade beach towns like Tenerife and Gran Canaria Islands. They offer white sand beaches, and full-package adventure activities like diving, motor skiing, windsurfing in Fuerteventura, and even hiking.
Las Canarias is also a natural and cultural hotspot, as UNESCO named the Garajonay and Teide national parks as natural heritage sites. Also, the colonial district of San Cristóbal de la Laguna is a cultural UNESCO heritage site since 1999.
The Santiago Bernabéu (Or the Camp Nou)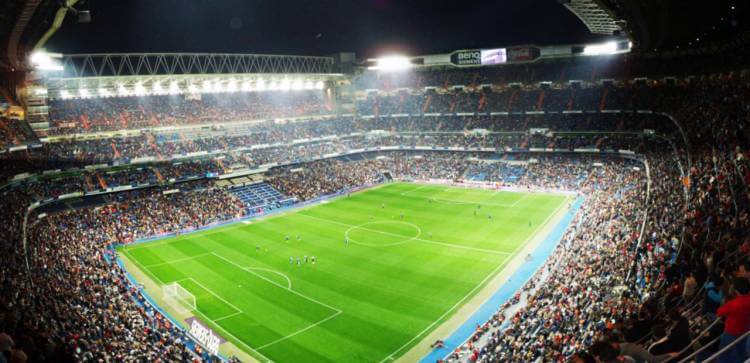 A decision based on preference, since these two legendary football stadiums are both the truest definition of "Plus Ultra" for European football (here, soccer is a meaningless word. There's only football, or fútbol).
You can visit either (or both, why not?), and have a complete tour of the stadiums (with no limits). You'll have access to places normally no one would be able to lay his eyes onto or even imagine. For example – you can walk the tunnel to the locker rooms, sit on the benches, walk the pitch, and even go up to the presidential box. Then, you can visit the museums, all the club's history and souvenirs.
But of course, you can always plan if you have the chance, to buy the tickets in order to catch one of the games. It's a truly epic, once-in-a-lifetime experience.
Casa Batlló, Casa Milá and Casa Museo Gaudí (Gaudí House Museum)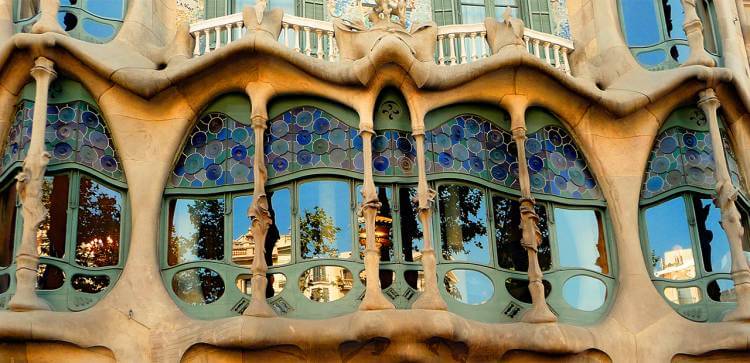 The most famous Spanish architect of all time as well as one of the most known and respected worldwide. Antonio Gaudí was the mastermind behind these three buildings, which are the artist's legacy of his genius to the world.
Every one of these houses has a very distinct style and feel, which are one of Gaudí's trademarks. Intricate room spacing, intricate walls, windows, stairway and interior design… all of them tell a different story inside these walls. They are now set up as interactive museums so people can know more about the rich history of Spain's master of modernist structural design.
These three are total-must stops for everyone that steps into Barcelona. It's architectural eye candy.
Parc Güell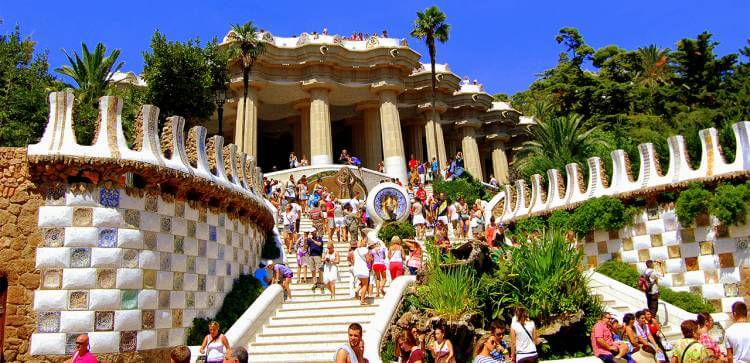 Also designed by architectural extraordinaire Gaudí, Park Güell is a public park system consisting of a series of gardens and other architectural elements in Catalonia, Barcelona.
The Park is worth complete articles and studies by itself. It is one of the most famous landmarks of Barcelona, and a UNESCO world heritage site.
Intricacy could be the best word to describe Gaudí's works. The split ceramic pieces that adorn the majority of structures and statues in the park, make an almost-living collage. He inspired from natural forms, shaping nature into archways, galleries, columns and benches. He let his mind and imagination run wild for this ambitious project. The final product: A whole composition of greenery and structures that create a journey, a full experience for the visitor's mind.
It is hard putting the magic of Parc Güell into words. Especially brief words. You've got to see it for yourself.
Las Ramblas – Eixample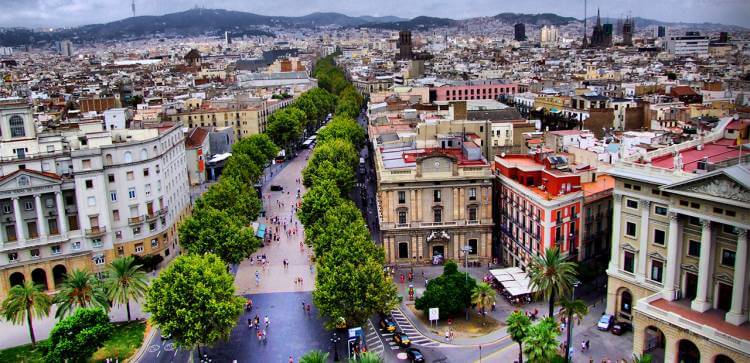 "The only street in the world which I wish would never end." Those were the words Spanish poet Federico García Lorca used to try and describe just how amazing Las Ramblas is.
Las Ramblas is an ensemble of streets along central Barcelona, featuring a 1.2 kilometer (0.75 miles) long tree-lined pedestrian mall. It is a super popular tourist and local feature of the city. It can get very crowded, so much, in fact, some of the locals complain about it affecting the essence and character of the street.
Either way, as awful as it can be for them, Las Ramblas is another spot you can't let go by. Florist stands, ceramic mosaics on the floors by Miró, the Gran Teatre del Liceu (Barcelona's most renowned opera house)… The Centre d'Art Santa Mònica, the Teatre Principal, the Palau de la Virreina, and the Museu Erotic de Barcelona, are examples of the sheer cultural strength of this street.
El Rinconcillo for Tapas (Seville)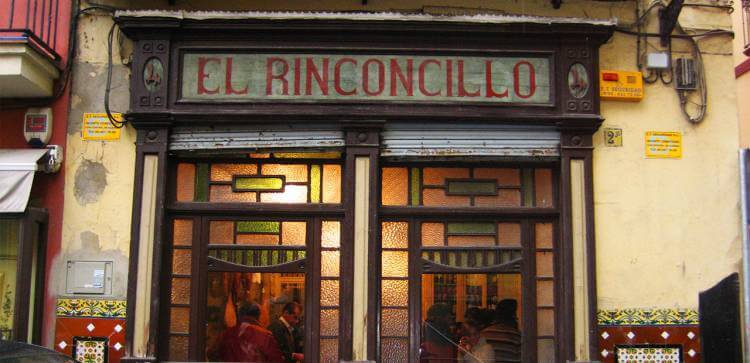 Lauded as the best place to go for tapas, period. El Rinconcillo, in Seville, is a restaurant that goes back all the way to 1670, making it the oldest tapas restaurant ever and one of the oldest worldwide. Entering here is like entering into a time machine. A time machine with delicious food.
There are almost endless options for decent tapas in the country all-around, so people tend to argue about which is the best venue. A question that might have no real answer. But for a real, classic tapas tasting, this is one of the places to go.
Watch Flamenco at Casa Anselma or La Carbonería (Seville)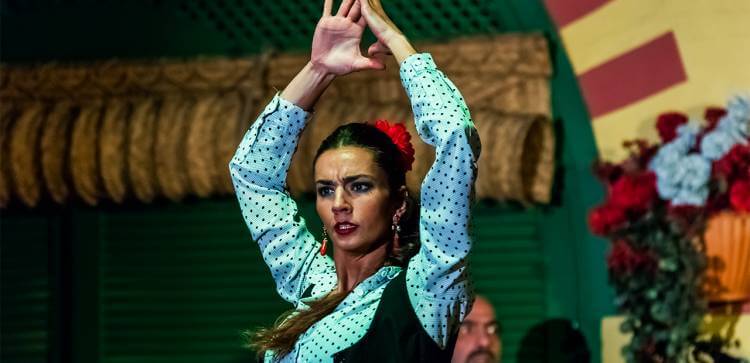 You can't say you really went to Spain if you didn't watch a Flamenco show, even one on the streets. Casa Anselma and La Carbonería, all in Seville (known as the cradle of Flamenco) offer a show in the highest form of this musical style, along with some great tapas, wine, and dishes for good measure.
La Sagrada Familia (Barcelona)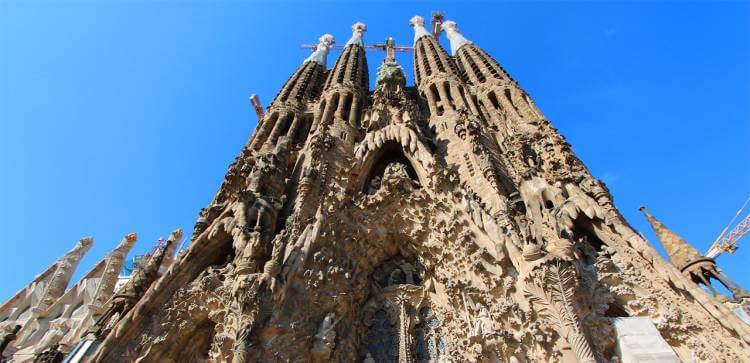 Arguably the masterpiece of Gaudí. Sadly, it was never finished while in his lifetime. Work for this massive basilica started in 1882, with Gaudí at the reins from 1883 to the date of his death in 1926, where the basilica was only completed by less than a quarter.
He combined the gothic style with his characteristic Art Noveau style, giving the structure a one and only design. It has since then been intermittently developed by both private and state efforts. The anticipated final completion of the basílica is scheduled for 2026, the centenary of Gaudí's passing.
However, this behemoth is one of the most known landmarks of Barcelona and even Europe and can be toured for a 15-20€ fee.
The many mind-numbing, intricate façade designs referencing the liturgy… Stained glass, sculptures, columns and super high vaults make for a unique experience. No matter your religious stance, the building is an architectural marvel, a must for everyone alike.