The Return Of The 6% Savings Account
A pleasant surprise was waiting for me early this morning. The sun was shining down through the trees, and two huge parrots were chattering among the broad leaves outside my window…but that's really no surprise in this area.
What was more unexpected was the pair of bank statements awaiting me when I logged online. One account showed an annual interest rate of 6.08%; the other showed a rate of 5.01%.
Now most of us remember when a passbook savings account earned these rates, or more…but we haven't seen those days for a while. And, given the Fed's current policy, we won't be seeing them anytime soon either.
For me, this is just one more benefit to living in Colombia—a fair rate of return on a secure deposit. And it can be available to you, too, even if you don't live here.
Most everyone knows that U.S. economic growth not only slowed but reversed in the final quarter of 2012. However, the most alarming news for me was why the economy shrunk—reduced government spending. Have a look at a recent article from the New York Times.
This is a big problem. One of the biggest concerns in the United States these days is the ballooning government deficit and mounting debt. The real spending cuts required to correct the situation haven't even begun.
Yet the economy has already shrunk in reaction to what little has been cut so far. This tells me that we're way too dependent on government spending…and that when the real cuts come, the economy will be in real trouble.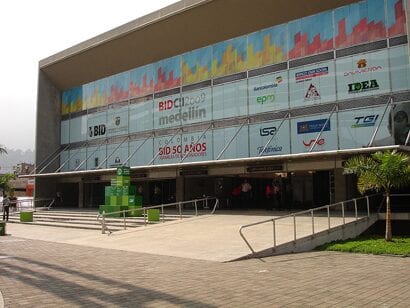 In contrast, present-day Colombia is a solid, stable, economic success story. Colombia enjoys a solid industrial base, abundant energy, and strong economic growth. According to The Economist, Colombia's 2012 GDP growth rate is coming in at a respectable 4.4%. That compares with 1.0% in Brazil, -0.1% in Britain, and -0.4% in the Eurozone.
As you're still earning healthy interest rates in Colombia, your money can work for you in ways that are no longer possible in the traditional powerhouse economies.
The accounts I mentioned above are offered by a Colombian financial institution known as a "fiduciary," where I have an account. These types of institutions serve as foreign exchange intermediaries, processing funds into and out of Colombia, and also as a broker on the stock exchange, much like a U.S. brokerage house. In addition, like many U.S. brokerages, they offer a number of their own financial products.
I recently opened two new accounts with the fiduciary agency I've worked with now for more than two years. One account is totally liquid. You can withdraw money from it at any time, on a few hours' notice. The current interest rate is just under 5%. This is actually not a bank account, but rather a portfolio of AAA or Sovereign investments, mostly notes to other banks. The portfolio too, has a Fitch rating of AAA. Minimum deposit is less than 500,000 Colombian pesos (that's about US$300 at current exchange rates).
The second account is a 90-day instrument, with a minimum opening deposit (and minimum balance) of just under 3 million Colombian pesos (or US$1,700). This too is a portfolio of investments, mostly fixed-income. They're all investment-grade but can be less than AAA. The portfolio's own Fitch rating is AA.
In my case, I use these accounts to generate a good rate of return for cash I have in Colombia. I also have an account for cash that was earning almost nothing in my self-directed 401k.
Also, as these accounts are in Colombian pesos, these accounts provide another benefit that is very important to me. They help to diversify me outside the U.S. dollar.
These days in the United States, there's generally no one at the bank (any bank) who really tries to earn your business. And, once you're a client, there's no one who actively works to keep your business, especially if you're a small investor.
But that's not the case here. I have a dedicated, English-speaking contact to answer questions and to move money to and from my accounts for me in response to my e-mail requests.
Lately, I seem to spend a lot of time looking for where to invest and for ways to make my cash work harder. So it feels good to get my daily e-mail update of what these cash accounts are earning.
Lee Harrison
Editor's Note: Lee details these high-interest-earning account opportunities and options in greater detail in the current issue of the Simon Letter, in subscribers' e-mailboxes this week. If you do not already receive this publication, you can become a Simon Letter subscriber here now.
Continue Reading: New International Airport Opens In Quito, Ecuador or Gun Ownership Laws In Belize
Image credit: jota_estrada1