Live And Invest Overseas And Its Editors Have Been Featured In:


Finally: Regular Folks Can Now Access The Wealth Building And Protection Strategies Of The Rich And Famous…
Millionaires and politicians have known the benefits of building and preserving wealth overseas for centuries.
Spurred by greed, necessity, or just plain resourcefulness, international strategies have protected earnings from frivolous lawsuits, onerous tax regimes, and currency devaluations.
The good news is that, thanks to the proliferation of the internet and other modern technologies, you no longer need to be wealthy in order to take advantages of offshore strategies.
And with the current batch of inept politicians and runaway budget deficits, it's now more important before than ever before in our history to protect our savings and investment nest eggs.
Most tax loopholes for going offshore were closed with the U.S. Tax Reform Act of 1986. Your options today are now more limited, but the benefits can be significant.
Unfortunately, most people don't understand the rules as they relate to an American abroad.
Lief Simon has spent the past 20 years figuring out how to internationalize his life and diversify his assets, his business ventures, and his investments.
Lief's two brand-new reports, How To Earn $202,600 A Year Tax-Free and The Last Tax Loopholes: Two Assets The IRS Doesn't Care About (Yet) showcase and explain—in simple language—how to take advantage of the most important tools in an expats tax toolbox.
Best of all, both reports are absolutely free.
Simply enter your email address in the form below and you'll receive both reports in your email inbox within minutes… absolutely FREE!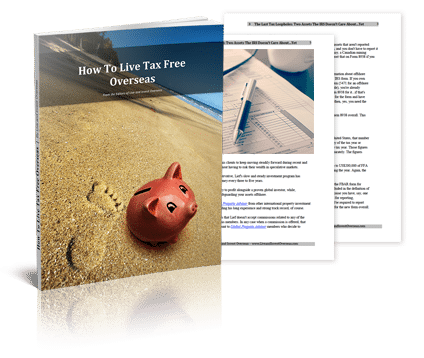 Let us teach you how to build wealth, reliably and consistently...
Find out the simple strategies to set up iron-clad defenses against future litigation, frivolous suits, and divorce actions...
Let us show you how to set up your situation to legally avoid paying income tax... up to $202,600 per year, tax free...
Take advantage of the two types of investment that the IRS cares nothing about (in other words, you can put your money in these and not have to report them when you file your taxes Stateside)...
The easy and quick first diversification step you can take now to make sure your assets are protected... a few minutes of your time could end up saving you a fortune...
Find out the world's top offshore havens... where your privacy still matters, where your wealth is protected, and where you can set up a business to earn nearly tax-free profits...
Discover the world's next great investment opportunities, from farming and agriculture to middle-income housing in developing nations...
Own a business or investment property? You have a 1 in 3 chance of being sued... this year. We'll show you how to protect your wealth from litigation...
Learn the specific structures that will make it impossible for anyone in the world to touch your assets (again, all 100% legal)...
Discover the world's next great investment opportunities, from farming and agriculture to middle-income housing in developing nations...
And much more...

For over 200 years the millionaires of the world have used these strategies for building and protecting their wealth.

These days, thanks to the internet, you can now access the same centuries-old strategies. Let us show you how...
Warning—This Is Not Your Average Free Intelligence Service


Here's What You Should Know About Us…
First, Lief Simon is my real name. Nothing that you will read about in Offshore Living Letter involves shady dealings.
Second, yes, this stuff takes some figuring out… but it's not as complicated as many in the business like to make out. The biggest challenge you'll find is that the targets are always moving.
Over the last 20 years living and doing business around the world, I've built a network of reliable and expert contacts I trust—attorneys, bankers, tax consultants, and other advisors, both Stateside and in the jurisdictions where I spend time and money. These are the people who keep me up-to-date on important changes… as they happen. I know of no other reliable source where this kind of from-the-scene intelligence is shared in real time by someone with real world, first-hand experience at all this.
Third, you don't have to be a millionaire to take up the idea of banking, doing business, or investing offshore. There are different levels to this game. Only you will know what makes sense for your circumstances and what's within your comfort zone.
Offshore Living Letter will help get you started on your path to relying on yourself for your future's prosperity… not some government.
You can expect Offshore Living Letter twice a week, on Mondays and Thursdays. The information you get will be straight-up. I'll tell it like it is. You'll decide what's right for you.
Again, my goal is to inform you of all your legal options and to help you figure out the opportunities that best suit you.
As I've said, this is serious, down-to-business, here's-what-you-need-to-do-to-protect-yourself advice. No frills. No dreamy travel tales. We've no time to lose.
Here's what Offshore Living Letter readers have to say:
What I admire is your honest, tell-it-like-it-is approach. A lot of people have been hurt by nothing but glowing reports about offshore living from various sources. I am sure that your honest, direct approach will be a real service. I don't know if you will sell as much stuff that way, but certainly will be doing a good work!

—Arlean K., United States
I wish to congratulate you for the quality of your reports. The plain, matter of fact, but essential and wise information we all need to take vital decisions, especially in these extremely difficult times.

—Peter L., United States
Kathleen, I've been reading my dreams through you for years. Keep up the good work, helping people live their dreams. I'm still dreaming…

-- Diane J., United States
My evolution has been from survival retirement at age 62 to what has become the most fun and rewarding part of my life today, 10 years later.

-- Gerald L., United States
Welcome To Live And Invest Overseas!
Offshore Living Letter is a publication of Live and Invest Overseas. Your editor ofOffshore Living Letter, Lief Simon, has lived and worked on 5 continents and traveled to more than 50 countries.
Lief has personally purchased more than 45 properties, investing in 23 different countries around the world. He has managed multi-million-dollar developments, multi-million-dollar property portfolios and more than two dozen rental properties. Lief has launched and managed business ventures in 10 countries, including local businesses, web-based businesses, and international franchises.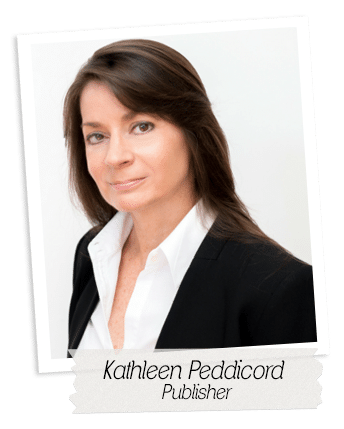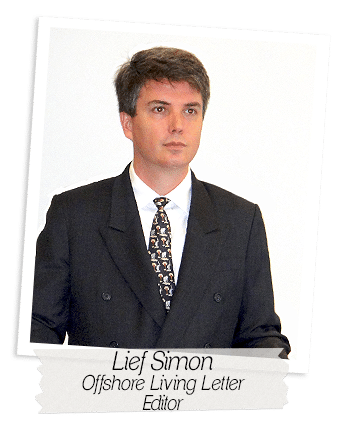 Live and Invest Overseas was founded by Kathleen Peddicord, who has been covering the international living and investing beat for nearly 30 years. Kathleen has more experience researching and reporting on top opportunities for living well, investing for profit, doing business, and owning real estate around the world than anyone else you'll find, and is the recognized live, invest, and retire overseas expert.
Kathleen has traveled to more than 50 countries, established businesses in 7, and invested in property in 23. Thanks to these adventures abroad, Kathleen has been able to assemble an unparalleled network of global contacts, colleagues, friends, experts, resources, expats, and advisors. This team, with many decades of combined experience, is on the move continuously in search of opportunity.
Live and Invest Overseas' insider, from-the-scene reports, dispatches, tips, recommendations, discoveries, and insights are delivered to Offshore Living Letter readers twice a week.
See for yourself… subscribe to the FREE Offshore Living Letter!