Economic Uncertainty, Global Pandemic Make this Book Extremely Timely
PANAMA CITY, Panama (August 18, 2020) – In their latest book, Buying Real Estate Overseas For Cash Flow (And A Better Life), leading authorities on buying property overseas Kathleen Peddicord and Lief Simon offer practical advice on how to find great deals, buy and manage property profitably in unfamiliar and potentially volatile foreign markets.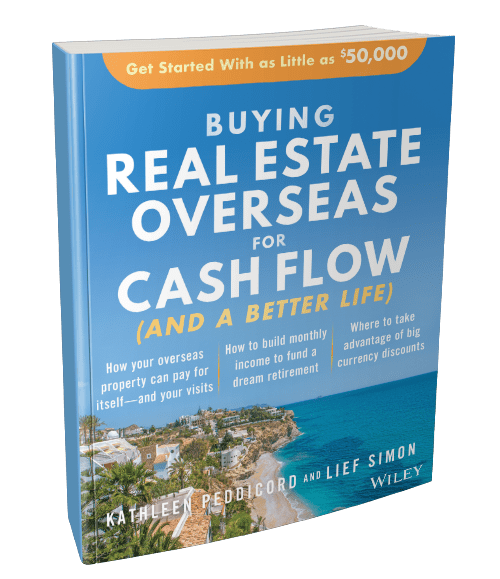 In the current uncertain investment climate, foreign real estate represents a more important opportunity than ever before, for both the investor who wants to move a portion of their wealth abroad and the retiree looking for affordable living options.
The book's release comes at a time when many Americans have no confidence they will have enough money to retire comfortably, if at all.
This coupled with longer life spans which put greater financial strain on corporate pensions and other retirement plans means that individuals need to do more with their savings to provide for their own retirement.
Most Americans looking to build wealth typically turn to stocks. It's often the default investment strategy, mostly because they aren't aware of other investment strategies available to the average investor.
Buying Real Estate Overseas For Cash Flow (And A Better Life) explains one of the best options available today for diversification, asset protection, and a safe haven for wealth.
"Foreign property is a hard asset that, unlike stocks, for example, can't go bankrupt and collapse to zero" said Simon, co-founder of Live and Invest Overseas and editor of the Global Property Advisor newsletter
"It also means that you don't have to watch the markets on a daily basis, wondering when to buy, hold, or sell. Don't get me wrong. I'm not completely against the stock market" stresses Simon. "I hold a small amount of stocks and mutual funds, but, over the years my real estate investments have returned far more than the S&P 500 could offer".
Buying Real Estate Overseas For Cash Flow (And A Better Life) shows you how to buy in the right place at the right time, avoid unexpected challenges and pitfalls, and build a new and better life well into retirement. Written by two of the world's foremost authorities on overseas retirement and foreign property investment, this practical guide walks you through each step while identifying each of the world's top cash flow markets. You will learn how much you can afford, the most effective strategies to earn cash flow and fund your lifestyle, the best ways to sell for top dollar and transfer money across borders, and much more.
"Overseas investing literally provides a world of opportunities," said Peddicord, co-founder and publisher at LiveandInvestOverseas.com. "There is also a set of inherent challenges and in the book we use our experience to share rare and much-needed advice for individual investors considering the opportunity, adventure and pleasures of owning real estate in foreign markets.
"The overseas lifestyle isn't just for the rich; anyone can do this," continued Peddicord.  "Retirees can live on a beach in paradise for less than they can in the United States".
Buying Real Estate Overseas For Cash Flow (And A Better Life) offers specific examples, like a property on a sunny Mediterranean island for under US$50,000 that could also provide a net rental yield of 14.95%. The book also provides wealth building strategies that aren't dependent on where the stock market, the U.S. dollar, or the whole future of America is headed.
Buying Real Estate Overseas For Cash Flow (And A Better Life) is now available for purchase in retailers nationwide and online through retailers like Amazon. The suggested retail price for the 212 page book is $29.95.