I've bought, sold, and renovated houses in more than a dozen countries.
But, until this year in Panama, I'd never built one from scratch.
As recently as a couple of months ago, my kindest description of the undertaking would have been: Painful.
Today, at long last, I can report on the experience more cheerfully… for the end is near.
The house in question is the Founder's Lodge at Los Islotes, the private beachfront community Lief and I are creating on Panama's western Azuero coast.
We decided to build a house of our own at Los Islotes to show others who are considering building homes of their own at Los Islotes how it can be done. You could say we're working out the kinks in the system, hoping, thereby, to make easier the path for those who intend to follow us.
And, boy, have we encountered kinks.
Today, though, as you read this, the roof is on, the handmade Spanish colonial-style floor tiles are being laid, the hardwood doors and windows are on their way, all fixtures and appliances have been ordered, and I've begun shopping for furniture.
Our Founder's Lodge will be ready for occupancy six weeks from today. Lief and I are planning a party with a few friends to mark the occasion.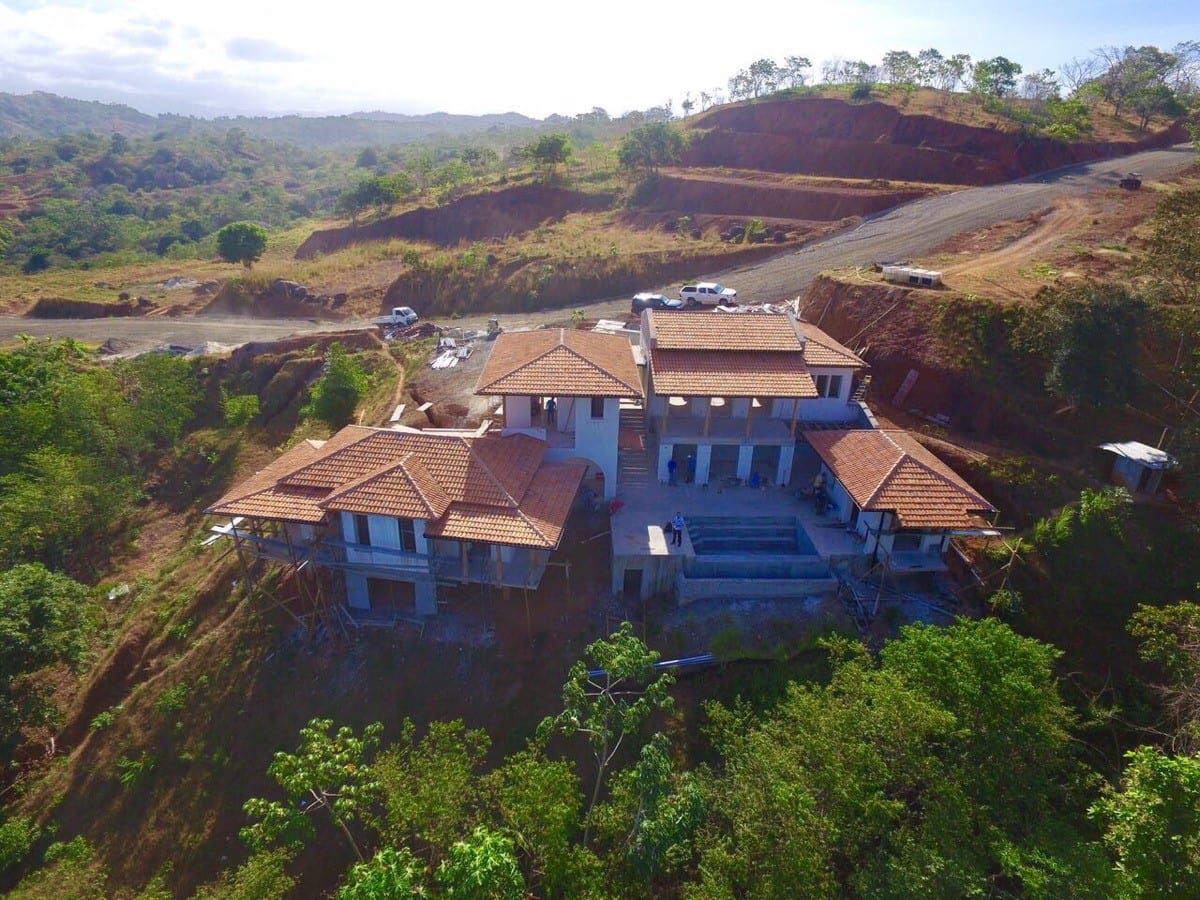 A view of the Founder's Lodge from the water taken by a drone about a month ago…
After the twists and turns we've been through these past many months learning how to build a luxury-standard house on one of Panama's most private (that is, least developed) stretches of Pacific coast, to say that Lief and I are looking forward to our first night in the finally finished house understates the level of anticipation at work.
At times, we've wondered if this house would be under construction for the rest of our lives.
Specifically, what have we learned?
Here are our biggest lessons, 7 things to know before undertaking the construction of a house in a foreign country…
Be sure you have the time and money to complete the project… assuming it's going to take longer and cost more than you're projecting. It always does.
If you can't be on site full-time, you need a plan to protect your investment. You need both security and eyes on the contractor.
Speaking of the contractor… take the time to investigate his track record and reputation before pulling the trigger. Your contract is only as good as the person with whom you enter into it. In addition, insist that your contractor present you with a detailed itemized bid based on the architectural plans that includes everything from window and door frames to iron railings and zine-plated screws.
Don't skimp on the architectural plans. You get what you pay for. We worked with one of the most expensive in Panama to draft the Founder's Lodge design. We could have saved a few thousand dollars at least by using someone else… but we've seen how wrong things can go when the plans aren't fully thought-through and painstakingly detailed. When working in a foreign country with workers of varying levels of experience and expertise, it's a risk to leave anything open to interpretation. The crew on the ground has no choice but to improvise. I promise you that their improv will not meet your expectations.
As much as possible, use local materials. These are more affordable than the alternative (importing everything) and more familiar to the local crew.
Consider the context. If you're building at the coast, as we are, remember the toll that sun and sea air take. We've chosen to finish the local hardwoods we're using in the construction with wax… and we're prepared to have to reapply the wax finish at regular intervals. It will be a constant part of the maintenance of the property. We've invested in oversized rain gutters because, during the rainy season, the rain can fall in torrents. And we've invested in extra insulation beneath our red clay-tiled roofs to help control air-conditioning costs over time. Already, we feel good about this choice. It's at least 5 degrees cooler inside our house than outside it… and that's before the windows and doors have been installed.
Don't pay in full up front for anything. You know this. It's common sense. However, we've gotten into trouble when we've listened to various workers' hard-luck stories. Pay something to get the work in question under way… something more at agreed-upon progress benchmarks… and the final amount after all punch list items have been addressed. And don't be tempted to compromise on that plan.
Now that our first-ever from-scratch house is nearly finished, would we ever do this again?
You betcha.
This house—now that it's close to being an actual house—is exceeding our vision for it. This one under our belts, we're beginning to think about our next Los Islotes home construction project…
Kathleen Peddicord