France is one of the best places to live or retire in Europe. In this article, we take a look at the best places to buy real estate in France. It is a country with a range of living options to suit every taste. France has it all. Mountain living, beach towns, historic towns, and city life. France also suits all budgets. You can live an affordable lifestyle here or enjoy luxury living in your Parisian penthouse.
France benefits from some of the best health care in the world. Public transport is modern and reliable, and the infrastructure is well developed. However modern France is becoming, it remains a lot of its traditional charm.
People still go to the local bakery for fresh baguettes and croissants every morning. At lunchtime, everything closes for an extended lunch break. France is a perfect example of when old meets new.
Best Places To Buy Real Estate in France
1. Nice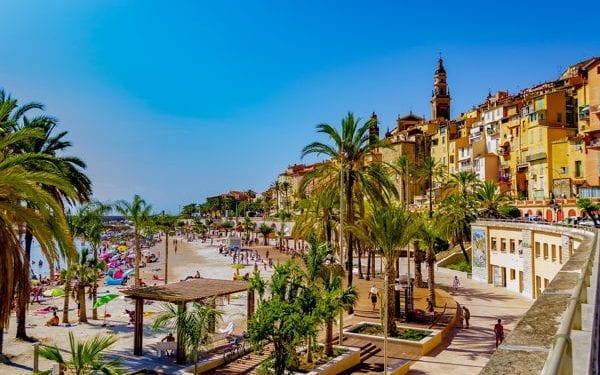 Rental Potential in Nice
Nice is one of the best places to buy real estate in France. That´s because the French Riviera and breathtaking Cote d'Azur coastline attracts over 5 million visitors per year. Known for its "300 days of sunshine" Nice attracts many tourists year-round. The season peaks with summer between May and August. With two shoulder seasons, the only time Nice is quiet is from November to late February. Even then, there are still tourists passing through. You will be able to navigate the purchase of a property through one of the many English-speaking property specialists.
Things To Be Aware Of
The French government has recently issued a rent cap. Homeowners with renting intentions need to first seek permission from local authorities. The laws mostly affect the bigger cities
Is It Easy To Sell Your House?
The price of property in France continues to steadily rise. You should easily be able to sell your property whenever you like. You will have to go through a Notaire, who may or may not charge you selling fees of between 5 and 10 percent.
2. Bearn: The Garden City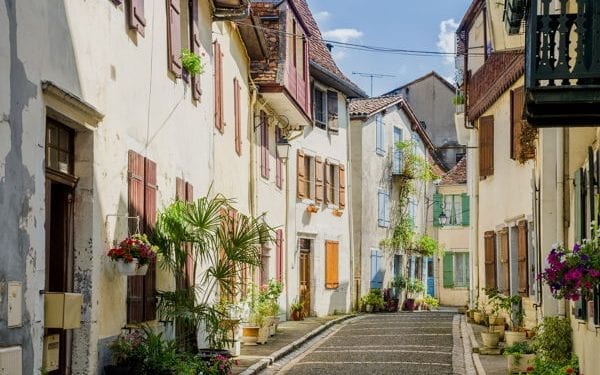 The Green City of Pau
The city of Pau (population 84,000 according to a 2006 census), also known as the "Green City" or "Garden City" has one of the highest ratios of greenery per square meter per person of any European city. For this single reason, many consider the city of Pau as one of the best places to buy real estate in France.
Not only does it have a wealth of greenery, there is also a staggering variation: trees from Japan, the Caribbean, plants from Mexico, the Lebanon, the Mediterranean, Chile, California…this huge variety is in part thanks to the English settlers with their love of gardening and parks, who came here after the Napoleonic wars. You can take a delightful tour through the parks and gardens of Pau with a bilingual guide from the Pau Tourist Office.
Rental Potential in Bearn
Bearn attracts a moderate number of tourists from mid-June to the end of September. The rest of the year finds Bearn rather cold and rainy. This leaves the rental potential of this peaceful French town rather low. It's unlikely that you could rent it out for a lucrative amount during offseason. However, it is possible that you could find a tenant for a modest rate. There are many English speaking estate agencies that can assist with the purchase of a property in Bearn. However, you may need to hire an expert translator for the legal documentation.
Amenities And Services in Bearn
You'll find everything you need for daily living, including three large supermarkets, a medical center with family doctors, radiologists, blood analysis, physiotherapists, dentists, and podiatrists. There's a veterinary center, an animal protection center, schools, banks, bakeries, butchers, newspaper shops, and florists. Morlaas has a very active community center offering classes in classic dance, jazz, rock and salsa, sewing, embroidery, walking, swimming, tennis, photography, and guitar…there's something for everyone and every age.
Is It Easy To Sell Your House?
When purchasing a property in Bearn, it is better to buy with a long term view. Transactional fees range from between 5 and 10 percent of the property price.
3. Occitanie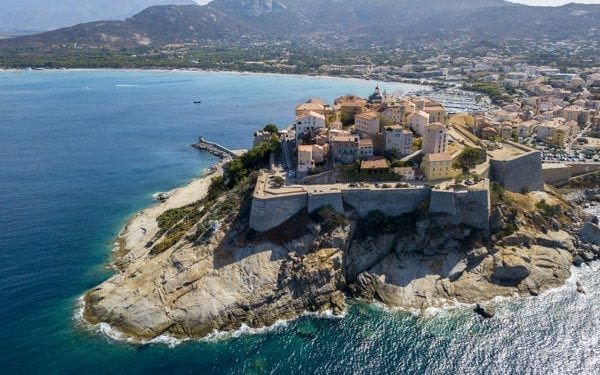 Real Estate in The Occitanie
Generally speaking, you've got two options for a home in Occitanie: a townhouse in a village or a villa-style house in the countryside. Villas are larger and typically come with a good bit of land and often a pool. Townhomes are smaller and so less expensive.
If you opt to live in town, you're near to all conveniences and properties are significantly cheaper, but your space is smaller. You've still got a quiet life, but you're near activities, markets, shops, you have neighbors, etc.
The Rental Market in The Occitanie
A significant portion of real estate here are second homes owned by folks that live elsewhere in the country. They follow the seasons to the south to enjoy their beach or mountain home only for parts of the year. This means that the rental market is flush with holiday lets but long-term leases can be harder to find. All agencies deal with sales and leases, so you can ask any agency to help you find rentals.
Long-term rentals are generally unfurnished and would typically only come with stove/oven—no fridge or other appliances. This is why short-term rentals are better for those who are only renting until they buy—this way you aren't forced into buying appliances for one house that might not fit in your forever home.
Things To Consider When Moving To The Occitanie
Occitanie will appeal to someone looking for:
A rural, countryside lifestyle…
A laid-back, laissez-faire Mediterranean lifestyle…
To get back to a traditional way of life—knowing your neighbors, and shopping in markets and boulangeries rather than grocery stores…
Four seasons with lots of sunshine, warm summers, and mild winters…
Year-round access to both sea and mountains…
Excellent, organic food and wine…
A place to raise kids the way you or your parents grew up—playing outdoors, doing music, arts, and sports instead of being trained in test-taking…
A place to retire in a tranquil, friendly atmosphere
Is It Easy To Sell Your House?
If you are looking to flip a property, Occitanie is an excellent choice. Its popularity among tourists and the steadily rising French property market are guaranteed to line your pockets. High transactional fees of between 5 and 10 percent of the selling price apply. This fee is not always reflected in the first selling price you see as per French custom.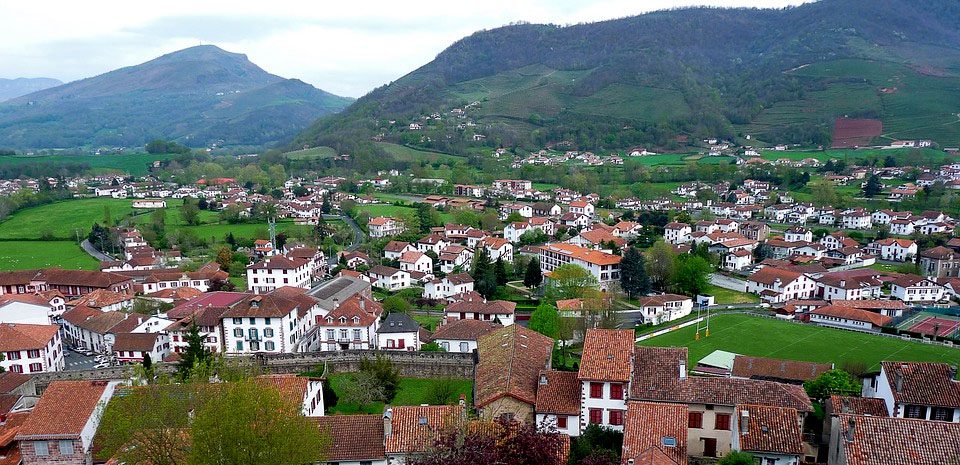 Not Just a Pretty Face: Basque Country
On a brief visit, you might think this region just had a pretty "coastal face;" but you'd be wrong. The French Basque region, and particularly the Coastal area, has a thriving business environment where new businesses are actively encouraged and supported by the local chambers of commerce.
Why is the Basque Country such a thriving business area?
The Investor relations department of Invest Pays-Basque states, "National and International companies that have been set up in this area for some time express their satisfaction with the low turnover of staff, their high productivity, low absenteeism, and excellent linguistic skills (many are bilingual – French/Spanish – and some are trilingual – French/Spanish/English)."
Buying Property: Basque Country
There are no restrictions on foreigners wanting to buy property in France. There are, as in many countries, tax implications (See "French Taxes") but that shouldn't stop you if this is where you want to be and you find your dream home.
Over the last 40 years, the number of new homes built in the French Basque region has doubled. The highest growth has been in the second home category with the majority of those on the coast or in the intermediate area. In the interior, one house in two was built before 1949; the interior, therefore, is the more likely place to find housing bargains (see "Interview with Cathy King"). In 2006, 59.4% of the population were home-owners while 36.8% rented.
Renting: Basque Country
There is a huge holiday rental market along the coastal strip. The year-round rental
market seems to be scattered all over the region. A good starting point for apartments is Carmen Immobilier.
I found a gorgeous B&B in Biarritz through the site www.ownersdirect.co.uk (property reference: FR3193). It's owned by a lady who was raised in the Basque country, loves to travel, and loves to welcome folks to her home. You can read more about her on the site. Owners Direct has other holiday properties in the area (Guéthary, Bidart, and Anglet). You can contact the owners directly to ask if they do longer-term rentals.
5. Bordeaux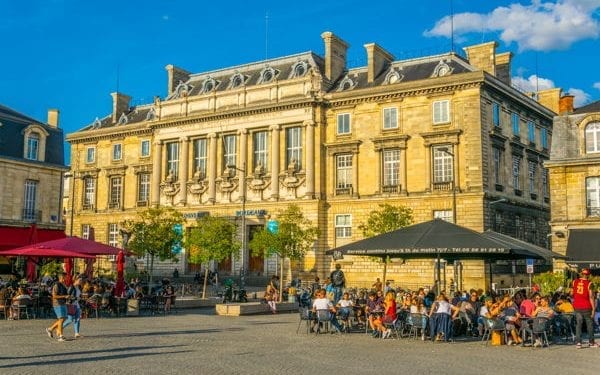 Rental Potential: Bordeaux
With a steady stream of tourists every month of the year, Bordeaux is one of the best places to buy real estate in France. Since there is hardly an off-peak time of the year, you could easily rent out a property year-round. Due to the global popularity of this incredible location, there are a host of English property management companies you can get in touch with if you want in.
Things To Be Aware Of
Vineyard prices are still recovering from a low period a couple of years ago. If the rising prices of property all around France is anything to go by, this could be a lucrative investment.
Is It Easy To Sell Your House?
There is high liquidity in the Bordeaux property market. You could easily buy and resell without being tied down by legal complications. There are reasonably high transactional costs involved. However, these are designed to protect both the buyer and the sell in the long term.
6. Cantal, Auvergne Rhone-Alpes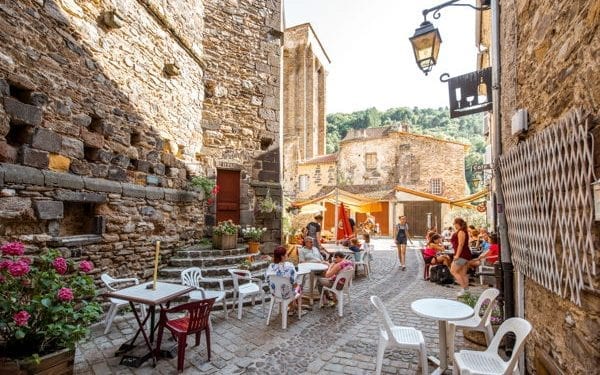 Rental Potential
One of the best places to buy real estate in France is Cantal, known for its low prices and tourist potential. July, August, and May are the busiest months. The cold weather for most of the year makes off-season rental unlikely. That said, if you still want to go ahead and buy a house in this winter wonderland, you can find numerous English speaking property management companies to facilitate the purchase.
Things To Be Aware Of
Due to the large number of hotels and small holiday season in the Alps, rental might not be the best way to go as it is a competitive market to enter.
Is It Easy To Sell Your House?
French properties are gaining popularity. If are buying with a long term view, you could easily sell for a profit later down the line. The transactional fees will be substantial, but the investment will be worth it in the end.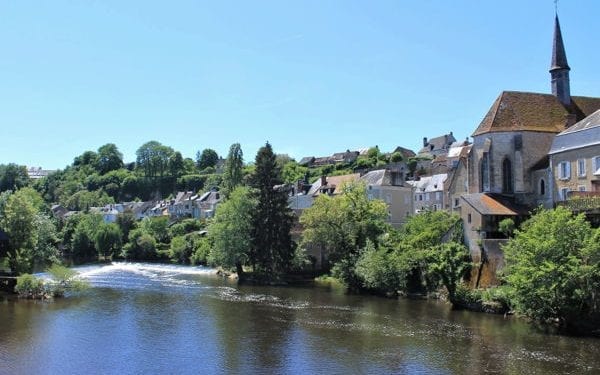 Rental Potential
Indre has some of the lowest property prices in France. Small tourist season peaks between July and September. Buying a property in Indre is a great investment, but has a low rental potential. You will be able to negotiate a purchase through an English property management company.
Things To Be Aware Of
You may find many English speaking property management companies. However, you will probably need to hire an expert translator for the documentation.
Is It Easy To Sell Your House?
Despite moderately high transactional fees, you will still be able to resell a property in Indre at a tidy profit.
8. Marseille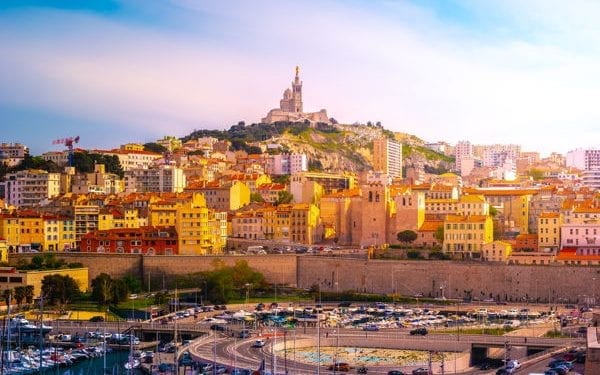 Rental Potential
Plenty of tourists flock to Marseille every year, making this location one of the best places to buy real estate in France. Season peaks between May and August. Another shoulder season comes in from September to November. The oldest city in France is the third-largest urban area in the country. This means, that you will definitely be able to rent out your property in off-peak season.
Things To Be Aware Of
Estate agents in France require you to sign a "Bon de visite". This legally declares that you have been shown the property by the agent you went through.
Is It Easy To Sell Your House?
Marseille is one of the top tourist destinations in France. Although transactional fees are moderate to high, you will easily be able to resell a property quickly and at a profit.
9. Lyon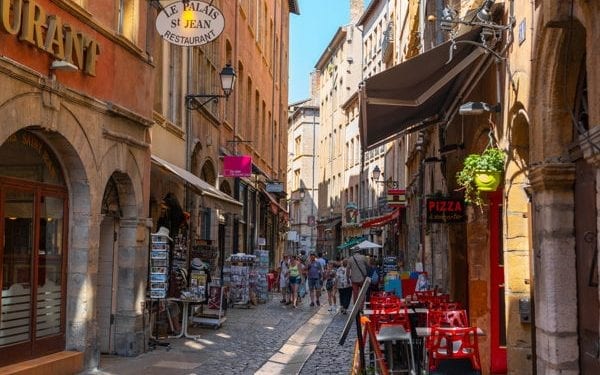 Rental Potential
Known for its high tourist magnetism, Lyon attracts tourists almost year-round. This makes it one of the best places to buy real estate in France. Popular with both national and international tourists, Lyon could be rented both in season and off-peak. You will find a number of reputable English property management companies that can assist you in purchasing a Lyon property.
Things To Be Aware Of
You are required by law to pay taxes on any income you earn from a French rental property. If the property is furnished, this type of rental is classified as commercial activity. That said, you´ll need to register with local authorities.
Is It Easy To Sell Your House?
If you are looking to flip a property, Lyon is an excellent choice. It's popularity among tourists and the steadily rising French property market are guaranteed to line your pockets. Properties here are also less expensive than Paris, but the high transactional fees still apply.