Its history dates back 4,000 years, its beaches are superb, the Mediterranean water is crystal clear, the healthy Mediterranean Diet originates here, and the sun shines for 300 days a year.
This is the island of Crete, the largest of the Greek islands, a little bigger than the state of Delaware.
Crete is divided into four "regional units": Chania (pronounced and sometimes written "Hania"), Rethymo, Heraklion (sometimes called Iraklio), and Lasithi.
Along with the sun, sea, history, and food, two other things make Crete particularly interesting: The low, low cost of living and the affordable European residency program.
Island life is slower and more relaxed than mainland living (hoorah for that!), but Crete also has all the usual trappings of Western society—things like good internet, excellent bus service, two international airports, a cruise port, and all kinds of shops. Do not, however, expect big freeways or mega, out-of-town malls; they do not exist.
Most importantly, though, for anyone interested in European residency, Greece, and therefore Crete, offers non-European citizens the chance to buy property and in return qualify for a permanent residency visa, granting visa-free access to the whole Schengen Area.
The Schengen Area includes most but not all European Union countries. For example, it does not include not Bulgaria, Croatia, Cyprus, Ireland, Romania, and the United Kingdom, despite those countries being part of the EU. Additionally, the Schengen Area includes some non-EU countries—Iceland, Norway, Switzerland, and Liechtenstein.
The minimum qualifying property value is 250,000 euros, which can be invested in one property or several. That investment provides residency for you and your spouse and dependents (children up to 21 years old). You do not have to live in Crete to maintain your residency status, and you can rent your property out after all the paperwork has been finalized. One of its few restrictions is that you cannot work in Greece.
If part-time living and part-time letting appeal to you, Crete's popularity as a tourist destination means that well-managed rentals enjoy good occupancy rates during the high season, which is April to October each year. Buy-to-let investors can expect a return of 8% to 10% per year.
Low-Cost Living
A couple could live on a penny-pincher's budget, renting in Chania town, for just under 800 euros a month; 2,000 euros per month would provide a very comfortable standard of living.
Eating and drinking out, so much a part of life in Crete, is very affordable. I had a coffee at the sailing school, which is housed in a Venetian arsenali overlooking the Old Port (the most expensive part of Chania), for 2.50 euros. I ate ntakos, a local dish of crusty barley rusk topped with tomatoes, olive oil, and crumbled mizithra cheese, and a plate of tzatziki, and shared a huge Greek salad with my dinner partner who ate pork souvlaki, a meat kebab with roasted vegetables. We split a bottle of excellent local Chania wine, and all that came to just 22 euros. It would have been less off the tourist trail.
Old Versus New

Chania's Old Town is a mass of winding streets with properties dating back hundreds of years, on foundations that go back to the Minoans. Old Town properties are sturdy, thick-walled, built close together (so sometimes a little dark inside), without parking (in most cases), surrounded by extraordinary history, but also deep in tourist territory, which has its positives (lots of bars and restaurants to choose from) and negatives (noise and ever-changing neighbors).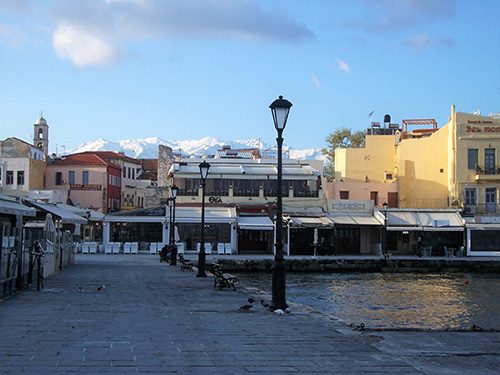 Looking at the Old Town from the Venetian port
In New Town, the properties are relatively modern, in Cretan terms. I'd estimate the majority are built from the 1980s to mid-noughties. The streets are wide, there's usually private or on-street parking, and you are more likely to find properties with gardens and patios.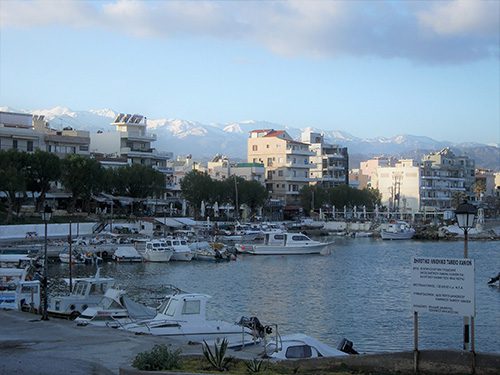 Early morning view of New Town
It's quieter here than in the Old Town because few tourists visit (at least the day trippers don't, which is the majority). Old Town is fringed by Chania town's only sandy beach and has some of the town's best fish restaurants (the town's fishermen bring their day's catches right up to the roadside in front of the restaurants).
From the Venetian harbor and the center of the Old Town it's only 10 minutes on foot along a pretty, coastal path past the town's only municipal, open-air swimming pool, and a 5-minute walk to the city center.
However, if history is what brings you to Crete, you'll find New Town has less character.
Some of the properties I found of interest in Old Town are available for prices that are short of the visa requirement. However, most of them need renovation, modernization, or updating. The amount spent on the building work can be added to the property cost; in many cases that would be enough to reach the minimum 250,000-euro visa threshold.
Old Town Buys

Just outside the walls of the Old Town close to the Agora municipal market is a two-floor, 61.5-square-meter (662-square-foot) stone town house in need of a full renovation but with plumbing and electricity already installed, a balcony, and an antique fireplace. This property is listed for 45,000 euros.
Old Town properties under development
If you like the idea of having a property with an apartment that is yours while renting separate floors, I found an Old Town villa that needs refurbishment but not a complete rebuild, as it was renovated in 1990. It is arranged over three floors, with the first two floors rented out as studios (of 25 and 30 square meters, respectively) and the top floor (of 63 square meters) the main living area, with living room, kitchen, bath, one bedroom, and roof terrace. This property is listed for 140,000 euros (recently reduced from 200,000 euros).
Lucy Culpepper
For Overseas Property Alert.