The Ideal Global Property Portfolio
Every year around tax time I update the details of my real estate portfolio spreadsheet. The annual review allows me to check my progress toward meeting my asset allocation objectives.
A few weeks ago at my Global Property Summit, I put forth a model allocation chart showing all possible options for global real estate diversification and suggesting ideal ratios for investment, as follows: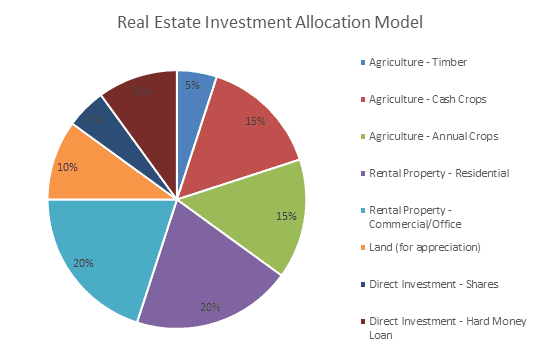 In total, my ideal real estate investment allocation model has agriculture at 35%, rental properties (residential and commercial/office) at a combined 40%, with all other options making up the remaining 25%.
My current portfolio's percentages don't match those in the model, never have, and probably never will. You shouldn't expect yours, too, either. The model is for guidance and inspiration.
My acquisitions of the past year reflect my current focuses. I'm investing in the construction of what I'm calling a "lodge" at the Los Islotes community I'm developing on Panama's western Veraguas coast. This will serve both as a weekend beach home for me and my family and as a rental when we're not using the house ourselves. Cash flow is an investment priority for me.
In addition, this past year I've increased my agricultural holdings with investments in a vineyard (in Argentina) and a mango plantation (in Panama). Along with rental properties, agriculture is my preferred class, and I plan to make further agricultural investments in the coming year, including some that may not qualify squarely as real estate assets—such as a chicken farm in Africa.
I've also recently looked at a hydroponic operation in Oman, but the outbreak of fighting in neighboring Yemen has put this idea on the backburner. I may return to it down the road.
Agriculture is not yet 35% of my total portfolio. Currently, I'm "over-invested" in land and rental properties, according to my allocation model. I'm okay with that. The rental properties serve double-duty some cases, meeting personal-use agendas, and land requires minimal administration.
When building a property portfolio, you want to diversify the type of real estate you invest in, but you also want to diversify the markets where you buy. I currently hold real estate investments in 10 countries. It was 11 until a few months ago when I sold an asset in Ecuador. I'd like to consolidate further, in the interest of reducing the admin load.
Holding real estate assets in 10 or more countries is ambitious. You don't necessarily need that level of diversification, but you definitely don't want to put all your investment capital into one market if you can help it. Don't sell all your real estate in your home country and then reinvest the capital in real estate in another single country. That buys you no more diversification than you had in the first place. Spread your money around among political regimes, market cycles, economies, and currencies as much as possible.
If your investment capital is denominated in U.S. dollars, you have a big opportunity right now to diversify into other currencies that are down, down, down versus the Greenback. This would be the time to diversify into euro-denominated real estate (look at France and Portugal). It's also the best time in seven years to buy in Colombia (I recommend a rental property in Medellin, specifically).
Neither trend (the dollar versus the euro nor the dollar versus the Colombian peso) will last forever, but, while this window presents itself, I suggest you take advantage.
Lief Simon