Today's strong dollar has created a lot of terrific opportunities around the world, and one of today's best bargains is here in Mexico.
The dollar's buying power versus the Mexican peso is up over 100% since 2008. Effectively, most everything in Mexico is now selling for half price.
Even in those expat areas where real estate trades in dollars, everything else in your life is a major bargain. Your taxes, restoration costs, furniture, upkeep, clothing, car repairs, etc., all cost half what they did just a short time ago.
Where you'll really see the difference is in cities that used to be expensive, places where the costs of fine dining, wine, and entertainment had expanded beyond the typical retiree budget.
One of the best examples of this is Mexico's famous beach resort Puerto Vallarta.
Puerto Vallarta Offers A Winter Climate That Can't Be Beat
There's no better place right now for escaping harsh winter weather than coastal Mexico. And Puerto Vallarta (known as "PV") is no exception.
The climate in PV is absolutely magnificent during the North American winter, with warm, dry days and cool nights. The average high in January is just over 83°F (28.8°C), while the average low is down at 62°F (16.7°C).
But it's hot in the summertime, with August temps averaging almost 93°F (33.7°C). That may not sound like much if you live in Arizona, but humidity at this time runs about 70%… so it feels a lot warmer.
Ocean temperatures are fairly warm all year… at least by my South Jersey standards. In January, the sea temperature hits its annual low of about 75°F (24°C) and will go as high as 86°F (30°C), sustained between August and October.
The rainy season goes from June through October, with most rain falling between July and September. Dawn-to-dusk rainy days are unusual though, and afternoon showers are the norm.
The Original City Is Most Popular Among Expats And Travelers
The city of Puerto Vallarta is centered on Banderas Bay, with the greater PV area extending for miles in both directions. Take a look at the map: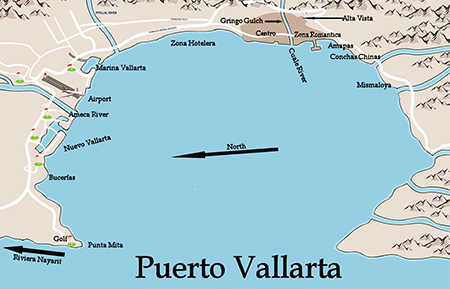 The city proper includes Centro and what's popularly called the Romantic Zone (Zona Romántica), divided by the Cuale River.
Centro is on the north side of the river, and it's the heart of Puerto Vallarta. It has preserved its original cobblestone streets and buildings and has maintained the appearance of old Mexico.
Centro offers everything you need within easy walking distance. There are plenty of shops, cafés, fine and casual restaurants, markets, and some of the city's best nightlife. The long and beautiful El Malecón (boardwalk) begins here and is the hub of seafront life.
El Cerro is also on the north side of the river, just inland from Centro, located where the terrain begins to rise into the surrounding hills. And, while not as polished or well-maintained as Centro, El Cerro still preserves the appearance of old Mexico. Here you'll find some areas in beautiful condition, while others are fairly run down… but there are some good property deals here, so it's worth a look.
Gringo Gulch is another (unofficial) area inland of Centro, and, as the name implies, it's popular with Anglo expats from the United States and Canada. This is the original American sector in PV, from the days when Richard Burton and Elizabeth Taylor lived here.
This is a convenient area, located along the north bank of the Cuale River just east of Centro. You can easily walk to all the conveniences of Centro… although the walk back uphill won't be quite so easy. Nevertheless, it's a good place to live and a popular place to buy property.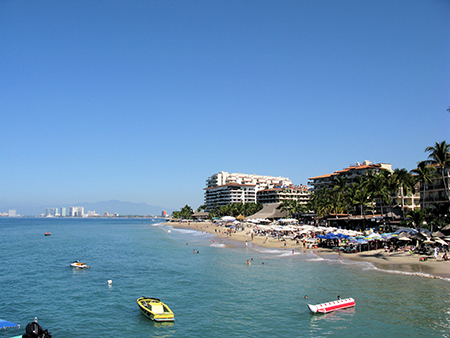 Zona Romántica beach
The Romantic Zone is still in PV proper, but south of the Río Cuale.
I'm not sure how the Romantic Zone got its name. Apparently, someone's idea of "romantic" includes hordes of tourists and cruise passengers, crowded beaches, souvenir shops, and plenty of places where you can buy a Puerto Vallarta T-shirt.
But in fairness, the Romantic Zone also includes some of PV's best restaurants and cafés, best nightlife, and elegant beachfront dining.
The south side of the river also includes the old-fashioned neighborhood of Emiliano Zapata and the upscale Alta Vista.
Both Centro and the Romantic Zone (and associated neighborhoods) are convenient to PV's international airport, which is just a few minutes away. The airport offers excellent international service, including nonstop service to 14 cities in Canada.
Property Prices In Puerto Vallarta Are Reasonable For A City This Rich With Amenities

There are a lot of good living options outside of the original PV, both to the north and south.
But Puerto Vallarta itself is the most popular with expats, offers the most liquidity, the strongest short-term rental market, and good price performance.

In the Zona Romántica, I came across an interesting property just down the street from where I stayed in PV. It was a one-bedroom, one-bath condo of 66 square meters (710 square feet) in the La Palapa beachfront complex (which hosts one of the area's best restaurants).
The apartment offers a large, single bedroom with a terrace and island kitchen. The living room has a sofa bed for guests, and the dining area seats four. The complex has a rooftop pool and sundeck, and offers an excellent location in the center of all the action.
The asking price is US$299,000. This would make a great rental, and it comes completely furnished and equipped.

Adjacent to the Zona Romántica in the heart of the Emiliano Zapata neighborhood, there's a spacious 140-square-meter (1,506 square-foot) artist's home with excellent bay views. The large apartment has three bedrooms and two bathrooms on a quiet cul-de-sac. This totally renovated unit has new appliances in a pet-friendly building with a heated rooftop dipping pool, barbecue area, and stunning ocean, mountain, and city views. The asking price is US$229,000.

In Centro, a spacious main-floor unit is available in a quiet, boutique complex with a heated swimming pool, colorful bougainvillea plants, and a view of the city lights and the bay. This 120-square-meter (1,291 square-foot), two-bedroom, two-bath home is well-situated just blocks from El Malecón and is within walking distance of restaurants, shops, and galleries.
The fully equipped kitchen includes solid-wood cabinets with glass fronts, colorful tile counters, and backsplashes in the Mexican style. The spacious master suite, with king-sized bed, ample closets, and private bathroom, also overlooks the pool and view. The guest suite opens to a secluded back patio. The complex also offers a rooftop terrace with views of downtown and the entire bay.
Offered fully furnished, the asking price is US$175,000.

If a two-story home is more your style, there's a spacious house on the market with three bedrooms, two baths, and just under 118 square meters of living space (1,264 square feet), located just two blocks from the boardwalk. It features a huge central living area and nice outdoor patio designed to let in plenty of light and breeze. The open kitchen and lofted living room are perfect for entertaining and enjoying the views and ocean breezes. The three bedrooms are upstairs, with the master bedroom offering a terrace with views to El Malecón and Banderas Bay. The asking price is US$165,000.
Gay Travelers And Residents Are A Big Market Force In Puerto Vallarta

PV is known to be the most gay-friendly city in Mexico. In fact, I've never seen such a presence of same-sex couples anywhere else (as in PV's Romantic Zone)… both male and female, of all ages and nationalities.
PV is more than just gay-friendly… and gay people are more than just "accepted" or "welcomed." Here it looks and feels like being gay is the norm.
Savvy entrepreneurs, marketers, and property investors have adapted handily to this important, generally upscale market segment at every opportunity. It's more than a "niche," and every successful property investor should keep it in mind.
Is Puerto Vallarta For You?

zPV is one of the most expensive real estate markets in Mexico, so if you're simply looking for an inexpensive beachfront home, this won't be the place to buy.
Also, Centro and the Romantic Zone are noisy well into the night. This is the price you pay in any city for the convenience of being near everything, but it's worth a reminder.
Puerto Vallarta offers beautiful beaches, an iconic boardwalk, and more fine dining and entertainment than you can ever explore. It's well-worth your consideration for a winter home… or for that vacation rental property to provide you with some extra income.
Lee Harrison
Editor, Overseas Property Alert