However you feel about sand between your toes, as an investor, the beach is your ally.
Especially when that beach comes with year-round sunshine and warm water… is located in a prime vacation spot… and, thanks to a major currency advantage, comes at a screaming bargain.
Where in the world am I talking about?
This development (which your Overseas Property Alert editors have put you onto in the past) is in the state of Céara on the northeast coast of Brazil, not far from Fortaleza.
Before we get into the numbers, let's recap on why Brazil… and, specifically, why this northeast stretch of coast makes sense today…
First, right now, the real-to-U.S. dollar exchange is nicely in favor of Greenback holders; your buying power here is double what it was a few years ago. As the local economy recovers and the real bounces back, you'll be in a position to reap significant capital gains…
Second, this area of Brazil is the number-one tourist spot in the country (and one of the most popular in all South America). The region has benefited from recent government investment in infrastructure, including the expansion of the state highway and a new international airport. Twelve direct routes to the United States opened up in 2018.
Though more foreign tourists are catching on, this coastline is not dependent on international visitors—Brazilian city dwellers are your primary target.
The lots I want to bring your attention to today aren't your average beach lots. They are oversized in this market—offering privacy and exclusivity to owners and vacationers. They're also part of a gated community with full property management available should you decide to install a home.
On top of that, the developers—with 40 years of experience under their belts—are ecologically minded. Each home built here will blend in with the natural environment.
Phase 1—which has all its infrastructure in place—previously sold out. However, two of the sales fell through (both buyers stumbled on hard times)… which means a second chance for you to pick up one of these prime beachfront lots.
This is your view from one of these last lots…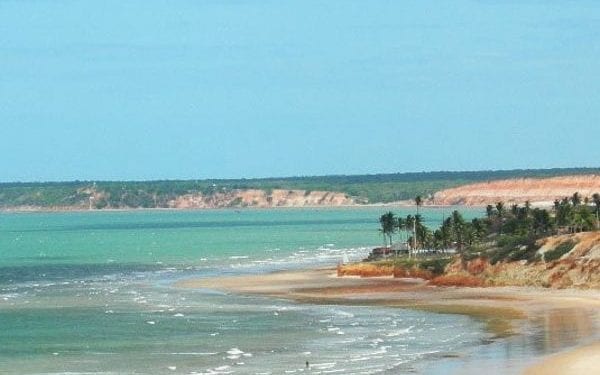 You have a couple of options here:
Buy to flip. Buying a lot at your currency discount today puts you in a position for significant capital appreciation. If you can wait it out, your investment here could double within four to five years.
A half-acre lot is just US$69,000… and, for that, you get just under 13 meters of beach frontage.
Cash buyers get a 10% discount—reducing the price of that half-acre lot to US$62,100.
Invest for cash flow. You can construct a two-bedroom vacation home from just US$99,000. That includes a private swimming pool, and you'll have uninterrupted views of the water from both bedrooms.
To make it easy, the developers have two models to choose from, but you're free to work with any outside developer to build your home. Hotels in the area have an 80% occupancy rate, but at a conservative 40% occupancy, developers project a 10%–12% net yield.
In more good news, Brazil recently waived its US$140 visa fees on U.S., Canadian, Australian, and Japanese visitors. You can stay here visa-free for up to 180 days per calendar year—making it a potential part-year home.
But you don't have to show up in the country to lock down your lot. The entire purchase process can be handled through scanned and couriered documents.
Again, lots of this size and price don't come about this often… and certainly not with this much potential.
If you'd like more information on these last two lots… right on the sand… you can get in touch with the developer here now.
Lynn Mulvihill