From The Cayo To The Caribbean And The Chetumal Bay–Your 3 Best Lifestyle Options In Belize Today
Belize is a small country (about the size of Massachusetts) that offers amazing geographic and ecological diversity. Not surprisingly, equally diverse and attractive lifestyle options are now springing up in the most appealing locations across this little country.
Three very different development community choices were represented at this week's Live and Invest in Belize Conference, each appealing but in different ways and for different reasons. Three of the development communities we looked at are located in Belize's lush Cayo region. One is near the town of Corozal, on the Bay of Chetumal. Another is located in Stann Creek, between Hopkins and Placencia. And the last is on Ambergris Caye, in lively San Pedro Town.
These qualify as the most interesting choices available right now for anyone thinking about living or retiring in this country. In all cases, these are also great choices for second or vacation homes, and the turn-key (condo, house, etc.) options offer the potential for cash flow, too. Invest in one of these, and you could rent it out when you weren't using it yourself.
Belize Lifestyle Option #1: Carmelita Gardens–On The River And Off The Grid
As Phil Hahn, the developer behind this community, explains, "Carmelita is all about wide-open spaces and back-to-basics living." It's also a top budget lot option.
Carmelita has been conceived as an agrarian community. Orchards, groves, and community gardens will be center stage. The property sits about 7 miles from the Mennonite community of Spanish Lookout and alongside the meandering Belize River (the famous Ruta Maya kayak race takes place on the Belize River each May and originates just upstream from Carmelita). This part of Belize is blessed with rich, fertile earth. It's like a well-manicured Midwestern town…except for the palm trees.
Carmelita Gardens covers 450 acres and includes more than a mile of riverfront. The lots have spectacular views of the Maya Mountains, and remnants of the Mayan civilization are evident all around, including visible mounds covering unexcavated Mayan ruin sites.
Residents at Carmelita Gardens will be completely self-sufficient but still only a few miles outside San Ignacio, the biggest town in this part of the country.
Carmelita offers a variety of river, garden, village, and estate lots priced from US$25,000 to US$45,000. Almost anyone could afford to invest in a lot here. When you're ready to build on your lot, you can choose from house designs that Phil's team has put together integrating off-grid technologies for water, wastewater, and electricity into simple but charming "Victorian Caribbean" hardwood homes with long, breezy porches. Two homes have been completed to date, and another seven are scheduled to break ground. A community is taking shape.
Of the two houses that have been built, one is the Serifina Model, a Tennessee Williams cottage, priced at US$78,500. It's finished, furnished, and has already been rented for the next few months. The second home completed, on the river, is the Tortuga Model, a two-bedroom, two-bath home with a fantastic river view. This model is priced at US$175,000, including the furniture and appliances.
Many Carmelita owners are choosing to build custom homes, and Phil is happy to work with you to design what you want. He is also offering financing. You can reach Phil for more information on Carmelita Gardens here.
Belize Lifestyle Option #2: Maya Spring Estates–Space, Tranquility, And Privacy With A Cayo Valley View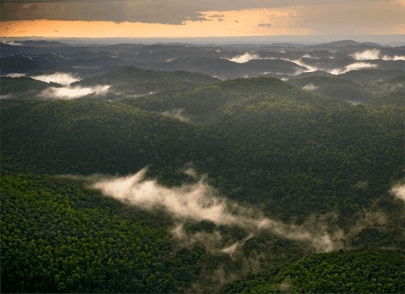 Maya Spring Estates, situated on a lush 100 acres also in the Cayo District, consists of 20 beautiful estate home sites. Maya Springs is for those who want space and privacy but who still want to be part of a community. A natural spring feeds a creek that meanders through the property, and the elevation delivers views of the valley below, as well as the nearby hills.
The size of these estate sites means room for a private family compound, a place where you could set down roots and establish a legacy. Maya Spring is secluded but not isolated, offering both the convenience of easy access to local resources and the security of a private community. The developer will be installing electricity to all property sites, and owners will be able to tap into the local aquifer. There are 3- to 10-acre lots.
You can request more information on Maya Spring Estates here.
Belize Lifestyle Option #3: Grand Baymen–A Guaranteed Leaseback Program On Ambergris Caye
Belize offers a long Caribbean coast and a few little outlying Caribbean islands, the most developed of which is Ambergris Caye. Here, in San Pedro town (the only town on the island, a former fishing village), is the Grand Baymen condominium development. The Baymen Gardens condos sit on 4 acres, and owners (and renters) here enjoy access to the San Pedro Fitness Club, pool, and tennis courts on the adjoining 2 acres, as well as beach access at the Exotic Caye Beach Resort. The San Pedro Club amenities are already in place, and have been operating since 2003.
The developer at Grand Baymen is currently offering 410-square-foot one-bedroom condo-apartments specifically designed for the tourism rental market. This offer has been well received, and only three of these units remain available. This "leaseback" program is especially attractive for investors and future retirees who would like to live part-time on the island. The big attractions are the guaranteed rental income for the first three years, which is unique in Belize, and the low entry price point, which is well below what's typical for this Ambergris Caye market.
In addition, the developer is offering financing. You can lock in a unit for an initial investment of about US$32,000 then finance the balance with the developer over the three-year guaranteed-yield period. At the end of that three-year period, you could refinance through a local bank, for a 10-year term.
The developer financing is for 10% interest, with a 30-year amortization. The monthly guaranteed rental income from the developer is US$1,250. Out of that, you pay the mortgage, the HOA fees (US$140/month), and the property taxes, leaving you with a positive cash flow of US$233 per month. That's an 11% cash-on-cash return on your down payment and furniture cost.
Future retirees with a limited budget can buy today locking in the current low price. You could then enjoy some extra cash flow over the next three years, while your unit is rented out. After three years, when the rental leaseback program expires, you could sell, refinance and move in, or refinance and return the unit to the rental pool.
For more on Grand Baymen, get in touch here.
Ann Kuffner
Continue Reading: Los Islotes On The West Coast Of Panama's Azuero Peninsula
Image source: Pgbk1987