Why Matt Chose Mérida
After years of thinking about buying a place of my own overseas, I was finally ready… er, almost ready to make the trip to Mexico to look at property…
I'm 47 and have never lived overseas. I have, however, fantasized about living on some beach somewhere… enjoying the palm trees, the blue waters… or maybe plopping down in the middle of an urban environment, knowing nobody, exploring a strange place on my own.
I chose Mexico as a location, because, growing up in San Diego, I was familiar with Mexican food, nightlife, and culture. As a high schooler, friends and I made many trips across the border into Tijuana to go to the bars, nightclubs, and shopping areas along Avenida Revolución. As a young adult, I traveled to Cancún, Playa de Carmen, and Tulum, relaxing on the beaches, diving in cenotes, and climbing the ruins (you used to be able to do that way back then!).
As I got older, I started fantasizing about a life abroad. Where should I look?
I read a lot of newsletters (Live and Invest Overseas) and blogs. I had conversations, email and virtual, with friends who had lived or who owned houses overseas (I apologize to all of you for my many questions).
After all the research and a trip to scope out Ecuador (which was enough for me to cross Ecuador off my list… in other words, a trip well made), I made a decision…
I was off to Mérida, the large (about a million people call Mérida home), beautiful colonial city that is also the capital of the Yucatán.
Why Mérida?
I chose Mérida for its proximity to the United States (it's easily reachable through Miami, Houston, and now Dallas), for the type of lifestyle it offers (big city convenience), for its cost, and for its weather.
My choice was made easier thanks to my friend Steve, who has owned a home in Mérida for more than 15 years. I visited Steve several times, always enjoying myself.
When I would tell people where I was off to, almost all of them had never heard of Mérida. Cancún, absolutely… Playa del Carmen, sure… Tulum, kinda… Mérida, nope.
I picked one of the hottest months for an extended stay to test myself on the heat and humidity. It did not disappoint. This is a heat that I'm not used to, and I live in NYC, where the summer heat radiating off the concrete and asphalt can be brutal. Mérida's climate will take some getting used to, that's a certainty.
Before going to Mérida on this trip I did a ton of research on the real estate market and, by asking people I trust for recommendations, found an agent I liked. I scoured her website and made a list of places I was interested in seeing. Yury quickly got the feel for the type of place and price range (no more than US$200,000) I was looking for.
I secured a place to stay on Airbnb in the Centro, close to Plaza Santa Ana, and Yury and I set up a meeting the day after I arrived to see a bunch of the properties on my list.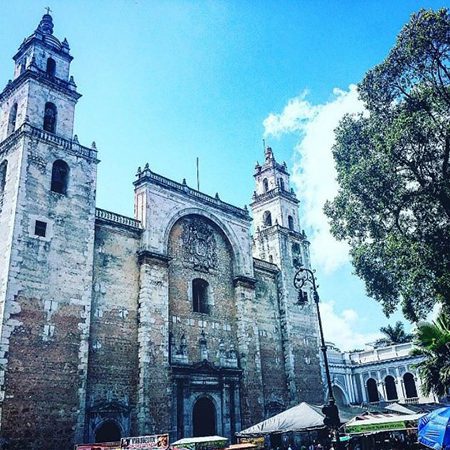 We headed out around 11 a.m. The sun was already beating down on the city. Outside the park squares, there isn't much shade or relief from the heat in Mérida.
We were able to see five or six places in a couple of hours. Doing research on the types of places I like, the locations that appeal to me, and the price range I was comfortable with really helped to make the process more efficient, and I liked that Yury showed me a couple of places outside my criteria, either style-wise or because they needed restoration. This allowed me to see what I didn't like and also to see how much work went into these houses before they were up to the standard that I wanted.
One house stood out. The location was perfect, close to the Centro. The price was reasonable, and the finishes were what I was looking for. After coming back with friends later that weekend to look at the place at night and with a different set of eyes, I was ready to make an offer. After a little back and forth, we settled on a price that we both felt was fair.
Having an experienced agent really pays off when buying overseas. The agent I worked with was able to explain the process and the different parties involved and to set up appointments with a notary and a lawyer who could handle the transaction on my behalf after I'd returned to the States. The notary was very helpful in explaining how he would represent me. The fee for the notary's services is a couple of hundred dollars.
In addition, my property agent was able to arrange for a building inspection for me. I've heard that this isn't something that happens all the time in foreign markets, including Mérida, but I've had inspections of every property I've bought in the States, and I didn't feel comfortable not having one for this purchase in Mérida. Even if nothing comes up, an inspection is good for the peace of mind that it gives you.
In this case, the inspection identified a few small things that needed to be taken care of by the seller, including a clogged water line and the upgrade of an electrical wire gauge, as well as a couple things that were up to me to address (new water storage tank and some extra drainage for the property).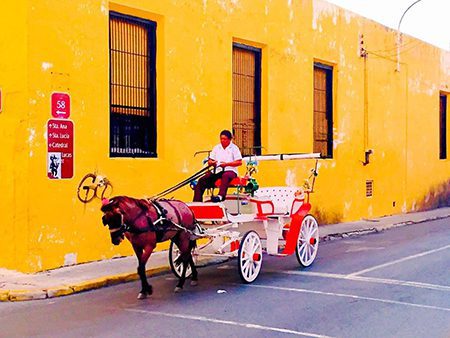 All-in-all, I feel confident that the house I've found is an excellent property for me.
I close later this month and plan to rent the place out for income immediately. I'll visit once or twice a year until I'm ready to retire, when this property will be my home part-time. Yury has introduced me to a property manager who will manage the place for me while I'm in the States. Rosalinda will handle all of the administrative (paying bills, etc.) and rental (finding renters, checking them in, collecting payments, etc.) duties that can be a huge time suck.
Matt Holt