In 2018, the number of people aged over 65 living in the United States was 52 million. That's expected to double by 2060.
Americans are also living longer than ever. While the average life expectancy of a United States citizen in 2020 is 78.93 years, the country also boasts the highest number of centenarians in the world (approximately 80,000 today).
And, let's not forget that more and more Americans are choosing to expand their horizons and retire overseas. In 2019, more than 700,000 Social Security payments were sent to U.S. citizens abroad. That's a 40% increase over the last decade alone.
Our aging populations need safe, comfortable places to live where they can be both engaged and cared for.
The kinds of independent living facilities I'm describing are the sweet spot in retirement for many retirees. You can still be as active and free as you wish… but you have a ready-made network to fall back on for company and friendship as well as access to health care and support as and when you wish.
Options for independent living in the havens we highlight are very thin on the ground… especially in Latin America. And what you can find is not to a U.S. standard.
Indeed, this is one of the questions we are most often asked by readers—what are my options for independent living overseas?
Today, I'm delighted to be able to bring you news of a first independent living program in one of the world's best places to retire overseas.
The most established, experienced, and respected developer in Panama has worked for years to pull off a ground-breaking opportunity—for both retirees and investors.
This is not only the answer to being able to plan for long-term retirement security in Panama… but also a chance to earn more than 9% ROI… or US$16,695 annually.
Clean, Safe, Walkable Living In Panama City's Top-Tier Neighborhood
These independent living condos are part of a larger luxury development in Costa del Este—one of Panama City's most sought-after business and residential addresses.
Costa del Este is the quintessential American suburb ideal, neatly wrapped up in approximately 740 acres. Just off the main highway that takes you into Panama City from the international airport, the neighborhood is equidistant from the airport and downtown Panama.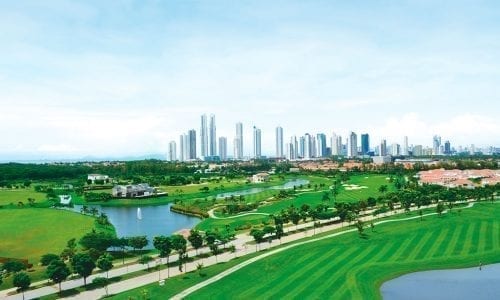 New, spacious, shiny, clean, safe, walkable, and turn-key, Costa del Este is Panama's biggest and best planned community. A number of national and international companies are located here, meaning families from all over the world are putting down roots. This is both a classic suburb and a truly cosmopolitan neighborhood.
In addition, it's home to Panama City's newest John Hopkins-affiliated hospital. Residents of these independent living apartments will be just steps away from international-standard health care.
Within walking distance, too, is the Town Center shopping mall with its movie theater… a selection of restaurants… and one of the city's best pharmacies.
Just minutes away is an 18-hole golf course designed by Jack Nicklaus.
Part of a larger building of mixed generation apartments, the independent living floors will consist of 48 apartments—with a choice of single or double occupancy.
All residents will have full access to the wellness center, gym, yoga studio, social areas, theater, sky bar, and individual pools on each floor…
There's even an on-site co-working center for residents who want to manage online businesses.

In addition and perhaps most important, first-class health care, nursing, meals, housekeeping, and property management are also part of the package. As residents age, support packages can be purchased—including health insurance (at a small fraction of the cost in the United States).
This is an opportunity to purchase an independent living option for yourself… or perhaps for a family member you'd like to be able to make the move overseas with you.
Or you could purchase as an investor and make your condo unit available for rental.

Going the investment route, you'll pocket about US$17,000 in turn-key profits every year…
This is not your typical vacation or
rental income project
…
It comes as a direct response to demands from readers and retirees who want to make the move overseas, but who also want some level of support… either now or at some time down the road.
Again, this project is offering a luxury retirement, with an incredible package of additional benefits, at an affordable price simply not possible in North America or Europe.
Lynn Mulvihill