This Is Not Your Parents' Retirement…
16 Reasons You Should Retire Overseas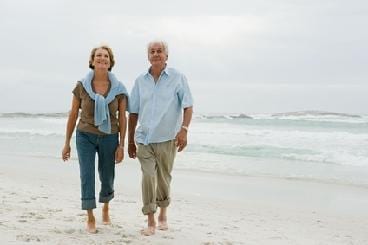 Dear Reader,
Maybe your parents retired to Florida…or Arizona. But you're thinking bigger.
You're thinking Mexico…or Panama…maybe the Caribbean…or Uruguay…or France…
Once you expand your horizons to consider beyond U.S. shores, the choices get exciting. You could live how you've always dreamed of living…with the gently lapping Caribbean sea or the crashing Pacific surf for your back yard…with fresh mountain air and long mountain vistas just beyond every window…with all the distractions of the world's best cities just outside your front door…
If You Could Live Anywhere in the World…Where Would You Live?
I can't answer the question for you…but I can give you lots of reasons to put it to yourself.
The benefits of relocating, full- or part-time, in retirement or otherwise, to foreign shores are many:
You could escape U.S. winters.
You could watch your investments grow tax-free or tax-deferred…and you could cut your tax bill.
You could increase the quality of your life while you dramatically reduce your cost of living.
You could live safer.
You could reinvent yourself. What did you really want to be when you grew up? How have you secretly longed to spend your time? Now you have a chance to clear the slate…to start over. Start a new business. Learn a new language. Study wine, history, architecture…maybe the tango.
Here's my advice, based on more than 22 years of personal experience: No matter your age, your income, or your personal circumstances, you should do one thing right now. You should consider the options for living or retiring overseas. Because, when you do, you realize that you could:
• Live better…healthier…with less stress…
• Escape the 9-to-5 drudgery of a day job and work for yourself…or not work at all if that's what you choose…
• Have more time to spend with your family…to pen that book you've always thought about writing…to spend your mornings fishing or snorkeling if the inclination strikes…
• Live more luxuriously than you ever could at home, for a fraction the cost. In some of the places I'll introduce you to in our free weekly e-letter, the Overseas Opportunity Letter, you'll be able to afford little luxuries that'd probably be impossible to manage back home–a full-time maid, for example, a cook, a gardener, a driver…
• Live in a place where violent crime is unheard of…
• Start your own business in a country that welcomes and encourages foreign investment…and where you'll pay fewer taxes and keep more of what you earn…
• Position yourself in a market that's about to boom…and from which you could profit…
• Arrange your financial affairs so as to reduce your U.S. taxes…
• Have the time of your life… a grand adventure…learning a new language, making new friends, exploring a new world…
Could all this possibly be for real? It sounds too good to be true, I know, so, for now, I'll ask you to take my word for it. This is more than promotional hype. I know of thousands of people who've already found their heavens on earth and who are, as you read this, living the good life in their chosen paradises…overseas.
The options are too many and too tempting to ignore.
You could dramatically change your lifestyle…for the better…starting today. The world is full of romantic places to live…exciting places to travel…affordable places to retire…places where you could reinvent yourself and every aspect of your life if you've a mind to.
You don't have to be rich or famous to pull this off. All you need is a little imagination, to appreciate the opportunities the world has to offer…and enough spirit of adventure to carry you out of your lounge chair and into the world of your daydreams.
Yes, paradise does exist. I could show you dozens of places right now where you could live well on $1,500 a month…in a comfortable home in a beautiful and safe place…with a housekeeper and a gardener…regular nights out…
How do you get from here to there?
You say, "Enough!"
Enough waking up every morning to drag yourself out of bed, to push yourself through the day, meeting to meeting, with your cell phone stuck to your ear…then falling into bed each night bone-tired and all stressed out.
You've thought about it many times…and you've been right. There is more to life than the way you're living it. There's a world of new opportunities waiting for you to discover it. You need only to open your eyes…and your mind…to the possibilities.
Allow me to introduce myself. My name is Kathleen Peddicord, and I've been in the "retire overseas" business for more than 22 years.
And I know from real-world, first-hand experience that you could live better than you are right now…for less money. You could dramatically enrich the quality of your life…by taking the plunge.
My husband and I have done it…twice. And as I write we're preparing for international move number three.
Ten years ago, we moved, with our then 9-year-old daughter and our business, from the East Coast of the U.S. to Waterford, Ireland. We had both traveled for many years…spent extended periods of time in other countries…and researched our options for months.
But, the truth is, we had no idea what we were doing.
And that didn't matter.
We enthusiastically embraced the terrifying unknown of moving a family and a business to a foreign country. We stumbled through finding a house to rent…and then another one to buy. We felt our way through education options for our daughter…and hiring local staff for our business.
We laughed our way through the renovation of a 200-year-old stone farmhouse…my attempts at driving on the left in a country that places no value on road signs…runaway cows in our backyard…electricity that failed us when it rained…cultural differences…language barriers (the Irish will tell you that they speak English but don't believe them)…
Four years ago, we began dividing our time between Waterford and Paris. Again, we were feeling our way around, lost anew in another foreign land…finding an apartment to buy…securing a mortgage in France…connecting phone lines and wi-fi…arranging for cell phone service (the secret is a local utility bill in your name)…opening bank accounts…choosing schools for our now two children (the second, Jackson, was born our second year in Ireland)…managing another home renovation project…
This time all in French!
The world is indeed alive with opportunity for adventure and romantic living, but the challenges you'll encounter as you try to make your dreams come true can make you rethink the whole proposition. Wouldn't it be easier to stay home, you may find yourself wondering?
Easier, sure. But, oh, what you'd miss…
I guess that explains why, as I write, we're planning and preparing for another international relocation, this time to Panama City.
We've just returned from a scouting trip, looking at schools with Jackson, now 8 years old, and considering rental options. This city is nearly bursting at the seams, operating beyond maximum capacity. Not only Panama City, but the entire country is struggling with unavoidable growing pains. It's an exciting time in Panama, as it works to expand its Canal and to continue its better-than-8% annual economic growth rate. I feel fortunate we're going to be able to get to know the place firsthand during this turning point in its history.
Sure, now that we've been around this block a couple of times, we're less enthusiastic about certain aspects of it. The paperwork…the administration…the inevitable hassles…
But I'm happy to report that, a decade later, we're no less excited to be preparing for a new adventure abroad than we were 10 years ago when we first set out for foreign shores.
This kind of move is a big deal. Something to get you out of bed in the morning. A decade into our adventures abroad, I can tell you that we don't regret a single day of them. What we do regret occasionally is that we didn't begin them sooner.
So, please, dear reader, don't make the mistake of waiting or delaying. Please…let me show you how to run away to paradise…today.
Remember, This Is Not Your Parents' Retirement
Before I go any further, allow me to make an important point…about this word "retirement." We use it often, in the pages of this website and in our weekly Overseas Opportunity Letter…but we're not referring to any conventional idea of retirement.
Retirement today…retirement overseas…has nothing to do with checking out or taking it easy. In the places I'd like to introduce you to, sure, you could improve your golf swing or join a bridge club, if those things appeal to you. You could spend your days lazing in a hammock beneath the banyan trees, and no one would think any less of you.
But if you're not ready to take up a position on the sidelines of life, don't worry. That's not what we're suggesting.
The ideas of retirement that we're presenting here work for the 30-year-old as well as anyone twice his age or older. Forget any notions you have of "typical retirement age."
The would-be retiree today is younger, better educated, better traveled, and far more adventuresome than his parents or grandparents. And it is easier today than ever before in history to live, travel, invest, and retire as best suits your personal agenda. The world is alive with opportunities for fun and for profit, no matter what your age.
"But…but…but…" you may be thinking.
But what?
What's holding you back? Here are the most common hurdles:
• You need an income…
• You're intimidated by the logistics and the practicalities…
• You're worried about leaving your family…
• You can't decide where to go…
• You're generally petrified…
If money is your concern, it shouldn't be. While a few fortunate souls have savings, investments, or retirement monies enough to fund a new life overseas, most do not. You could make the move with less money than you might imagine ($1,500 per month or less, as I've mentioned).
Furthermore, if you need or want to, it is possible to earn a living from anywhere in the world. Two of the best ways I know for you to make money to subsidize your wanderings in whatever paradise you choose are travel writing and import/export, both things that require no more than a laptop to get started. Here's a good resource for getting started as a travel writer: Become a Travel Writer
If you're worried about red tape and hassle, fair enough. I'm not going to lie to you. Moving yourself, your family, your business to a foreign country can be a big pain in the neck. You've got to decide whether and how to ship your belongings; how to arrange for residency; how to open a bank account; if you should incorporate locally; what taxes you're liable for an how to pay them; what health insurance to buy; how to stay connected with family and interests in the States (short of $1,000-a-month phone bills); maybe how to bring your pet; maybe where to enroll your children in school; in some cases, how to learn a new language; and, no matter where you go, how to adapt to the local way of getting things done.
Some days you'll be frustrated, paralyzed, even driven to the point of loud screams by the paperwork, the bureaucracy, the inconsistencies, and the unexpected.
But those days pass…and they're many fewer than the days you'll enjoy of discovery and delight.
Don't like the idea of being far removed from your children or grandchildren? Consider someplace close with lots of access. A move to Panama or Mexico could put you no farther from your loved ones than would a move to Oregon or southern California. You (and they) could even drive to Mexico.
Can't decide where to go? Get out of your easy chair and start exploring firsthand. Don't fall victim to paralysis by analysis. I've met dozens of people over the years who've told me that they'd researched possible overseas havens for years before finally getting on a plane to visit one. Do your homework, sure, but surfing the Net and reading our free weekly e-letter (the Overseas Opportunity Letter) for a couple of months should suffice. Then you've got to start your field work.
No amount of research, online or otherwise, can substitute for walking the city streets and the sandy beaches of a place. Often, you'll know within 24 hours of arriving in a new place if it's right for you or not. You either feel at home…or you don't. But you won't find out reading web pages (not even ours…).
Generally scared to death? Don't worry. Remember I told you that we were scared, too, when we moved to Ireland…and when we moved to Paris…and we're even a little nervous right now as we prepare to move again, to Panama City. It's normal to fear the unknown. The best way to deal with the unknown is to get to know it. In other words, again, my advice is to get on a plane.
Here are a couple of other common concerns:
Safety?
In many of the places we'll introduce you to here and in our free weekly e-letter, it's like entering a time machine back to small-town American in the 1950s. These are places where people don't lock their doors…where neighbors look out for each other…and where kids can ride their bikes all over town without fear, just like you may have done when you were young. These aren't only ideal lifestyle and retirement retreats, but perfect hometowns for raising a family, too, in many cases.
Staying in Touch?
Not an issue. It's easier every month, it seems, to enjoy cheaper and more reliable phone, fax, e-mail, and Internet service, no matter where in the world you roam. Depending where you locate, you could be able to call anywhere in the U.S. for as little as 1.2 cents per minute. That's probably less than you're paying right now for long-distance calls within your own state.
Whatever your reluctance, believe me, I've heard it…I've shared it. All you have to do right now is to suspend your fears just long enough to allow your imagination to take hold.
Over the past two-plus decades, I've watched and helped thousands of people to do what you're doing right now–to begin to imagine the possibilities of a new life overseas.
Here's my promise to you: It can be easier than you'd ever imagine to run away to paradise…to reinvent yourself in this next stage of your life.
Retire twice as rich and five times happier than you've been planning.
Retire…live…start over…overseas.
And start right now. Subscribe to our dispatch the Overseas Opportunity Letter, delivered direct each week from the laptops of the world's savviest adventurers to your e-mailbox. It's the best first step I can think of for launching your new life in Paradise. And it's free.
"Thank you for your daily ezine. I read each one and always pick up some interesting and timely piece of inside knowledge. Today's update is a perfect example."
— Robert C., Spain
"I have been reading your e-letter, and I have to say that you seem to dig deeper into the feel of a particular place and to do comparative analysis between alternative places. Your approach is more sophisticated and thoughtful and therefore more useful than that of other e-letters I've read covering these same subjects."
— John W., United States
"Keep up the great work with the e-letter. I honestly look forward to reading the succinct info you provide to potential expats each day."
— Dan G., United States