Los Carnavales!
When we departed Panama Friday morning, preparations were already well under way for the biggest party of the year in that country: Carnaval!
In Brazil, Carnival features bare-breasted women on floats. In Ecuador (where Lief, Jackson, and I have traveled to spend this week), the pre-Lenten celebration is all about water. You can't walk down the street without being squirted or sprayed. (Children got us twice yesterday here in Cuenca.)
Back in Panama, Carnaval is all about the fiesta. The entire country shuts down for a week of nonstop revelry. No business is done, no appointments made. Everything is put on hold until "after Carnaval."
People save all year to fund their Carnaval partying. If they find they have nothing saved come the start of February, they pawn or sell whatever they can. We've heard stories of families selling refrigerators and living room furniture to raise money so they could travel the week of Carnaval and take full advantage of the goings-on across this country.
"Nobody and nothing gets in the way of Carnaval in Panama," says Alberto, our resident man on the street in our office in Panama City. "Two things you don't mess with in Panama–Independence Day in November and Carnaval in February. Everybody knows that."
Last year about this time, the indigenous in Panama were on strike. The government was attempting to sell part of their reservation to private companies for mining. The local Indians wanted no part of this and, since the start of the year, had been making their position known by blocking roads and generally raising a fuss. The protests continued into February, when the countdown to Carnaval began. Everyone watched nervously. If the Indians didn't stop their protesting, people wouldn't be able to travel for Carnaval. The conflicts this could lead to could be serious.
As Alberto puts it, "Nobody needed to worry. Those Indians wouldn't keep it up over Carnaval. They knew better than that. The people will have their Carnaval." As he predicted, the Indians stopped protesting last year just in time for Carnival travel.
While Carnaval is a country-wide holiday, not everywhere in the country celebrates in the same way. Panama City is largely deserted over the week of Carnaval, as everyone from the capital who can afford it travels elsewhere, either to the coast or the interior, for the big event.
Should you plan to be in Panama for Carnaval…or avoid this time of year in this country at all costs? A friend told us early in the month that he'd contacted his airline to book a ticket out of Panama City the Friday before Carnaval weekend (that is, this past Friday). The airline told him the flight was fully booked; he wouldn't be able to fly that day.
"Oh, I'll be leaving Panama that day," our friend assured the airline agent. "I won't be sticking around for what will follow that weekend."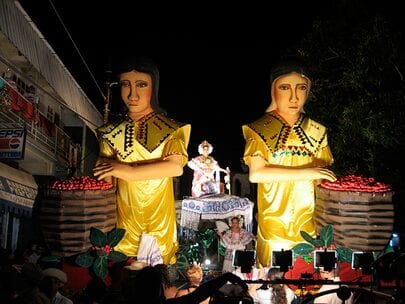 Las Tablas is the biggest, best-known, and most traditional Carnaval venue in Panama. Two competing queens representing "Calle Arriba" and "Calle Abajo" are at the center of the festivities; these two opposing camps compete to showcase the best floats, the best fireworks, and the best costumes.
Fifty-one weeks a year, Las Tablas is a sleepy little town of about 10,000 souls. The week of Carnaval, its population can swell to 100,000 or more. People sleep on the sidewalks, in the parks, on the beach, in strangers' driveways, and on car hoods. Everyone with an extra bedroom rents it out for what amount to outrageous sums for these few nights; some folks even rent out their living room sofas…even their living room floors.
The effect of all this population on this small town is something to see (maybe once). Shops stockpile beer and seco, filling every available inch of storage space with inventory, but, still, they sell out. People drink and dance in the streets around the clock for three days straight. Music blasts. Water trucks spray. Not for the faint of heart…but a big boom for the Las Tablas economy.
Alas, we aren't on hand to witness any of the goings-on in Panama this year. This year, as I mentioned, we're enjoying Carnival in Ecuador, where we've traveled for our Live and Invest in Ecuador Conference taking place in Quito starting Wednesday…and, as well, for a special project. Meeting us tomorrow in Cuenca, from where I write today, is a television and video producer working with us to film our first Retire Overseas video. I'm on my way out the door now to rehearse.
More on this soon. And, meantime, live reporting from our Quito event later this week.
Feliz Carnaval!
Kathleen Peddicord
Image source: Esteban J Golliday