The best places to retire in Vietnam compare with the best places to retire anywhere in Asia right now. Maybe even anywhere in the world. One thing is for sure, the standard of retired life in Vietnam is only going to improve.
Vietnam is a country with a rich history and a bright future. Backpackers and digital nomads have been coming here for years. Retirees are now making the journey here. Attracted by the low cost of living, warm weather, and chance to experience a new culture. Read on to discover the best places to retire in Vietnam.
The Best Places To Retire In Vietnam: Hoi An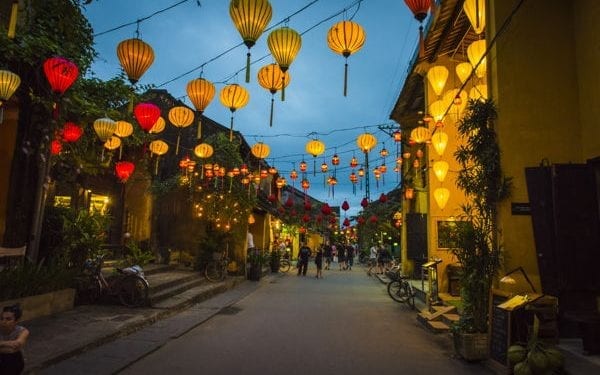 English Spoken?
In Hoi An you will hear English spoken everywhere. This is a tourist-friendly destination. You can easily get by without needing to learn another language. However you will still need to learn some Vietnamese phrases to get the most out of living here.
Safety
Hoi An is a safe place to live. Tourists are a staple of the Hoi An economy, and their safety is a priority for the local police.
Take the usual precautions when out and about though. Do not carry big sums of cash or wear expensive jewelry in crowded areas. By using the same common sense you would employ at home, you shouldn't have any trouble in Hoi An. Some backpacker bars can be dangerous at night. This is usually alcohol related and sometimes leading to fights. Most retiree's give these places a wide berth anyway.
Health Care
The standard of medical care in Hoi An is basic. Most expats recommend you travel to Da Nang for a quality, English-speaking doctor. Da Nang is around 40km away from Hoi An. It has big hospitals, capable of taking care of all but the most specialized complaints.
You can find quality health care and private hospitals in Vietnam, but not in Hoi An. Even a doctor's call out here is likely to be expensive. Family Medical Practice Vietnam, is a countrywide franchise. For a fee they offer a call out service from Da Nang to Hanoi. Beware though, they charge a lot for this service.
Real Estate
The real estate market in Hoi An is strong and has been growing well. You can easily find estate agents who speak English, and are comfortable dealing with expats.
http://www.hoianhouse.com/for-sale/
http://www.propgoluxury.com/en/luxuryrealestate/hoi-an-vietnam
Buying real estate in Vietnam is a grey area, more detailed information can be found here LINK TO ARTICLE HOW TO BUY REAL ESTATE IN VIETNAM.
Other Info
Hoi An is famous for its historic Ancient Town, that is built on a canal network. The old town remains beautifully preserved and looks especially fine at night, when traditional style lanterns illuminate the streets. If you enjoy historical living, Hoi An is one of the best places to retire in Vietnam.
To this day, the canal network continues to be local tradespeople. You can buy fresh fruit and veg, fish, and other products from the boats here. At night the Hoai River is lit up by floating lanterns and flower garlands.
The Best Places To Retire In Vietnam: Nha Trang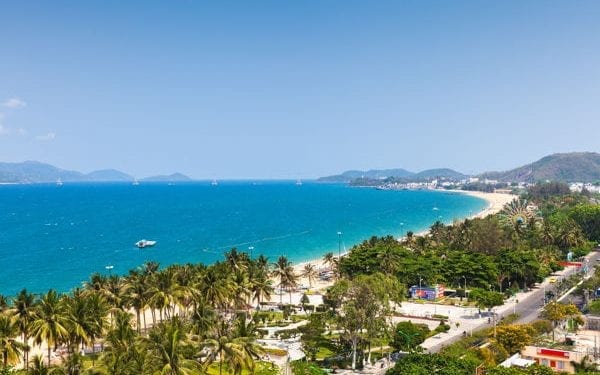 English Spoken?
Outside of expat groups there is only limited English spoken here. Venders in tourist areas, and taxi drivers may speak a little English. The younger generation are more likely to be able to communicate with you as well. If you plan to live here its recommended that you try and learn a few phrases in Vietnamese. Locals will really appreciate your efforts, even if you make a few mistakes.
Safety
Like much of Vietnam, the most dangerous place in Nha Trang is on the road. Vietnam has a shockingly high number of road fatalities every year. If you are travelling outside of the city, on faster roads, take great care.
Nha Trang is much like any other big city in terms of safety. Pickpockets are known to operate around busy tourist locations such as bars and clubs. Keep your wits about you and you will be fine. In general Nha Trang is a safe and friendly place and you won't feel intimidated walking around after dark.
Health Care
Like most parts of Vietnam, basic medical care is cheap. There are three big hospitals in Nha Trang. The VK Hospital, VinMec, and Mind Hospital Nha Trang. These hospitals are OK but not great by western standards. Most will go to Saigon or even fly to the Bangkok if they need hospital treatment.
Real Estate
The market has been growing fast over the past decade or so. You can find modern apartments, houses and villas, at prices that low even by Vietnamese standards.
Real estate agents in Nha Trang don't have the same kind of regulations as in the U.S. and you will need to keep your wits about you. There are licensed agents to be found, just be sure to see some certification. Renting here is usually straightforward. Expats living here report that landlords don't require a lot of documentation.
There is also a strong rental market in Nha Trang. If you are planning on a part-time retirement in Vietnam, you can generate extra income when you are not using the property. If you are looking for to make money from rental then Nha Trang must be considered one of the best places to retire in Vietnam.
Other Info
Nha Trang was a just a collection of fishing hamlets until the French arrived. They fell in love with the beaches here, and turned Nha Trang into Vietnam's first resort town. The beaches remain Nha Trang's main attraction today.
Nha Trang is notable for the cable cars that cross the sea. Linking Nha Trang with Hon Tre Island, the cable car offers some of the best views you can find in the city. It is also in the Guinness Book of Records for being the longest sea-crossing cable car in the world.
The Best Unknown Spot In Vietnam: Da Nang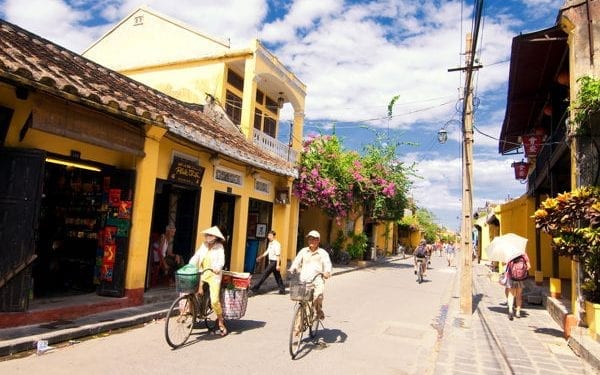 English Spoken?
Outside of expat circles you are unlikely to find too many people who are fluent in English. However a lot of people know a little English, with some patience on both sides you will be able to get by. The younger generation are very keen to learn English and they are your best bet for conversation with locals. The demand for learning English is strong, and you can make some money teaching.
Safety
As with most places in Vietnam Da Nang is generally a very safe place to live and spend time. The biggest danger is crossing the roads, make sure you are alert any time you step out onto the street. The level of safety in Da Nang makes it one ofthe best places to retire in Vietnam.
In the tourist areas and petty theft can be a concern. Keep your valuables out of site, and close to your body. Thieves on motorcycles have been known to try and snatch bags so hold on tight to your bag if you are by a busy road.
Taxi's may try and overcharge you so make sure you agree the fee before you get in. The drivers will expect you to negotiate, so never pay the first fee they quote you.
Health Care
Expats with a serious medical complaint will usually travel to Bangkok or Singapore for treatment. Both these places have first-world treatment standards. Bangkok is extremely affordable too.
There is a women's hospital and a new hospital specializing in cancer treatment. If you urgently need medical attention you can go via the Family Medical Practice, available in Da Nang. Prescription medicine is available over the counter. Be sure to go to a reputable chemist and check your medicine before you hand over any money.
Real Estate
The River Han divides Da Nang. The West of the city is livelier. It's here that you will find cafes, restaurants, bars and shops. The East side of the city offers a slower pace of life on the beach. However Da Nang is a small city. If you buy in western Da Nang it's still easy to get to the beach.
Da Nang landlord, is a local estate agents which has a great range of properties for rent. Another good, local company to try is Central Vietnam Realty. These have properties for rent and purchase. They have some properties in Hoi An but are mainly focused on Da Nang.
If you are looking to buy property here you can also go through international companies such.
Other Info
Da Nang is well positioned for a base camp. As well as the town itself, and pristine beaches, you are close to a few noteable tourist attractions. My Son Holy Land is a 40 minute drive and a well preserved ancient temple. The Marble Mountains, known locally as Ngu Hanh Son, are a pilgrimage site. Amongst other things you can find gruesome statues depicting the Buddhist conception of hell.
Oliver Lovett