Where can one pursue the self-sufficient life?
Carmelita Gardensis a planned community with self-sufficiency at the core of the planning. Gardens and orchards are interwoven with the housing lots so that owners can grow their own food.
You can participate directly by planting and harvesting or you can simply take advantage of the fruits and vegetables grown onsite that will be made available for residents.
This is the basis for the "Independent Together" philosophy behind this riverside development, the latest undertaking of Phil Hahn, a long-time Belize developer with a solid track record.
Julia: To start off, can you tell us how was your vision of a self-sufficient community born?
Phil:My father inspired the vision during my childhood and especially while I was attending Florida State University. A professor gave me an assignment to interview someone who lived through the Great Depression. I interviewed my father, who was born on 1929 and raised in Frankenmuth, MI, a small agrarian town in the Midwest.
My father explained to me that his town was not "impoverished." It didn't have soup lines and was not reliant on the government for the town's survival or happiness. Frankenmuth was resilient and self-sufficient because it was small and agrarian.
As an example, my grandfather, a parochial school teacher and church organist, taught piano lessons in exchange for fresh baked bread, eggs, sausages, pheasants, etc.
At the age of 19, I understood that a national crisis could arise again, but most towns were not resilient, self-sufficient, or tight knit enough to survive. The towns and their residents had become highly dependent upon government funding and programs.
After graduating from university, I stayed in Tallahassee and began a lifelong career in architecture, construction, real estate, and development. From the beginning, I was keenly interested in the role that town planning and architecture could play in creating a resilient community like Frankenmuth, MI was in 1929.
Serendipitously, the New Urbanism Movement had begun a few years early in Seaside, FL, just down the road from Tallahassee. I got very engaged in the movement and used the principles as I built a successful Residential Design and Building Company, Nautilus Design Group (NDG), in the 1990's and early 2000's.
Julia: Why did you choose a country like Belize and when was the first time you realized the enormous potential of self-sustainable community here?
Phil: By 2003, I had built NDG into a regional company designing, building, and developing in North Florida but still had my sights set on planning and developing a resilient, self-sufficient, off-grid community. The challenge was to find the right location with the necessary natural resources—primarily ample sun, water, and fertile soil—and in a place that did not have onerous and expensive government regulation.
Serendipity again came in to play when a realtor friend said, "I have a listing for property in Belize and Audrey (my graphic designer) said you would buy it." My response was, "Where is Belize and what does Audrey know that I don't?" To which Pam, the realtor, said, "It used to be called British Honduras."
Recalling old geography lessons, documentaries, and travel magazine articles I said, "Oh, the scuba diving place with the Blue Hole."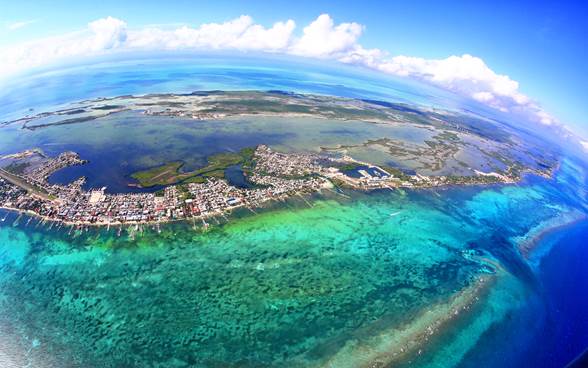 My research into Belize revealed that it was the ideal location, timing, and value I had been searching for. During my first visit, I became absolutely convinced that I could build the self-sufficient community I had always dreamed of.
I acquired the property Pam was selling with the idea that if my dream did not work out it would still be a prescient decision as a great land bank. After all, I had 115 acres on the sea in the Caribbean that in the future my children would be glad the old man picked up.
It was the early 2000's and real estate development in Florida and around the world was booming, so after visiting Belize a few times I saw the opportunity to get ahead of the path of progress and expanded my business to include international development.
I visited Cayo in western Belize and acquired a 100-acre parcel for future development. I then turned my attention to planning, permitting, and developing the 115 acres on the sea in northern Belize.
In the early stages of developing the property, I met Lief and Kathie and struck up a business relationship and friendship. Their continued professional support and personal encouragement has been instrumental in the success of Carmelita Gardens.
Julia: As a person looking for a retirement home, what can they expect to find at Carmelita Gardens?
Phil: It is often said, "Buy what you see," which is great advice, however, people should also buy what they feel and hear. In Carmelita Gardens, there is a vibe of positive energy that is palpable. We are not strictly a retirement community, even though we attract a lot of retirees, so for those looking for a retirement home they will find many like-minded retirees who have been through the process of selecting a lot, building a home, and getting settled into the community.
New owners will be able to see the houses, feel the wholesome hospitality, and hear from the folks who have already made the move. Once the move has been made new residents will be invited to go on grocery and shopping runs with experienced residents who have found their favorite shops and shop owners and love to share that knowledge and much more with their new neighbors.
Lifestyles are individual so every person can decide how active or relaxed they want their life and retirement to be. Whether it's enjoying water sports on the river or in a hammock with a good book we have both and various other activities that residents engage in.
If we don't have it and it's a popular idea it may be a great opportunity for a hobbyist or entrepreneur to add a business, artisan studio, or "Mom and Pop" shop to our Town Square. One of the unique aspects of the Carmelita Gardens vision is the chance to be part of building a legacy by being a Founder of the town. New homes, residents, and businesses are all part of the Founders vision.
Julia: What if I'm not looking for a retirement home yet, but, as an investor, how would this project help me diversify my portfolio?
Phil: As Lief once explained to me "This is the type of investment that will almost exclusively appeal to investors who share your vision and philosophy of self-sufficiency.
Carmelita Gardens has attracted investors from the start. In fact, our first two houses were built for investors. As the development plan was implemented, the number of investors increased. Now that we are beyond pre-development and pre-construction and fully into the growth stage, the investment opportunities continue to increase and diversify.
Thus far, investments have been in land and rental units, however, soon there will be Micro, Small, and Medium Enterprises (MSME) to invest in, ranging from agriculture to technology, food services to retail, and hotels to export businesses. I am currently developing the plan for the Carmelita Gardens Merchants Association, including the various businesses planned for the Town Square.
There will be the traditional Town Square businesses, such as a bakery, general store, café, barbershop/salon, and pub.
In addition, there will be a need for off-grid and sustainable practices businesses, like a solar company, DIY shop, gardening center/nursery, etc.
Each of those businesses are vital, however, the investment opportunities will be limited. The vision for the Carmelita Gardens Town Square is as innovative as the community and I am especially excited about its launch.
Julia: Can you tell us about the variety of homes we can find in Carmelita Gardens? Are all homes equipped to be self-sufficient?
Phil: Our motto is "Independent Together," which applies to our community of individualists as well as to the homes and facilities we build. Each home is solar powered, harvests rainwater, and uses eco-friendly wastewater systems.
Planned as a traditional town, the neighborhoods around the Town Square have garden lots with cottages, then radiating from there are larger village and estate properties. Therefore, we have houses ranging in sizes and architectural styles, but they all have classical proportions and create a harmonious public realm.
All houses regardless of size and style are handcrafted using quality materials and methods. The off-grid systems are custom designed for each owner's lifestyle and budget—they all have luxury finishes to the owner's specifications. Finishes include granite counter tops, beautiful exotic hardwoods, outdoor kitchens, swimming pools, or a myriad of other choices.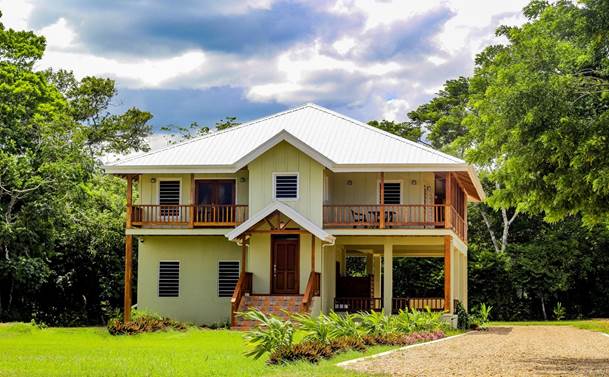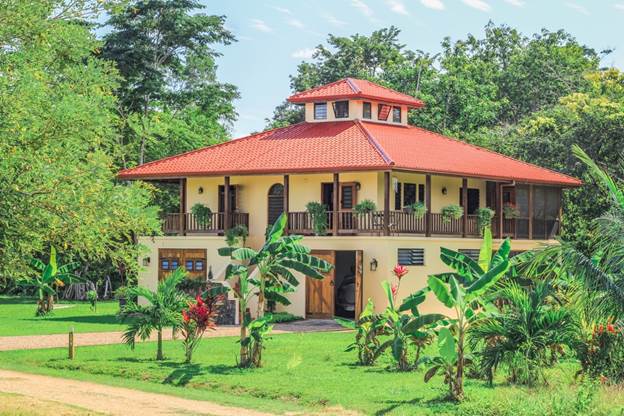 Julia: Could you give us a description of a day-to-day life at Carmelita Gardens?
Phil: It is happily different for each resident. Everyone has their favorite thing to do and freely goes about doing it. Some go fishing every day, others garden, tend to their chickens, plant trees, or relax on their porch and read. You may find others tutoring school children from the village, bird-watching or playing darts and other games, and the list goes on.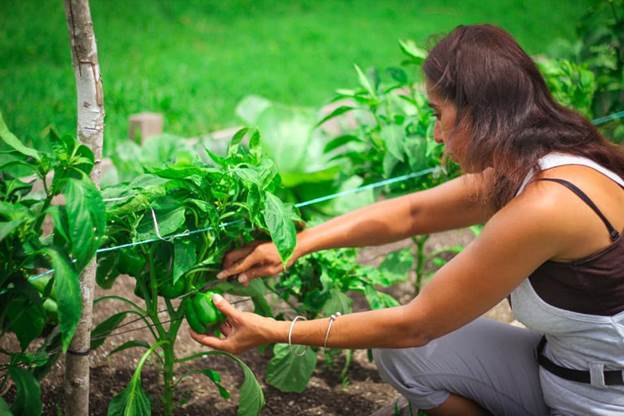 There are regular potlucks and gatherings at people's houses or at the river and there is a weekly shopping trip organized by a couple of the residents.
Aside from that, our "Independent Together" community thrives on individual freedoms and the varieties of "day-to-day life" in Carmelita Gardens.
Julia: Have you perceived any changes in the residents after they have moved to Carmelita Gardens? E.g. mood, health—being closer to nature, animals, and fresh, organic food?
Phil: Oh, definitely! One of our residents, Tony, experienced it firsthand when he moved from the Bronx, NY to Carmelita Gardens. He likes to show people his old driver's license with a photo of him looking stressed and gaunt, then comparing it to his healthy energetic glow now in his simple yet elegant cottage in Carmelita Gardens.
We have seen that type of transformation repeatedly—and more so recently. As the outside world appears to be falling apart at the seams, we simply and blissfully go about our independent day-to-day lives together.

Julia: What has been the biggest lesson you've learned since starting this self-sufficient community project?
Phil: Initially, I learned that Lief was right, the appeal of an investment in what was an untested self-sufficient community concept was very limited at the beginning and for several years.
I also learned that no matter how much the concept made sense to me and the prescient few who invested, bought lots, and built homes, it was still not mainstream. It was still popular for potential buyers and residents to go the familiar and "safer" route of condos, apartments, and suburbia.
However, neither Lief nor I ever imagined the current simultaneous crises, pandemic, civil unrest, and political malaise in North America. In May, as the crises were all worsening, it was as if an entire continent had an "aha! moment," and suddenly realized that a self-sufficient community in Belize is far safer than the old familiar route.
That old route was largely played out during the rapacious years of the real estate boom in the early 2000's, but it takes a true crisis (or several at once) to make a paradigm shift. Carmelita Gardens was established well ahead of the current crises and is now leading the way in the shift to comfortable self-sufficiency.
Julia: In what ways does Carmelita Gardens give back to the local Belizean community?
Phil: When I met former Minister of Agriculture Dan Silva, the original owner of the Carmelita land, he agreed to give me carte blanche on how I would plan and develop Carmelita Gardens if I agreed to create economic development in Santa Familia Village, where Carmelita Gardens is located.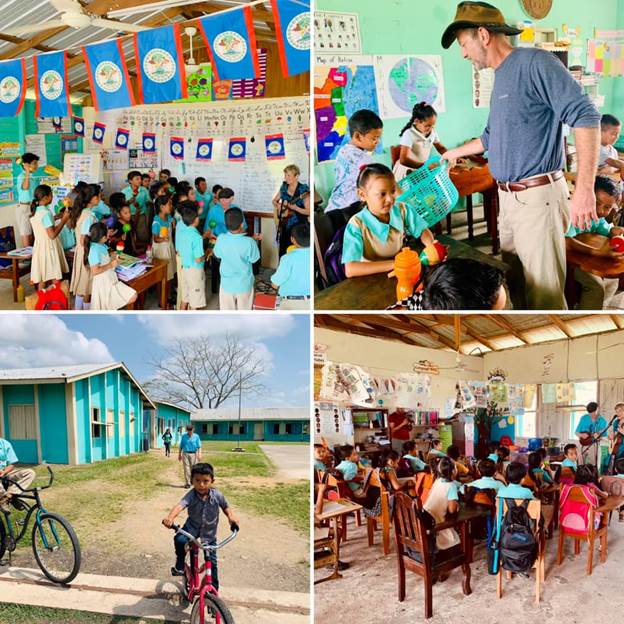 What he actually said was, "Make sure the village wins too." I understood and agreed, and it has been one of the overarching goals and philosophies of our community.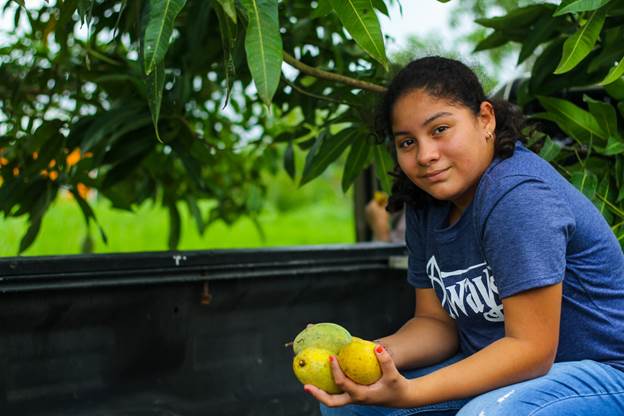 The reality is that the village is also making sure we win. It has been a rising tide that raises all ships and we are all winning together. Our residents have gained so much from the good people in Santa Familia. In turn, we contribute what we can to Santa Familia, which we are geographically a part of.
We have ensured that we create jobs, hire, and train staff from Santa Familia. The development has also provided CPR training, as well as consistently help fund community projects.
Independently, Carmelita Gardens residents have taken initiatives to tutor students, teach music lessons, hire folks from the village, organize fund drives for families in dire situations, and many other community-minded activities.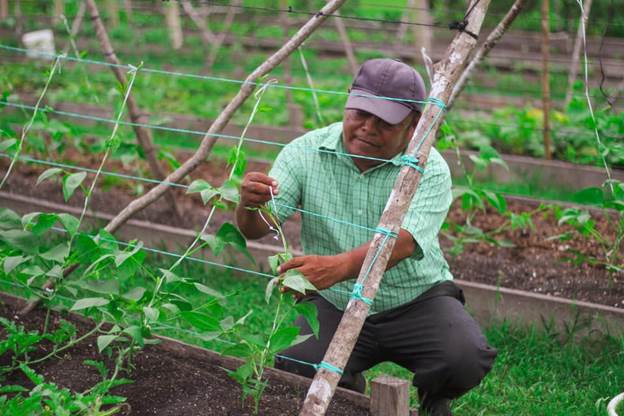 We are blessed with a community of truly good humanitarians who rightly see Carmelita Gardens as part of Santa Familia Village. We now see that the name of the village is apropos, as we do feel like one big connected family.
Julia Ho
Editor,In Focus Belize