Someday Is Closing In
"Should I go right or left?" Lief asked. I was so amazed at what lie before us that I couldn't respond. I was speechless.
Right or left? A choice of directions?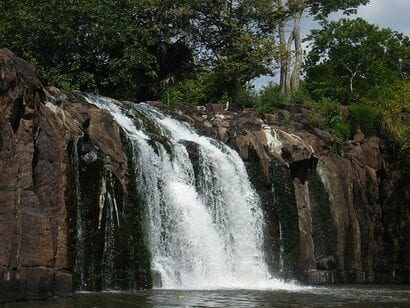 For some time, Lief, the kids, and I have day-dreamed about spending time at Los Islotes, the former cattle ranch on the western Pacific coast of Panama's Azuero Peninsula that Lief and a friend scouted and purchased about six years ago.
But, to tell you the truth, it was mostly a dream in theory. Boy, it sure will be nice to be able to watch the sun set over the ocean from the terrace of the house we intend to build there someday…Kaitlin will be able to ride horseback on the beach…Jack can scramble around the hills in an ATV…yes, man, someday, that'll be great…
We spent this weekend at Los Islotes, and it appears that someday is closing in.
Los Islotes Project Manager Gary Moseley has been busy. Since the start of the dry season, about two months ago, Gary has been on the property full-time, digging out roads and otherwise moving dirt around. His objective is to cut all the roads for Phase 1 of the development, cover them with select material, as it's called, and install the accompanying drainage before the heavy rains are upon us again.
"We should make it," Gary informed us. "It's always something, you know. I need a new tire for the dump truck, and I had to have someone out earlier this week to repair the dozer. But we're making very good progress."
Indeed. Thanks to Gary's efforts we're now able to reach formerly unexplored hilltops and ridges. It's like discovering the property anew. And the really good part is that the views, often 360 degrees, from so many points, are, as young Jackson put it, "awesome." In front is the sparkling, crashing Pacific Ocean; behind and all around, rolling hills. Our neighbor in one direction is the Cerro Hoya National Park.
"I had to cut down a sizable tree this week," Gary told me soberly, shaking his head. "Nearly killed me. I argued with the bulldozer driver for an hour-and-a-half. Finally, I had to admit that he was right. We had no choice. But just that one. Otherwise, we're working the roads around the big trees as much as possible. In some instances, we're creating roundabouts."
"Yes, that's the idea," we assured him. "We understand that you're going to have to cut some of the big old trees, but every cut should hurt a little. As much as possible, we want the property to remain just as it is right now."
Well, just as it is right now…but a little more fully appointed. The plan is to create, in this spot where Mother Nature has so outdone herself, a community where we, our friends, and like-minded others can appreciate and savor the natural beauty while enjoying the full support of 21st-century comforts. This is a family legacy undertaking for us that we expect to take 10 years to build out in full.
The master plan calls for underground utilities, fiber-optic internet, and a waste-water treatment plant, plus a colonial-style town modeled on Antigua, Guatemala…a clubhouse…three pools…riding and hiking trails…a boutique hotel and spa…tennis courts…stables…a boat launch…
First things first, though. Right now, we need a place to spend the night. As our architect reminded us when we brought him out recently to take a look at the site where we intended to build the property's first structure, "No road, no house."
No problem, Ricardo. Now, we've got roads! And, now that we do, we're reconsidering our construction plans. Instead of the little house on the little lot that we've discussed with Ricardo, now we're thinking a bigger house on a bigger lot with a much better ocean view. This "Founder's Lodge," as we're calling it, will feature a communal room for gathering and dining, plus a terrace for sunset-watching and four guest suites so that friends can come and enjoy Los Islotes with us. The lot we identified with Ricardo a few weeks ago won't do. For the Founder's Lodge, therefore, this weekend, we chose a new lot, on a hilltop, with remarkable views all around.
We'll get Ricardo started working on the Founder's Lodge plans this week; however, we recognize that our new lodge won't be a viable overnight-stay option for 10 to 12 months. We want to be able to spend time living at Los Islotes as soon as possible…
"How about if we build, in the meantime, a simple structure, with wooden beams and a palapa roof," Lief suggested.
"Ah, that's a great idea," I said.
"On that hilltop over there," Lief pointed…
"Yes, yes, but, perhaps, rather than palapa, we could build something with a clay-tiled roof," I proposed.
"Yes, and a Spanish-colonial tiled floor," offered our friend Christie, who joined us for the weekend's outing. "And maybe a built-in bar at one end."
"Well, with a bar, you'll need running water," Gary added. "Plus, it'd be nice to have a bathroom. I could build one…"
"Great idea. But not too small," I suggested. "Allow room for a small piece of furniture, plus maybe a trunk where we could lock away supplies.
"And the wooden beams shouldn't be clean-cut or sanded," I continued. "They should be thick and natural, distressed…"
"I'm distressed," Lief cut me off. "My simple US$2,000 palapa structure is now something else entirely."
"Don't worry, dear," I assured him. "You'll love it."
Kathleen Peddicord
P.S. We spent this weekend at Los Islotes in the company of the new sales and marketing team we've engaged for the project, Dennis Martinez and Christie Sweeney. Dennis and Christie are planning a schedule of regular visits to the Azuero coast to tour the property. First dates are March 21-24 and April 25-27. You can request more information about the plan for Los Islotes and the weekend tours here.
***
Kathleen Peddicord's New Book "How To Buy Real Estate Overseas" Available Now Pre-Release!
Kathleen Peddicord's latest book, published by Wiley & Sons, hits bookstores April 8. Starting now, though, you can buy a copy pre-release and save 36% off the release price!
Go here now to place your order for "How To Buy Real Estate Overseas"!
Image source: BeanZull