Ecuador, Belize, Colombia, Panama–How In The World Are You Supposed To Choose?
"Dear Kathleen, I'm confused and torn. I've enjoyed the many good things you have told me about Ecuador over the past several months and had pretty much decided that would be the first country I'd check out.
"Then you present the country of Belize where the climate and geography are more to my liking. But, wait, then, later that same month you send a second email promoting Medellin, Colombia!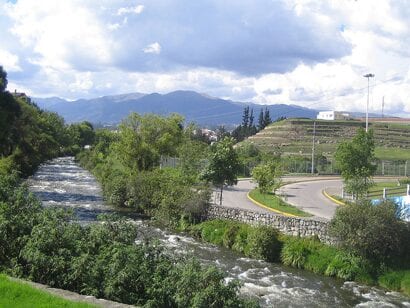 "Now I'm totally confused as to where to retire abroad. I've already invested money and a great deal of time researching Ecuador. If I take your advice I'll spend even more money checking out both Belize and Colombia.
"Tell me the truth. Given my circumstances, which country would you think best for me? I'm an Old Guy on fixed Social Security income who wants to spend the rest of his days enjoying life to the fullest possible. I love riding a bicycle and being outdoors. Please know that I have logged over 26,000 miles on my bicycle exploring most every state here in the United States and am now very serious in my intention to make a move to another country. I need an honest answer from you to help me decide which one. Please."
I sympathize and understand this reader's predicament. The real challenge with retiring overseas is choosing where. I try to draw out pluses and minuses and to make comparisons among the many destinations we bring to your attention in these dispatches…precisely so that you can make some determination as to where might make most sense for you.
This 2013 to date, as the reader I quote above suggests, we've focused on Ecuador (specifically Cuenca), Belize (especially the Cayo District), and, most recently, Colombia (Medellin). In addition, in these Americas, we also perennially recommend Panama (still probably the world's top retirement haven…though the official determination will be unveiled in next month's issue of my Overseas Retirement Letter, which will feature our First Annual Retire Overseas Index).
Top picks in Europe right now would be France, Ireland, Croatia, and Italy. In Asia, we'd direct your attention first to Thailand, Malaysia, the Philippines, and Vietnam.
Many other destinations could make sense, too, but these are the real stand-outs worldwide. How are you to decide which is the overseas retirement haven with your name on it? I'll provide some guidance on that in a minute. First, let's try to help the reader who wrote in over the weekend.
Given that reader's brief description of his situation and his priorities, here's how I'd suggest he process his options when deciding where to retire abroad.
He indicates that he's on a fixed Social Security income, so cost of living is important. Of top choices in the Americas (where his attention seems focused) Ecuador stands out when it comes to cost of living. This country is the cheapest place to retire comfortably in Latin America.
Note, though, that other top choices in this part of the world also offer very affordable options. Panama City is not cheap, but Las Tablas, on Panama's Pacific coast, is. Belize is not as cheap as Ecuador overall, but life in Cayo can be very affordable. If you're on a fixed income, all of these options could make sense…depending on how much fixed income you're talking about.
Also note that, while the cost of living in Medellin is affordable, it is not super cheap. If you're looking to retire on a fixed income of US$1,200 a month or less, I would not recommend Medellin. This city is fully appointed. Living here on a limited budget would be frustrating. You'd be teased constantly by lots of diversions you wouldn't be able to afford. If your income is super-small and you prefer city life, again, Cuenca, Ecuador, stands out, as it offers city diversions at small-town prices.
The other clue this reader gives us as to what kind of retirement lifestyle he's looking for has to do with his love of bicycling and the great outdoors. Cayo, Belize, is the best place I know to embrace a "great-outdoors" kind of life, but this wouldn't be an easy place to get around on a bicycle. The only roads are dirt and rutted.
Cuenca isn't about an outdoorsy lifestyle though elsewhere in Ecuador sure could be. Cuenca, though, could be a great place to pedal your way around on two wheels.
Medellin, as I've noted, is a top city-lifestyle choice…that doubles as a top out-of-doors pick, thanks to its parks, green spaces, bicycle lanes, gardens, and mountain trails.
Panama City in no way qualifies as an outdoors choice. Life in this hot, humid, dirty, noisy city is best spent in enclosed and air-conditioned spaces. Meantime, Panama City would not be my preferred city choice either, as, again, it's hot, humid, dirty, and noisy. There's lots to do here, but, on any overall quality of life scale, I'd put Panama City near the bottom. For a budget-priced lifestyle that embraces the great outdoors in this country, I'd suggest looking in the mountains around Santa Fe or on the Pacific coast. Most affordable and most beautiful (in my opinion) coastal options in Panama are on the west coast of this country's Azuero Peninsula.
Have we helped our reader-friend? We might need to get to know him a little better before making any recommendation with confidence. Based on what we know now, though, I'd say that he should focus his research on Cuenca and Cayo, both places where he could live comfortably on his fixed income and where he'd have access to great out-of-doors distractions and pursuits.
How are you to process whatever options you may be considering? Start, as our friend did, by identifying your three or four top priorities. Consider budget, lifestyle, access, language, the weather, and infrastructure and make a short list of what would constitute your ideal retirement situation.
Then try to connect the dots as I did above for the reader who contacted me over the weekend. Focus on comparisons, because, remember, retirement havens, like all things, are not absolute but relative. No place is perfect…but each place is more or less appealing, point by point.
The best practical recommendation I can make in addition would be to join us, if you can, for our next Retire Overseas Conference, taking place this year in San Antonio, Texas, in September. This is the best place to consider, compare, and contrast many different top options at one time with the help of expats and retirees who have themselves called each of these places home.
We aren't ready yet to take registrations for this, but you can register your interest (thereby getting your name on the advance notice list for special early registration discounts) to our Retire Overseas Conference here.
If you're stuck, send me an e-mail. I'll try to point you in one direction or another.
Good luck.
Kathleen Peddicord.
Continue Reading: Retire Overseas Conference In San Antonio, Texas
Image credit: Micah MacAllen