The Expat Life in Costa Rica–Confessions of a Four-year Foreign Resident
I have lived in Costa Rica for 4 years–with my wife and two teenage children.  I have travelled to more than 50 countries and my wife and I have lived in UK, France, Singapore, Hong Kong, and California –so we have a fairly broad appreciation of other locations.  No country is perfect.  We enjoy it here–despite the shortcomings.
I would be happy to assist your reader with any information that might help give a better understanding of life in Costa Rica.
Let me start with just a few thoughts.
Costa Rica used to hold the clear #1 spot in Central America for prospective retirees.  The prices were low and there was a comprehensive set of programs and initiatives designed to attract new residents / retirees.   Now most people accept that the price of real estate has grown substantially; the infrastructure has not kept up; and the programs for new retirees are far less attractive these days.   Some use this as a reason not to move to Costa Rica.
I see an alternative point of view.
I accept that the infrastructure is lacking.  This is especially true of the roads–which have too many pot-holes.   It is also true that the core services–electricity, water, insurance, telephone, cell phones, internet–have all been run by slow moving monopolies.
But the success of the earlier programs means that there are now many foreigners (50,000+)–North Americans and Europeans–living here.  As a result, the hard work has been done and there are numerous facilities that we can benefit from.  There are many international schools (10+), first class health care, good restaurants, modern supermarkets that offer a wide variety of (local and imported) products and several international quality shopping malls.
And the monopolies will (mostly) soon have competition as a result of CATFA (TLC in Spanish).   We expect many changes as a result, with lower prices and more efficient services.
It is true that the prices of real estate have gone up.  But there are still bargains available if you know where to look.  And with the financial turmoil hitting the USA right now, prices are coming down in several areas.
There are many web sites where you can find information on Costa Rica–one with a detailed factual overview is the CIA web site:   https://www.cia.gov/library/publications/the-world-factbook/geos/cs.html
Here are a few more aspects of life in Costa Rica that may be useful:
Costa Rican people–Ticos and Ticas–are very friendly and courteous.  The one exception seems to be for a small minority once they get behind the wheel of their car–lane discipline is poor and they are not the most careful drivers.  Many consider red lights as 'optional' and will go straight through a red light if there is no traffic.
In Costa Rica, family and friendships are a very important consideration.   The pace of life in many countries is always frantic.  Here, people take life a lot slower.
The Association of Residents of Costa Rica estimates that approximately 40 percent of foreigners who come to settle in Costa Rica eventually return to their home country because they cannot adapt culturally.   Language is a large part of that, but there are other aspects of the culture that some foreigners find difficult–specifically in time and efficiency. Time has a special meaning in Costa Rica — punctuality is not a national trait.
Many countries in the 'developed world' have become concrete jungles – here they have the real thing (rain forest, cloud forest, tropical jungle etc.).  Costa Rica is a wide open country with a density of only 80 people per sq km.  Half the people live in the mesa central (central valley), most within the confines of the greater capital, San Jose.  For most of the country, there are large areas set aside for National Parks and not that many people.
Panama City is far superior capital city to San Jose Costa Rica on most dimensions.  Downtown San Jose has very little to recommend it.  Even though we live near San Jose, we do not go downtown very often.
For shopping, comparing to the USA, the choice in Costa Rica is more limited.  There are a few good shopping malls.   We have been able to find most things that we need, the trick is knowing where to look.
Health Care is always a concern, and we were happy to find two first rate Hospitals –CIMA and Clinica Biblica.  Excellent facilities, with quality, caring service — US-trained Doctors, at very reasonable rates.   Dental Care and Cosmetic Surgery are equally good and much less expensive than the USA.
For us the quality of schools was very important.  There are four US-oriented International Schools; along with French, German, British, Japanese, and  European International Schools; as well as several excellent local private schools.   The prices for a first-rate education are very reasonable.
For sure Costa Rica is not as wealthy as many countries, and much of the workforce is engaged either in agriculture (Costa Rica produces more coffee per square meter than any other place in the world) or working for small local businesses.   More recently, a growing number is employed in tourism.  The #1 export for Costa Rica is now semi-conductor chips– thanks to a sizeable investment by Intel.   Hewlett-Packard is the largest foreign employer in the country with 6,000 employees.
If you eat a healthy diet full of fresh fruit, fresh vegetables, a little fish, chicken or beef, you will be healthier and enjoy significant savings on food living in Costa Rica as most food items are much less expensive here than in the USA or Europe.  But, if you prefer highly-processed, imported food, you are going to pay more for it than back home.
Cars cost around twice as much as in the USA.  Gas is also expensive.
Since most Costa Ricans are of Spanish origin, there is a distinctly European flair –coffee shops; little cafes with tables on the sidewalks etc.
Taxation in Costa Rica is based on the territorial system.  Income arising in Costa Rica is taxed.  But there is no income tax in Costa Rica on money earned outside of the country by residents. There is no tax on capital gains.
Serious, violent crime is not common in Costa Rica but petty crime is quite frequent.  You will be well advised to take precautions to avoid being a victim of petty crime.
We do have earthquakes quite regularly here although you will only feel a small percentage of them. We do not have hurricanes, but depending on the area there can be flooding.
And finally, the climate.  You can find any kind of climate you want here (except snow).  There are actually 12 different micro-climates in this tiny country.   It varies from hot coastal lowlands to very cool mountainous regions. The temperatures in the Central Valley are ideal, with evenings rarely below 60 degrees and days rarely above 80 degrees all year round. In our house we have no heating system and no air conditioning system.   There is a rainy season from May through November.  This sounds quite long, but it usually only rains for a while in the afternoon –after being sunny in the morning.  But when it rains, it rains (September, October are the heaviest rain months).  There is a hotter dry season (usually from the end of November until early May)–but the humidity in the central valley never gets too high.  Of course, the coast is hotter and more humid.  So you can find all climates here.  And nothing is very far away.
For us, when comparing Costa Rica with other countries across central America, the combination of excellent climate with access to all the essentials is an unbeatable combination.
I hope this helps.  Time to start asking questions!
David is happy to answer any questions about Costa Rica. Reach him here at: CostaRica@LiveAndInvestOverseas.com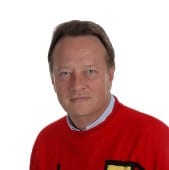 About the Author:

David Stubbs left the UK in 1984 and has being living and investing internationally for the close to two-and-a-half decades since. He has had the opportunity to visit 53 countries…and counting.  

After a 25-year career in high technology, during which time he lived in the UK, France, Singapore, Hong Kong, and California, David retired three years ago to Costa Rica.

David stopped working so he could spend more time with his wife and two teenaged children, as well as his favorite hobby–real estate.

In the 30 years since his first purchase, David has made more than 50 real estate investments in 9 countries across 5 continents.

From his global viewpoint, David has learned a lot about market cycles. He knows that it is good to be cautious. He has seen the signs of bubble before and has managed to sell before the top in each case. He has also ridden the waves of rising prices by being in some of the right markets at the right time–Hong Kong, 1986 to 1995; the UK, 1995 to 2006; and California, 1996 to 2004, for example.

Most recently, David has invested in Belize, Nicaragua, Costa Rica, and Panama, riding the wave of investment in Central America, which he believes continues to build.