Andre's The Big Winner, But What About Joselyn And Thelma?
For the past year, as I've reported on and off, Lief and I have been looking for a new place to live in Panama City. When we arrived here four-and-a-half years ago, we rented an apartment in a high-rise tower in Punta Paitilla. The apartment was comfortable, and the location was convenient, but we were not happy. High-rise living, as we'd always suspected and finally had a chance to confirm, did not suit us.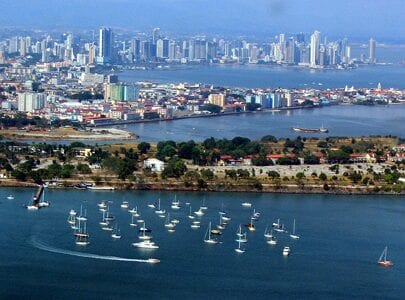 From Paitilla we moved to a renovated Spanish-colonial house in Casco Viejo. The house was great (historic and architecturally interesting) but too small for our family long term. Also, Casco Viejo, this country's World Heritage Site neighborhood with centuries of Spanish-, French-, and American-colonial history, while, no question, our favorite part of Panama City, is also an increasingly maddening place to try to commute to and from. The ever-expanding construction (renovation of old houses in Casco Viejo and never-ending erection of new high-rise towers in every other part of Panama's capital); infrastructure (further expansion of the Cinta Costera to include an extension around the Casco Viejo peninsula over the sea, plus re-running phone and electricity cables underground and building the new city metro); and beautification (relaying the old brick roads in Casco and landscaping along the Cinta Costera) projects this city is investing in mean that getting in or out of many spots within it, especially during rush hour, is an experience to test the patience of a saint, as they say. Casco Viejo is one of those spots.
Finally, we had to admit that we liked the idea of living in an old colonial house in Casco Viejo more than the reality. From Casco we moved to Marbella, in the center of the city. Much more convenient location. In addition, this is one of the few places in Panama City where you find houses. Most of this city is given over now to apartment towers.
Alas, the convenient location in the heart of the city has meant that, over the past two-and-a-half years that we've been living here, we've watched as our neighbors have decamped, one by one, and the houses they've left behind have been rented not to other families but to commercial enterprises. Our neighbors now include CompuLine and an architect's office. In addition, Monday through Friday, our street serves as a primary parking lot for employees of the half-dozen banks within walking distance. Every morning at 7:30 when we leave for the office, we have to maneuver carefully out of our driveway and between the solid rows of parked vehicles on both sides of the narrow street. If we return home before 6 p.m., we often find someone else's car in our driveway.
Where to next?
We've agreed we'll make just one more move. I'll schlep our stuff and ourselves from one point in this city to another once more, but that's it. So we've been taking our time, trying to make sure we get this right finally. The search has extended, now, as I said, for more than a year.
We talk often about the inefficiencies and other downsides of trying to find a house to rent or buy in a market without a multiple listing service (MLS). One is that, because no agent can know everything that's available at any time, you must work with as many agents as possible. This translates into a considerable investment of time, both yours and the agents'.
We've undertaken this most recent Panama City search in fits and starts. We travel often and are out of town for extended periods. However, when we've been in the city together, Lief and I have dedicated an hour or more a day to this effort, going out, sometimes, with five different agents in a single week. In the end, we've worked most closely with three agents, each of whom has invested even more time than we have trying to find us the ideal place to call home. Joselyn, Thelma, and Andre have chased down owners, made inquiries of doormen, and followed up on Se Vende signs, tips from friends, and local classified listings that have gotten our attention. They have tolerated our seriously schizophrenic approach, which has had us renting, then buying, now renting again, as we've tried to consider every possibility. Along the way, they have negotiated rents and lease terms, down payments and seller financing. With each agent, we have come very close to signing on the dotted line at least once.
Frankly, we've been nightmare clients. We've been certain of our plan and then reconsidered it completely. Through it all, Joselyn, Thelma, and Andre have been patient and gracious, helpful and accommodating.
Now, again, we believe we're at the end of this search. We've found a Spanish-colonial house that checks all our boxes. It's big enough for our family, plus private, and it's been recently renovated to include new bathrooms and a new kitchen, as well as a swimming pool and a nice back yard. It's also in a pleasant, well-kept residential neighborhood that is within walking distance of our office, meaning no daily commute! With the help of the agent (in this case, Andre), Lief has beaten up the owner on price, and, as of yesterday morning, when we did a final walk-through of the property, we're ready to move ahead.
We're very happy for Andre, who will make a nice commission from this deal. However, the situation is highlighting another downside of doing business in a property market without an MLS.
What about Joselyn and Thelma? Each has made a big investment over many months, and now, it seems, is going to walk away with nothing! They're both pros and understand, I realize, that this is the way it goes in a market like this one. None of us had any way of knowing how all this would play out. Now that we do, though, Lief and I can't help but feel bad for the two ladies who have been both pleasant and persistent in their efforts to find us what we were looking for, even when we didn't seem to know ourselves.
We're sending Joselyn and Thelma each a small gift, along with our heartfelt gratitude and best wishes.
But, jeez, that hardly seems a reasonable return for the efforts they've made. Especially as, I have to admit, I hope we never find ourselves in need of their services again.
Kathleen Peddicord
***
Kathleen Peddicord's New Book
"How To Buy Real Estate Overseas"
Available Now Pre-Release!
Kathleen Peddicord's latest book, published by Wiley & Sons, hits bookstores April 8. Starting now, though, you can buy a copy pre-release and save 36% off the release price!