Why We Are Where We Are
"Ms. Peddicord, would you mind sharing where you live throughout the year and why you chose each individual location?"
—Question from a reader on Huffington Post
I write today from Panama City. My family and I moved here it will be five years ago this July from Paris.
From Paris to Panama City?
Before I answer that question, I'll back up a little and start from the beginning.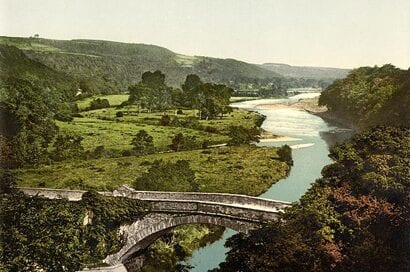 The beginning is Waterford, Ireland, where Lief and I, newlyweds, launched our joint adventures overseas 15 years ago. We didn't choose Ireland ourselves. It was chosen for us by my employer at the time. However, after seven years as full-time residents, raising a family (my 8-year-old daughter Kaitlin moved to Ireland with us, and our son Jackson was born in Waterford), building a business, renovating an old Irish country house, and making friends we treasure still today, Ireland grew on us. I'd include it on any list of the best places to retire abroad–and, indeed, we intend to spend time in Ireland again, starting this summer. Real estate values in this country are at a low that's too low to ignore. We're planning an extended family stay in the country this July, during which we hope to find a little Irish cottage that will allow us to take another personal position in a place we want to include as part of our long-term plan (a place where Lief and I can spend time in retirement and that we can leave behind for the kids and grandkids to enjoy when we're no longer around).
Why Ireland? It's legitimately one of the most beautiful corners of this planet, a spit of land where Mother Nature outdid herself. It's also quiet, peaceful, traditional, safe, and a world apart. The older and more sentimental I grow, the more I appreciate what this country of castles, gardens, and centuries of colorful history has to offer.
After seven years in Ireland, we moved the family to Paris, France. Why Paris? The honest answer is because it's Paris. The rationale at the time was a request from Kaitlin, who asked if she could spend a year "studying abroad" in the city. Why send Kaitlin to Paris on her own, I asked Lief. Why not go with her…all of us? We were in the fortunate position to be able to engineer this. My business partner at the time was flexible, and a new office in Paris could make sense for the business anyway (I argued).
Kaitlin's year abroad in the City of Light stretched into three. She graduated from high school then returned to the States for college. The rest of us stayed on in Paris for another year before making the decision to relocate back across the Pond to Panama.
It's not that we wanted to leave Paris; it's that we wanted to start a new business. While I'd say that Paris is the best place in the world to live, I'd also suggest that France is one of the most maddening places in the world to run a business. Our experience doing business there and in a dozen other places around the globe by this time had taught us that. It had also shown us that, on the other hand, Panama was tops in this regard, a tax haven where it's possible to live and run a business tax-free (even if you're an American). That's a big deal. A big enough deal to get us on a plane.
We bid au revoir to Paris but not farewell. We decided to hold on to the apartment we'd purchased to be our home while living in the city with our kids. Our time here convinced us, if ever there'd been any doubt, that Paris is a place we would like to be able to return to always, the spot, in fact, where, when we're too old to continue moving around the way we have been, we hope to settle in for the ultimate long haul. We've rented out our apartment on the rue du Verneuil these past four-and-a-half years we've been in Panama City, happy to know that it's still there, waiting for us, whenever we're ready to return to it.
Now, here's a secret that you may have guessed already: Panama City is not part of our long-term plan. As I said, Panama City is the best place in the world to do what we're doing right now–building a business. In this city, we have been able to piece together an eclectic and effective team unlike any I've worked with anywhere else. We've got German marketers, Irish editors, American writers, Panamanian designers and programmers…
"Where are these people coming from?" I asked Lief as we were dressing for the office this morning. "I'm more amazed each day. Whoever would have believed we'd be able to find so many smart, hard-working, well-educated, open-minded, English-speaking kids…here in Panama City? Not me. What are they all doing here?"
Neither Lief nor I has an answer to that question (though we suspect it has something to do with the state of job markets for recent college grads in the United States, Ireland, and beyond), but we do count our blessings, every day. What we're managing to create here in Panama City is proving remarkable.
That is not to say that the experience of living in Panama City is one I would describe as pleasant. Panama City is an assault on the senses–busy, crowded, dirty, noisy, congested, hot, humid–and life here can be a challenge.
But, as I try to point out often, Panama City isn't Panama, and, while Panama City is not a place where we aspire to hang our hats long term, the Pacific coast of this country is. That's why, about six years ago, we purchased a piece of oceanfront land, on the west coast of this country's Azuero Peninsula. In the community we're building at Los Islotes, we intend also to build a home that, again, will feature as part of our eventual retirement plan and, also, our legacy for our kids.
Paris in springtime…Ireland come summer…and the coast of Panama when it's winter elsewhere–that's the core of our retirement plan.
In addition, we intend to spend a month or two a year in Medellin, Colombia, a city we discovered about three years ago and that has, since, became one of our favorite places to be, thanks to its climate but, more so, for us, thanks to its pretty architecture, parks, and gardens, its walkability, its genteel population, its café culture, its general European undertones, and its affordable cost of enjoying it all.
Istria, too, is on our list of what we'd consider the best place to retire abroad. It's the best of Old World country living, like Tuscany without the crowds. As is Belize, where we've invested in land we intend to farm, in the Cayo. We intend this year to buy more farmland, likely in Uruguay, to round out our long-term property holdings…and the list of places where we really enjoy what the local living has to offer.
Kathleen Peddicord
P.S. I share these stories and these suggestions in more detail in the book I've just written for Wiley & Sons, called "How To Buy Real Estate Overseas."
One thing I realized, writing that book, is that buying real estate overseas is not so much an investment strategy as it is a lifestyle. The places where you invest in property should be the places where you also want to invest your time and your family's future. When you're able to marry these three agendas, the payoff can be enormous.
"How To Buy Real Estate Overseas" will be in bookstores starting mid-April. However, it's available now on Amazon. You can buy your copy now, of "How to Buy Real Estate Overseas," pre-publication, for US$14.55.
Continue Reading: Retirement In Medellin, Colombia, Versus Retirement In Panama City, Panama