"The honesty and realism of your information shines through. I am looking forward to continuing reading your offerings for a long time."
— Carol C., United States
How To Retire Overseas…With Kids
When we took up residence in Waterford, Ireland, 10 years ago, we enrolled our 9-year-old daughter, Kaitlin, in Newtown School, a Friends (Quaker) school with small classes, caring teachers, and a curriculum focused on the fundamentals. Tuition was $2,000 a year, less than one-fifth what I'd been paying annually at the Catholic elementary school in Baltimore, Maryland, where Kaitlin had attended first through third grades.
When she was 15, Kaitlin moved us to Paris. At this age in Ireland, kids take a "Gap Year," a break before their final two intense years of study prior to graduation. When Kaitlin suggested she spend her Gap Year in France, we took the opportunity for a family sojourn on the Continent. Kaitlin entered l'Ecole Active Bilingue, where she spent a year learning French, then, because both she and we were enjoying our time in France, we enrolled her in the school's two-year International Baccalaureate (IB) program.
Meantime, Kaitlin's little brother, Jackson, was 4 years old when the four of us began spending time in Paris. Jack we enrolled in the local public school, reasoning that, at his tender age, he'd learn the language and assimilate in no time.
Poor Jack. Born in Ireland, he understood not a word of French. Every morning during the 20-minute walk from our apartment to his maternelle (kindergarten), he'd beg me to turn around and take him back home.
"Please don't make me go to that place again today," he'd say. "They don't have an English voice, and I can't find my French voice."
By the time we'd arrived at his school each morning, Jack'd be crying…I'd be crying… His teachers would pull him away from me and shoo me out the door.
"He'll be fine," they'd assure me each day. "Give him six weeks. In six weeks, he'll speak French."
We struggled through six weeks and, sure enough, a month-and-a-half into the school year, suddenly, seemingly overnight, Jack had found his French voice.
This year, Kaitlin is back in the States attending college in Annapolis…and Jack, well accustomed by now to moving around, finds himself in Panama.
Rather than panicking because he doesn't speak Spanish, 8-year-old Jack is embracing the idea of learning a third language. He carries his "First 1,000 Words In Spanish" picture dictionary everywhere he goes. He reads signs and billboards aloud and tries to figure the translations. He reviews the new Spanish words he's learned that day as he prepares for bed each evening.
In Europe, the education options for non-local kids are many. We could have opted, for example, for the American School in Paris for Kaitlin's high school education. We didn't because we wanted her to have a more real living-in-France experience. The American School in Paris, and, probably, "American schools" everywhere, preserve a very American approach and perspective, not only in education, but in everything.
Kids in an American School are isolated from non-American School kids, don't typically master the local language, and might as well be attending an American high school back in America. At least those are the conclusions Kaitlin and we came to.
Similarly, in Paris, we could have enrolled Jack in an international school, a British school, a local bilingual school… We chose to do what I now recognize as the hard thing, both for Jack and for us. We put him in the public school with nary an English-speaker or a fellow American in sight. Jack struggled, and I questioned my fitness as a mother daily, those first weeks and months.
We did the hard thing with Kaitlin, too, pulling her away from her family, her friends, her school, and everything familiar to her 10 years ago when we moved her to Waterford. Again, she struggled, missing her grandparents and her cousins throughout her decade abroad, and we struggled, wondering if our lifestyle was in her best interests. "I'm an American. I belong in America," she'd exclaim to us often during our first few years outside the States. Then she'd stomp her foot or slam a door…
In her admissions essay for St. John's College last year, Kaitlin wrote, "I didn't want to leave the States when my parents decided to move us to Ireland when I was 9 years old. And it was hard. But if not for Ireland, then maybe not Paris…and if not for Paris, then how different the world would look to me now at this juncture in my life."
In Latin America, the education options are more limited. You probably won't feel comfortable placing your child in the local public school…though, in fact, I have British friends in Belize who did this with their two children through elementary school. The family lived in the mountains, in the jungle, in the Cayo, and sent their son and daughter to school with the local Belizean children each day through sixth grade. Then they sent them to boarding schools in the States for Middle School. In Belize, they felt they had no other option as they worked to prepare their kids for university.
In Panama, we considered the British and international schools for Jackson, but dismissed them for the same reasons we dismissed the American school for Kaitlin years ago in Paris. We looked at local and private bilingual schools and likely would have opted for one of them if we weren't so keen to help Jack keep his French. He fought so hard to find his French voice. How could we let him lose it now?
We found in Panama City a French school, the Paul Gauguin school, which has a 100% French-speaking staff from France and which follows the French curriculum and schedule. All instruction is in French, save daily Spanish and twice-weekly English classes.
Most of the children are Panamanian and speak among themselves in Spanish. In this context, it may take Jack longer than six weeks to become fluent in Spanish…but not much longer. I give him three months.
I write this week from Costa Rica, where we've come to visit a French friend from Paris who's here visiting his sister who has been living with her family in San Jose for more than 30 years.
Frank's sister Ann took an energetic approach to educating her children in her adopted country of Costa Rica. Years ago, she explained over dinner last night, when her children were school-aged, she couldn't find a school in San Jose she felt comfortable sending them to…so she started her own.
Nearly 20 years later, Ann's bilingual, IB-accredited school (EuropeanSchool.com), with a focus on the liberal arts and the humanities, has nearly 500 students and offers instruction from kindergarten through 10th grade plus the final two years (11th and 12th grades) of IB study. Ann has invited me for a visit tomorrow morning…
Kathleen Peddicord
P.S. We're here in San Jose visiting friends, but Lief is taking advantage of the opportunity to try to get a read on Costa Rica's real estate markets. As he prepares to begin developing the land he and two friends have purchased on the coast of Panama's Azuero Peninsula, he's interested to see what the competition is up to. He and one of his partners in the Azuero project (LosIslotes.com) took off early this morning for the Pacific coast. I'll report his discoveries and conclusions next week…
P.P.S. For more on the International Baccalaureate program worldwide, go here: Ibo.org.

—- A Wine Adventure With Upside in
the "Next Napa" —-
Great wines, great times, great adventures…all the fun of a vintner's lifestyle without the work (and with the added incentive of an 18% annual yield)…
———-
FROM THE MAILBAG:
"I'm living in Panama now, and my plan has been to remain here until 2012. However, I have an 8-year-old son, and I'm wondering if Ecuador might be a better place for him to live than Panama. Is Ecuador a safe country? Could my son have music instruction and violin or piano lessons? Finally, if I decide to move to Ecuador, would it make sense to invest in a home or to rent long-term?"
— C. Lindgren, Panama

Mike Sager, our man in Ecuador, responds:
" Ecuador is very safe and family-oriented. The people here care greatly about their families and their children.
"And, yes, Ecuador has great music programs. I am a musician myself and enjoy the opportunities in this country for becoming involved in the music community.
"And, again, yes, moving here, after you've had a chance to get the lay of the land and to find the area where you want to settle, I'd recommend buying a home. Whereas Panama, for example, has seen considerable appreciation in property values over the past five-plus years, here in Ecuador, prices are at the very start of the appreciation curve. As security is a key concern for you, you might be interested in one of the many gated communities under development here.
"Finally, Ecuador is one of the most affordable places in the world to live. Once you've invested in a home, you and your son could live well here on less than $700 per month. Take a look at this fully detailed budget for Ecuador living."
For more: Ecuador@LiveandInvestOverseas.com.

ALSO RIGHT NOW: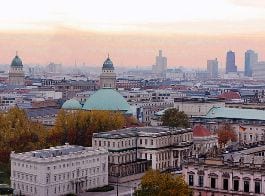 Germany is a country of renters. Global real estate investment guru Lief Simon tells you why you should find that bit of information interesting:
Nearly 60% of Germany's population chooses to rent rather than to buy a home.
That's the figure for the country as a whole. In Berlin, 80% of the population rents.
Typical rental returns in this city are 6% to 6.5% per year. That's not a home run and nothing to get excited about…on its own.
What makes this opportunity interesting is that it's a low-risk long-term play that diversifies you into the euro at a time when you want to be diversified into the euro.
What about capital appreciation? You're not going to see double-digit growth short-term. At the same time, I'd say that values in Berlin have nowhere to go but up.
Pundits say that you can expect growth as, over time, the percentage of renters in this city moves toward the national average. As more people opt to buy rather than to rent, sales prices will rise.
Maybe. But those pundits have been making that same prediction for at least four years, and, so far, the demographic shift they've called for hasn't come to pass. Who knows if it will anytime soon…
Meantime, I have a more compelling reason to believe that values in Berlin should see movement up over the coming few years. Right now, per-square-meter apartment values in this city are well below those of other European cities, especially those of other European capital cities, including East European capital cities. You can buy today in one of Berlin's better neighborhoods for as little as 1,500 euro per meter. It's hard to build new for that price.
In other words, again, I'd say Berlin prices have nowhere to go but up.
Here's the play: Invest in one or two low-priced apartments financing locally (it's possible for foreigners to borrow for "buy-to-let" properties). This way, you shouldn't have any local tax bill each year, as the net income after expenses will be too low to incur tax.
Mortgage rates in Germany are 5.5% right now. Some banks will give you as much as 80% loan to value, but don't borrow that much as it won't give you positive cash flow. You don't want to be out of pocket for an investment like this, sending funds into the country to cover a shortfall each month. Figure your down payment to avoid that, recognizing that, in Germany, you're looking at a 20- to 25-year amortization period.
Hold your investments for 10 years or longer, and you'll pay no capital gains taxes in Germany either.
My man in Europe, Jeff D'Arcy, can tell you more. Reach him at Berlin@LiveandInvestOverseas.com

Tuscany…then Umbria…then Marche…then Calabria…now Abruzzo…
Our correspondent in Italy, Nikki De Girolamo, reports that:
"Until recently, Abruzzo has been overlooked. This is changing, as the region is gaining recognition for both its summer- (sunbathing and boating along the Adriatic) and wintertime (skiing, especially cross-country skiing) appeal. Abruzzo is near to Rome and Tuscany and boasts exceptional buys in old houses of character, many of stone or antique handmade brick.
"These houses are hidden in the mountains and the hills, meaning they offer tranquility and privacy and beautiful views.
"Especially interesting is the Aquila region, which has the advantage of being very near Rome and also very cheap. The Casoli area is attractive for its lakes, for being very near the sea, and, again, for being very cheap. The Alanno region is a bit more expensive but absolutely beautiful and near the sea, the motorway, and the airport.
Nikki can tell you more. Reach her at Italy@LiveandInvestOverseas.com.

—— Borrow To Buy In Central America ——
Caye Bank lends in Panama, Nicaragua, Costa Rica, Belize, Honduras, and beyond. Attractive terms.
———-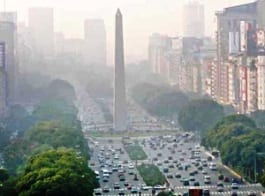 Late last week, Argentine President Cristina Fernandez de Kirchner finally acquiesced and cancelled the controversial tax hikes she'd placed on agricultural exports in March. Argentine farmers are delighted, and everyone in the country is breathing a sigh of relief. Meantime, friend and longtime part-time resident of this country Paul Terhorst tells us what it's been like living in Argentina the past couple of months…
"Every now and again, my local supermarket has been out of meat, bread, fruit, vegetables… Farmers burned grasslands in the delta north of Buenos Aires, covering the city with smoke. Because people couldn't see, the government closed the downtown airport, the northbound roads, and bus service to the north of the country. All this without any announcements. You didn't find out you couldn't get home until you tried to get on the highway and discovered it was blocked off…
"It never occurred to the firemen to react in any way. Their job, as they saw it, was to go to the fire station, watch the fires on TV, and smoke cigarettes.
" Buenos Aires gas stations have routinely been putting up signs saying, 'Out of Gas.' The phone company has answered their hotline with a recording saying, 'Our technicians are out on strike.'
"Cash machines have had cash maybe half the time, maybe a bit more…
"Life in the Third World. You've got to expect breakage."

———- Important Notice ———-
The cost of a Reforestation Visa, Panama's best residency option, is scheduled to double Aug. 26, 2008.
If you're thinking of settling in the world's premier tax haven, act now. Details here.