Trader Jack's Bazaar Is Born (In The Artisan Villages North Of Quito)
It's presidential Election Day in Ecuador, and, if you're an Ecuadorean living in the country, you've got to vote. It's mandatory. Further, you've got to vote in the place of your birth.
So, yesterday, the highways of this country were jammed with vehicles of all descriptions as folks made their way to the city, town, or village where they'd been born. This morning, they're all waking up and casting their ballots to determine who will run Ecuador for the next four years.
"Correa will win," our driver yesterday assured us. "There's no question. He's very popular. All the people love him, because he has done many good things for this country."
Rafael Correa has been president of Ecuador since January 2007. He is able to run for another term thanks to an adjustment in the country's Constitution a few years ago.
"He says, though, he won't run again after this election," continued our driver. "His wife is Belgian, and she wants to spend time in her country."
Lief, Jackson, and I took to the new-and-improved highways of Ecuador (thanks to Correa's efforts these past six years) along with the rest of the country yesterday. However, we weren't on our way home to vote, of course. We were touring around the artisan towns north of Quito, with two agendas.
First, Lief and I were interested in shopping for santos in San Antonio de Ibarra. These hand-carved wooden statues of Catholic saints are made in this part of Ecuador as they have been made for centuries. It's a craft passed down through the generations. The wood carvers take enormous pride in their work, and some supply santos for Catholic churches around the world. Dozens of shops in San Antonio offer newly carved santos for sale. However, if you're lucky, you can find old ones, sometimes 100-years-old or older. These are increasingly hard to find and increasingly valuable. Lief and I have collected antique santos for years and wanted to see if we could find one or two to add to our collection. If you are able to find one here, at the source, you can buy it for a fraction the cost you'd pay anywhere else.
However, young Jackson had another agenda. "I'm not interested in looking at those wooden saints," Jackson told us. "I'd like to shop for inventory for my new business."
Jackson, 13, is starting an online bazaar. At his new website, TraderJacksBazaar.com, he sells products from different countries where he and we travel.
"I met someone at the conference this week," Jack explained when we told him about our plan to travel to San Antonio on Saturday, "who has a big online export business like the one I want to start. He's leading a tour to different towns in the north of Ecuador where he shops himself for things to sell on his website. He has invited me to come with him. He told me he'd help me choose products and get the best deals."
So, while the three of us toured around northern Ecuador yesterday, Lief and I traveled without Jackson, who took off separately with a small group of conference-goers from last week's event also interested in shopping for leather, textile, and other hand-crafted items in Ecuador, which has become recognized as one of the world's best places to source high-quality, low-priced inventory for export.
In San Antonio, Lief and I inquired at every shop but found only one antique santo on offer, a 100-year-old St. Francis of Assisi. The last time we shopped in Ecuador for antique santos, we paid (as we recall) US$100 to US$150, depending on the size. The relatively tall St. Francis we found yesterday was US$200. Lief bemoaned the inflation since our last santo shopping trip. I pointed out that that was more than eight years ago and that, were we to find a century-old, 18-inch-tall St. Francis carved from a single piece of wood anywhere else, it'd cost much more.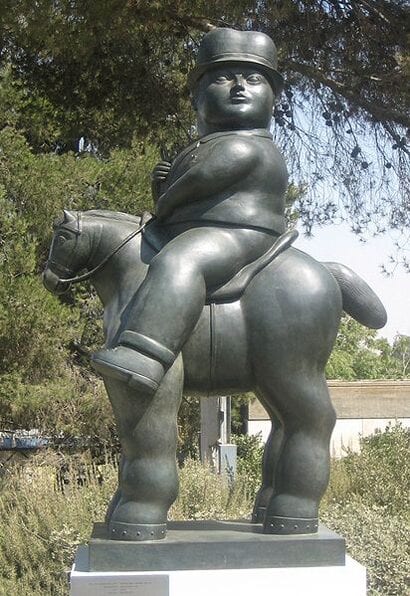 We bought a few recently carved santos, too. These you can find for as little as US$20 (for the smallest ones). We also bought three hand-carved wooden replicas of iconic Botero sculptures, including Pedro on his horse and the fat lady dancing ballet. We're big fans of this Medellin-born artist and were excited to find that some San Antonio woodworkers have expanded their product lines to include his works.
San Antonio craftsman also make furniture. Their workshops-cum-galleries overflow with small tables and chairs. If their stock doesn't suit you, you can ask them to custom-make whatever you'd like, working from a photo. As with the santos, prices are higher than we remember from years ago but still a global bargain. I think that, when the time comes to furnish the clubhouse we're building at Los Islotes, I'll plan a buying trip to this town. I could spend a week meeting with woodworkers and cabinet-makers and have all the wooden furniture I'll need made-to-order for a fraction what I'd spend on comparable quality stuff in Panama.
Kathleen Peddicord
P.S. Jackson's shopping spree was as successful as Lief's and mine. He returned to Quito with bags of scarves, pashminas, key chains, napkin rings, animal-hide rugs, and a leather portfolio.
"The portfolio is for me," explained the 13-year-old. "I'm going to use it to file away the business cards of the people I buy my products from."
Jack reviewed each item for us, explaining the asking price and what he'd paid (after engaging in sometimes protracted negotiations) in each case. He said he was able to use his Spanish to help others in the group negotiate for things they wanted to buy, too. This morning, in our hotel room, he is photographing each item for his website.
Jack has sourced some getting-started products, and he and his sister Kaitlin are working on building the site. What about fulfillment and customer service? That's where Dad and I come in. We're making this a family project. I'll keep you posted as we sort through the logistics and the challenges associated with setting up a small, web-based import-export enterprise.
***
Kathleen Peddicord's New Book "How To Buy Real Estate Overseas" Available Now Pre-Release!
Kathleen Peddicord's latest book, published by Wiley & Sons, hits bookstores April 8. Starting now, though, you can buy a copy pre-release and save 36% off the release price!
Go here now to place your order for Kathleen Peddicord's New Book "How To Buy Real Estate Overseas"!