The Medellin Effect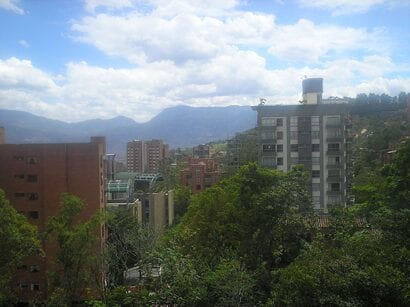 "Kathleen, my husband and I have fallen in love with this place. We're staying on through next week, and we're determined to find an apartment to buy before we go back home. We never expected to love it here as much as we do. I can't describe to our family back in the States what Medellin is really like…"
"Kathleen, this is a real city. I mean, I know you've been writing about how sophisticated and cultured Medellin is, but, I have to admit, I didn't really believe you. It's hard to understand until you're here and you see for yourself. This city isn't at all what I expected, even after reading your accounts of it. Your descriptions don't do it justice. But now I understand. It's hard to articulate just how nice it is here…"
"Kathleen, you can tell this place isn't your typical Latin American destination as soon as you arrive at the airport. Even the airport experience is pleasant and efficient. Then you drive down the mountain from the airport to the valley that is Medellin, and you're dumbfounded. How did this city exist all this time without anyone paying any attention to it?"…
These are comments e-mailed to us by readers who've taken our advice and gone to see for themselves what Medellin, Colombia, has to offer. They're all writing about what I've come to think of it as "The Medellin Effect." You can't properly describe it. You have to experience it for yourself.
Latin America Correspondent Lee Harrison and his wife Julie have spent the past 11-plus years as perpetual travelers in Latin America. They moved, nearly a dozen years ago, from the United States, first to Ecuador, then to Uruguay, then to Brazil, and, then, last year, to Medellin, to live in Colombia.
As Lee explains, "Medellin may be the pinnacle of our evolving retire overseas experience. I think this may be our last stop. Based on my years of experience living and traveling around both Central and South America, it's hard to imagine somewhere better than here."
We're focused this week on all that's on offer in Colombia, specifically Medellin, as we're now taking reservations for our next Live and Invest in Colombia Conference, taking place in Medellin in May.
The starting point for any discussion to do with Medellin is this:
Pablo Escobar is dead.
For decades, yes, this city was a drug-cartel capital. Pablo Escobar, the billionaire godfather of the Medellin drug trade, and his drug goons reigned over Medellin, terrifying this good city's other citizens. But that's all history.
The drug and gang culture exists here still, but Pablo Escobar was shot and killed in 1993 by Colombian security forces. Colombia has made dealing with its drug-related problems a priority ever since and seems to be having much greater success curtailing the associated violence than other countries (Mexico, for example). A piece from a reporter for the Los Angeles Times gives some good perspective on this.
Lief and I discovered Medellin about three years ago and have been back a couple of dozen times since. Every time we return, we're struck again by the stark contrast between the idea of this city that the world, especially the average American, carries…and the reality on the ground.
The reality on the ground is businesspeople dressed smartly coming and going from their offices…women shopping, running errands…children riding bicycles and roller blading in the parks…couples wandering from restaurant to bar to nightclub…
The reality is that Medellin is a peaceful, tranquil, beautiful, welcoming place.
Most of the world has no idea of all this, though. Thanks to their long-standing reputations as danger spots, Colombia in general and Medellin in particular have been off the world's radar as retirement or investment destinations. This has left the local real estate market to the locals. The result is that property prices are a tremendous value on a global scale. You can find livable older properties in excellent neighborhoods for less than US$1,000 a square meter. New properties are more expensive, currently selling for as much as US$2,000 a square meter, but, even at that valuation, they are more than reasonably priced for the quality both of the construction and of the city where they're located. Compare Medellin pricing to US$2,500 and up for comparable apartments in comparable neighborhoods in Buenos Aires, for example.
As the stigma of the drug wars diminishes and more people visit Medellin to see the city for themselves, as more international businesses relocate to Medellin and as retirees discover all this city has to offer, real estate prices will move up.
Indeed, prices are up already about 20%, on average, from where they stood when we began drawing your attention to this city three years ago. The current average price to buy in Medellin is US$1,300 to US$1,400 per square meter, up from the average of even eight months ago but still a bargain on a global value scale…and current rental yield projections remain in the double digits.
Would Medellin be the place for you to think about spending your time or your money? As I remind you often, the only way to answer that question would be to come see the city for yourself. That's precisely what I'd like to invite you to do now. Come discover Medellin with us as your guides, so you can determine firsthand if the opportunities on offer in this city of parks and flowers are right for you…or not.
Over the coming few days, we're going to do something else to help you begin to make some determination as to whether you may want to retire, invest, or live in Colombia. We're going to compare Medellin, head to head, with other current top live, retire, and invest overseas destinations.
No place is perfect, and nothing is absolute. Like all things, retirement havens are relative. So we're going to help you consider Medellin relative to a few other places that might also be on your list.
Starting, tomorrow, with Cuenca…
Kathleen Peddicord
Continue Reading: Wheelchair And Disabled Access In Cuenca, Ecuador