How Monty Is Enjoying Two Free Weeks In Belize (You Could Do It, Too)
Monty visited Belize for the first time in 1995. He liked what he saw and is kicking himself today for not having invested in a piece of property in this country at that time.
But Monty's life was more complicated back then. He was married, he was working to support his family, and he was raising his children.
Today, 18 years later, Monty is single, and his kids have flown the nest. He's consulted his two dogs, and they're all for the idea of restarting life in Belize at this stage.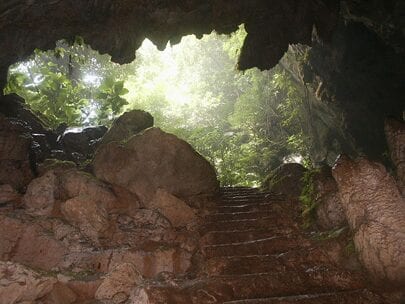 One thing that appealed greatly to Monty about Belize during that first visit years ago was how rugged and rural the country was. Belize is still rugged and rural, but today it also offers many more of the conveniences we take for granted and that most retirees considering international living don't want to give up.
Monty returned to Belize last week to see for himself the differences between Belize today and Belize of 18 years ago. He came to the country this time to participate in last week's Live and Invest in Belize Conference. In fact, though, I met Monty before the conference began, by accident. Monty and I both had appointments with the same dentist last Monday! Our dentist, Dr. Huesner, alternated between working on Monty's bridge and fitting me for a new crown.
At the conference later in the week, Monty explained that the major dental work he was having taken care of while in Belize was paying for his entire trip. Monty had done his homework. He'd found that the three bridges he needed would have cost him US$12,000 in the United States. Dr. Huesner did the work for only US$4,000, saving Monty US$8,000. That was enough to cover the cost of the conference and the two-week vacation in Belize, with money left over.
Monty is a special education teacher planning to retire in June. He grew up on a West Texas ranch, so he appreciates solitude and wide open spaces. He thinks he's going to find the lifestyle he's looking for in the Cayo District, in or around San Ignacio. When the conference concluded on Friday, that's where he headed.
Monty has a lot of experience building and remodeling homes, and he did a lot of research related to building in Belize before this trip. He has a grand scheme. He's going to buy a piece of land and then design a simple Mennonite house. Once that's built, he'll live in it and design a larger home. He'll supervise the construction of both homes and hopes to do much of the work himself. Once he moves into the larger home, he'll convert the small Mennonite house into a stained-glass studio.
Then he'll spend time pursuing his hobby, creating stained-glass art.
Sounds like a great plan to me.
Ann Kuffner
Live and Invest in Belize Conference Insider
Continue Reading: Real Life Stories Of Living And Retiring Overseas or Inflation And The Cost Of Living In Uruguay
Image source: Yourexhalekiss