Welcome To Oman, II
As promised last week, more from correspondent Paul Terhorst on the Arabian country Oman…and why this is a place you should pay attention to right now:
"Oman offers a lot to expats. There's some 1,700 kilometers of coastline, including pristine, white-sand beaches on the Arabian Sea.
"Here's a picture of the beach in Salalah, Oman's second city, in the south near the border with Yemen. The beach in the picture is smack in the city, not isolated at all, yet there's no one there. Omanis are far too shy to take off those robes and plunge in. There's loads of sunshine–all sun all the time. So, while the locals resist, you may want to escape to Salalah and enjoy some wet and cool during the summer monsoon season.
"Arabs from all over the Middle East vacation here in the summer, giving Salalah a more conservative feel than the capital city of Muscat. There's dollar-a-gallon gas. Cars and other imports seem cheap to me, probably because there's no or low value-added, excise, import, or similar taxes.
"Internal airfares, taxis, and buses take advantage of low fuel costs, so you can run around the country cheaply and easily.
"There's an obvious respect for women. First from traditional Omani culture, later from Islam, women enjoy an elevated status. You'll see other cultural differences, too. Just seeing a camel on the side of the road will bring a smile to your face–here's a picture.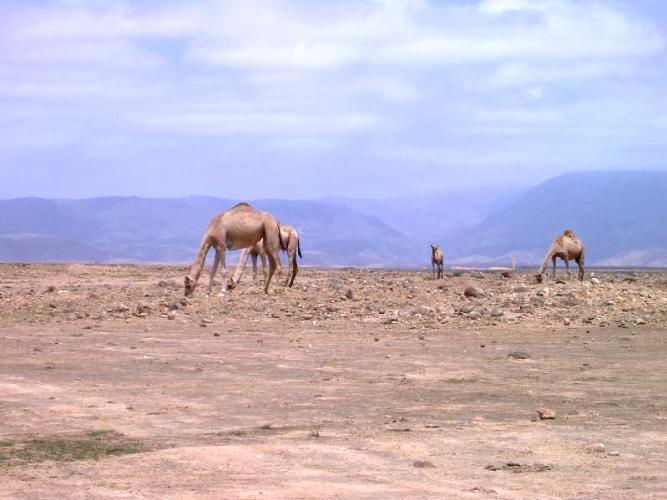 "Until Oman's 1970 renaissance, camels were the primary means of transport. There were no roads to speak of, so you couldn't get around by car even if you had a car, which you didn't.
"Here's one more picture, of a woman Vicki and I met on the coast west of Salalah. Vicki's the one with her eyes covered. This woman spoke good English, and we had a delightful time chatting with her and her husband. When it was time to go, I clumsily extended a hand to both husband and wife. That brought forth a chuckle. Men shake hands with each other, women with each other. A man will shake a Western woman's hand only if she makes the first move. Omanis laugh at the different norms, although in most cases they're way too polite to criticize or correct.
"A final reason to choose Oman: There's a chance to buy real estate. More about this below.
"Before we get to that, though, let's start at the beginning. To get a visa to Oman you simply jump on a plane. Unlike in many Arab countries, Canadians, Americans, and most Europeans are issued a visa on arrival. Visa on arrival makes Oman an ideal first-visit country in the Middle East. The visa costs about $15 if you have Omani currency or $20 if you need to exchange at the airport. The visa is good for 30 days, and you can renew for another 30 days. After 60 days, you can drive to the United Arab Emirates (UAE) next-door, return to Oman, and start the process again.
"The UAE also offers visas on arrival, and the drive up there is only a few hours. The upshot is that with just one quick trip to Dubai or elsewhere in the UAE, you get four months in Oman. After four months you might want a break from the Middle East; when you return the four months starts over.
"Omanis assured me that it's possible to get a three-month tourist visa at Omani consulates abroad, but I haven't been able to find anything on the government's tourist site, http://www.omantourism.gov.om. Check the site regularly, though…maybe this alternative will come up again.
"You have two options for a resident visa. First, you can be sponsored. Most sponsors are employers sponsoring employees. Universities and oil companies regularly sponsor foreign teachers and rig workers, for example. For details on a sponsored resident visa go to http://www.asinah.net/omanvisas.html.
"Your sponsor has to go through hoops to get you in, which means he'll have to be paid. Best bet: Come to Oman on a tourist visa and knock around a bit, looking for a sponsor.
"And remember, rules change here. The reference above and even the government's website on visas can be out of date.
"The second way to get a resident visa is to invest in the country–in real estate, for example. Oman makes it easy to buy real estate with its International Tourist Complexes (ITCs). Only Omanis can own real property, but ITCs are an exception. Buy a house or condo in one of the ITCs, and you get a resident visa to boot. Again, check the visa website above, along with more current information on the ground.
"The ITC I looked at outside the capital Muscat, under construction at the gorgeous Shangri-La Hotel, will consist of multi-million-dollar condos with spectacular ocean views. I'm told that other ITCs dotted around the country are far cheaper.
"Which brings me to my real point: I heard a rumor that a few of the ITCs are languishing. If the rumor proves true, here's your chance to get in. Buy an ITC at depressed prices now, at the beginning of the tourist development the government is counting on to sustain the country when the oil runs out.
"Most ITCs are being purchased by Europeans and rich Gulf Arabs. That's another reason to buy. It's a way to diversify out of the Americas. You'll join those who gain from high oil prices. That is, more money flowing to the Middle East means more demand for ITCs from Gulf Arabs.
"My advice: Act now. You'll be in on the ground floor of Oman's tourist boom. And you might still have a chance to buy an ITC cheap. You'll enjoy cultural differences, new ways of looking at the world, and women who chuckle when you offer a hand–all in good fun.
"And you'll be the only one on your block to have visited Oman.
"To get started, just buy a plane ticket."
Kathleen Peddicord