"'She thinks that you look very exotic,' our friend and guide, Pe, interpreted for us," writes new Correspondent Wendy Justice.
"Indeed, not many foreigners are ever seen in the rugged, northwestern mountains of Thailand, and we seem to attract a lot of friendly attention here in this little village named Huai Hom.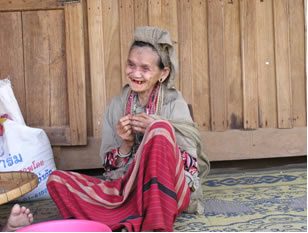 "The woman who is examining our light hair looks to be almost as ancient as the jungle around us, her nearly toothless mouth open, her lips and chin permanently stained carmine from decades of chewing the locally popular, mildly narcotic betel nuts. Her earlobes are elongated from the weight of heavy earrings, shoulders rounded from the years and the many beaded necklaces she wears to complement her homemade, multihued, and now threadbare dress. She blushes, childlike and bashful, and then shyly allows us to take her picture.
"Huai Hom is comprised almost entirely of wooden huts supported by stilts and emerges from the highland jungle approximately 20 miles from the bigger town of Mae Sariang. It differs from some of the nearby settlements, as almost every house here has electricity and many homes even have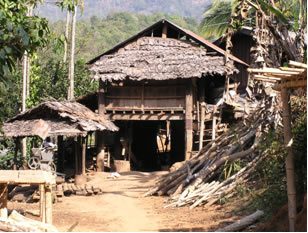 running water.
"The relative prosperity of this village is easy to understand. Every front yard contains a tarp filled with newly picked coffee beans, drying in the sunlight. Most homes have coffee mills, and the hills in the region, about 60 miles east of the Myanmar border, are dotted with small groves of coffee trees.
"Our hostess, an easy-going, middle-aged woman of the Karen ethnic group who speaks limited English, presents us with two steaming mugs of fresh coffee. The coffee beans grown here will eventually be sold to Starbucks.
"Our hostess disappears into another room, then reappears holding a glossy publication from the international coffee giant. She draws our attention to an elderly man sitting on her outside deck, dressed in colorful homespun clothing, who graces us with a quiet smile. He is pictured in this magazine,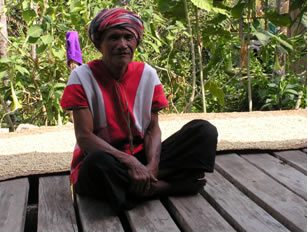 holding a mug of Starbucks coffee. He proudly points to the photograph, then points to himself. We give him a thumbs-up sign, and he gives us a huge grin.
"Nearby, a woman holds a large, woven basket on her lap filled with coffee beans, gently sorting them by hand, as they dry in the tropical sun.
"Driving back from this little village, on a well-graded dirt road, we take a short detour to another small settlement named Huai Ha. People, reclining on the porches of their stilted homes, give us friendly waves as we drive by them, obviously surprised to see foreigners passing through their village.
"We see few signs of modern life here–few power lines, only one- or two-room houses scattered on either side of the dusty road, and very few vehicles. A communal water tap at one edge of town provides water for the residents. A few hundred feet later, we stop at the local primary school, a long wooden structure containing offices, four classrooms, and about 70 smiling children.
"The head teacher comes out to greet us and, working hard at it, manages to speak with us in English. She asks us if we would like to come here to teach the children. We explain that we cannot stay long enough for that, though looking around us at the dense jungle and extraordinary mountain scenery, we imagine that we could stay here forever.
"The woman asks us to wait a moment, enters the school, then re-emerges with all the children, who line up behind her to form an orderly row.
"'Hello! Pleased to meet you!' they recite in unison and then break into giggles.
"She asks the children if they would like to have an English teacher and gets an enthusiastic response.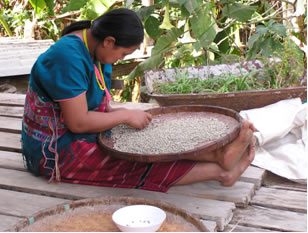 "'Maybe, sometime, you come back. We give you house. You teach children, maybe, yes?'
"It sounded tempting. Someday, perhaps, we will return to this friendly little village and accept their gentle invitation.
"We spent that night at a tiny monastery nestled on the upper slopes of a mountain. Our friend Pe's mother lives here, in this convent, along with two other Buddhist nuns and a couple of Buddhist monks.
"Seven children also call this place home, children of poor families who live so far back in the mountains that it is impossible for them to commute into town for school. The children stay here, where they can be taken to school by one of the nuns every day. They are shy around us, risking a brief smile before heading outside to play. The sound of their laughter is never far away in this peaceful spot.
"A small trail leads away from the monastery, and we follow it about 200 feet to the top of the mountain, where a statue of the Buddha gazes serenely out over a commanding view of many miles of distant hills. We feel at peace here, so far from the rest of the world, yet so much a part of it.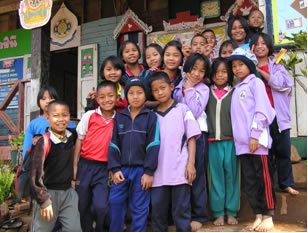 "Pe's mother calls to us that dinner is ready. A simple meal of vegetables, rice, and eggs is served, and she is relieved when we indicate that the food tastes delicious.
"After dinner, we go outside, where a small, smoky campfire is already in progress. The children and monks are gathered around the flames roasting taro root and starchy green bananas in the coals. We eat some of the potato-like taro, share stories and songs, and enjoy the star-filled sky.
"The sound of chanting wakes us up shortly after dawn. Breakfast is ready for us when we enter the monastery, a dish of rice and scrambled eggs along with more cups of hot coffee.
"It is hard to leave this place, and we give hugs to the children and thank the nuns and monks for their hospitality.
"The dirt road winds back through the mountains toward Mae Sariang. After about a half-hour, Pe stops the car, saying, 'Get out here…I have a surprise for you.'
"A walk of less than 10 minutes brings us to a little waterfall, cascading down from the mountain, the thick jungle canopy giving the area a dark, secret appearance. We take a moment to rest in the cool mist of the falls, enjoying the tranquility of the moment.
"Then, too soon, we are back in the car, heading back to Mae Sariang and the world beyond."
Kathleen Peddicord
"You mentioned yesterday, Kathleen, that Panama is imposing an election-day dry law this weekend," writes Correspondent Don Ellers.
"In fact, many Latin American countries impose dry laws before election days. I was in Nicaragua during an election once. The election was also on a Sunday, and no alcohol was sold from the Wednesday before until the Monday after.
"Of course, all this really meant was that the Nicaraguan licorerias (liquor stores) did a tremendously brisk business the Monday and Tuesday before the blue law kicked in. People were stockpiling for the rest of the week and weekend, so it's hard to say how effective the laws really are!"
"I'm interested in buying property in Panama, and I'm wondering if you could tell me more about rights of possession and title."
— Arthur D., United States
Resident global real estate investing expert Lief Simon replies:
"The important thing to understand about rights of possession property in Panama is that it is not title and it is not the 'same as title,' as real estate agents sometimes suggest.
"Rights of possession is just that–the right to possess the piece of property. That's not the same as holding title to the property…which is to say it's not the same as owning the property.
"You can use it. You can improve it. You can act as though the property is yours. But you're taking a risk that one day the guy who in fact holds the title reappears and wants his land back.
"Rights of possession property is common in the Bocas del Toro region of the country. You need to be careful when shopping in these islands. Verify title versus ROP before you make an offer. Even if you determine that you're comfortable with the ROP risks (I'm not in the Bocas region), you want to understand what you're buying before you decide how much you're willing to spend. ROP land is not worth as much as titled land…and you shouldn't pay as much for it.
"When someone tells you about a piece of property in Bocas for sale for a super great price, alarm bells should go off. These kinds of almost unbelievable deals are almost always ROP.
"Most of the property in Bocas is ROP…but Bocas is not the only part of Panama where you find rights of possession property. On the mainland, much of the farmland is ROP. Here, though, I take a different position, because I know from experience that it's possible in the case of farmland in the interior (on the Azuero Peninsula, for example) to have the property titled properly…to convert it from ROP to free-hold title.
"The difference is that, in the case of farmland, the owner often has the right to claim full title…he just hasn't done it because the process requires an attorney and costs money. The typical farmer can't afford the investment, and, for him, there's really no risk.
"The point is, if you find a piece of interior land that you're interested in buying but discover that the seller holds only rights of possession, work with an attorney experienced at the transfer process to find out if the farmer-owner has the documents you'd need to apply for title.
"Often, he does.
"Then offer to handle the titling process…and to pay for it. Here's the critical point: Do this work before closing (because you'll need the cooperation of the seller).
"In some parts of the country, it can make sense, in fact, to seek out ROP land. Once you've confirmed that the seller possesses all the documentation required to convert the ROP to title, make an offer. It can be possible to buy land for 50 cents on the dollar this way.
"One final note: The property registry in Panama is computerized and centralized, so your attorney can verify ownership information for you online if you get the finca number from the seller of any piece of property you're interested in buying. You want to confirm title or ROP yourself, and this is the way to do it. Never take the seller's (or the real estate agent's) word one way or the other."
P.S. Lief, with more than 12 years experience buying and selling investment real estate around the world, will be among the experts joining us for our How To Retire Overseas and Live & Invest in Panama conferences later this month.
Lief will detail current opportunities in Panama and explain where he's shopping right now and why (in Panama and beyond). Plus, he'll be happy to answer your real estate investment and ownership questions, about both where to put your money and (just as important) how to buy safely.
In fact, this is the best time in a long time to be buying real estate for investment. Lief will tell you more when you join him in Panama City May 12-16.