One Expat-Entrepreneur's Chocolate-Covered Adventures In Ecuador
Kathleen has invited a special guest writer for today's dispatch, an expat-entrepreneur named Jeff Stern who is living, raising his family, and running his business in Quito, Ecuador.
Jeff has a great adventure tale to share, which he does below…and which he will do, as well, in person, during our Live and Invest in Ecuador Conference taking place next month.
Owning and running a chocolate business can be a bittersweet experience. Owning and running a chocolate business in Ecuador definitely is both bitter and sweet.
I moved to Ecuador in 2007 with my wife Maria and our two kids, aged 9 months and 3 years at the time. For years we had been looking for another opportunity to relocate overseas, as both of us had worked in the international development field and spent numerous years living in various countries including South Africa and Nicaragua. That opportunity never came. We finally realized we'd have to create it for ourselves. We sold our house just before The Great Recession, packed up everything, and relocated to Quito, Ecuador.
After searching for market opportunities in Ecuador, both online and on-the-ground during numerous visits to Quito (Maria was born and raised here), we finally hit upon chocolate. I was an aspiring chocolatier and professional cook before we came to Ecuador, and we tested our sweets in Quito on several occasions, selling by word-of-mouth to friends and family. Our plan was to be the first high-end producer of sophisticated bonbons and other chocolate products for the local market. You can guess how that worked out. Life is what happens to you while you're making plans…the best-made plans of mice and men…etc.
For the kids, our time here in Ecuador has been wonderful. It's the first and foremost reason we stay. They are both fully bilingual and bicultural. And while they face many of the same issues children (and their parents) face everywhere, I do find they face less commercialism and enjoy more personal interaction than they might in the United States. They also get to watch their parents struggle with the challenges of doing business in Ecuador.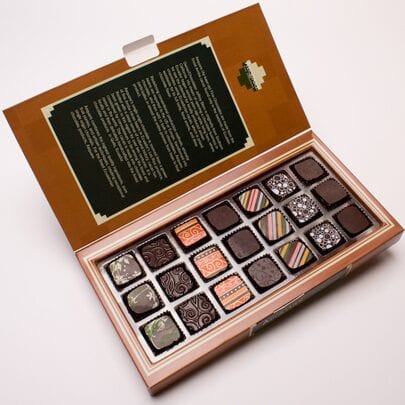 Our first year, we had high hopes with our "first-mover" advantage. We had little to no competition. We landed a few regular accounts and did a number of Christmas bazars and other events for publicity and sales. But we also found out all the challenges a small business in Ecuador can face…
Bureaucracy in the form of long lines. Arbitrary answers to our questions that seemed to depend on who you were talking to, what time of day it was, maybe the phase of the moon. Answers to the same questions that would differ radically from one person and one day to another person the next. Regulations that seemed to have no basis in any logic we could process.
Nonetheless, we persevered and pushed forward. Our business did not take off as fast as we had hoped, but we managed to pay our bills and our one employee.
I learned, only after some time here, that Ecuador is the world's largest producer of "fine aroma" cocoa (only 5% to 10% of the world's cocoa is considered fine aroma). This is the cocoa that goes into the chocolate industry for the world's best chocolates, pastries, and desserts. Banking on this advantage, I learned as much about and met as many people working in the industry as I could.
Fast forward five years. We are now fairly well known in Quito and somewhat in Guayaquil. A lot of tourists find us thanks to our dedicated blogging and the fact that travel bloggers, including Andrew Harper, have written us up very favorably. Making chocolate pays the bills but is only one of many income sources we've developed. Like any small business, we have diversified our activities and are always looking for new opportunities. I now know all the major and some minor players in the chocolate industry and where to go for advice, manufacturing, and anything else cocoa-related.
Having gained an in-depth knowledge of the chocolate industry, I not only run my chocolate workshop, but offer tours to cocoa-growing regions of the country to teach people about chocolate and its origins. I have partnered with both Ecole Chocolat, an online chocolate school, and The Gourmandise School, a culinary school in Santa Monica, to broaden our market and reach. I provide consulting and industry advice to both local and foreign companies wanting to source cocoa or chocolate products from Ecuador.
We're not sure we're staying in Ecuador indefinitely, but we've definitely made our mark here. Business ebbs and flows, but, after more than five years, we've established a hard-earned credibility and recognition that would be hard to leave behind. The journey hasn't been easy and nothing has worked out has planned, but isn't that the way life usually works? It's been nothing but bittersweet.
Jeff Stern
Ecuador Expat and Entrepreneur
Gianduja Chocolates
Continue Reading: Live And Invest In Panama Conference
Image source: Destination Ecuador