Brazilmania
At Thanksgiving dinner at our home last night in Panama City, a friend caught me up on his recent trip to Brazil. He'd spent 10 days in Fortaleza trying to clear up issues related to a couple of apartments he'd bought there pre-construction.
Construction continues on his units, but the payments he'd been sending down weren't getting credited properly to his developer. It had something to do with buying property abroad in the name of a holding company but sending payments from his personal account. Because the names didn't match up, the bank wasn't crediting the payments as they were received.
After spending weeks trying to resolve the issue over the phone, my friend finally decided to get on a plane. A good excuse to check in on this market on the ground.
My friend's feedback following this most recent visit confirmed my original thoughts and concerns about investing in pre-construction real estate (and most any other kind of real estate) in Brazil, especially Fortaleza.
Promoters for this market are touting that their buildings (including where my friend has invested) are 90% sold. The reality, my friend discovered, is closer to 50%. More to the point, perhaps, the number of apartments being built is well beyond what the market (local or international) is going to be able to absorb.
The only reasonable play is straight-up oceanfront. If you aren't front-line beach, in the zone, you're probably going to be left holding the bag.
The big real estate push in this region has been rationalized, in part, by anticipation of crowds the 2014 World Cup and the 2016 Summer Olympics would bring. However, Fortaleza is 1 of 15 stadium sites for the World Cup, and the 2016 Summer Olympics will be hosted in Rio de Janeiro. In other words, neither of these events is likely to have any lasting impression on the real estate market in Fortaleza.
Sure, the beaches are big and white up and down the coast from Fortaleza for very long stretches, but that's the point. In this part of the world, there's no shortage of coast. Developers can (and have been) adding new condo inventory until the market has the sense to cry Uncle.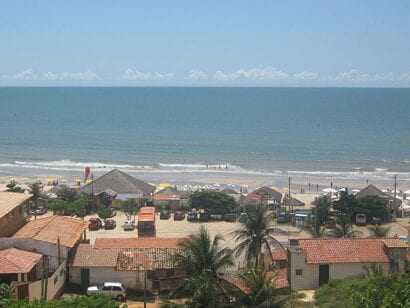 I hope that day is coming soon.
The main appeal for foreign investors in this market has been the payment terms. Promoters have packaged offerings whereby you could buy with as little as 1% down and payments of 1% a month. In some cases, that has amounted to monthly payments of as little as US$725 for pre-construction, fueling mass speculation. Condomania.
What most promoters haven't talked about is the currency risk. Committing to a long-term monthly payment program in a country with a currency that fluctuates widely against the currency in which your investment dollars is denominated is risky.
Say your investment funds are in U.S. dollars, and you locked in the real equivalent of a US$725 payment in 2008. The important thing to have understood at the time was that your payment 12 or 24 or 36 months later was likely not going to be the real equivalent of US$725. No one could tell you what it would be, because no one knew.
The real traded at 2.47 to the U.S. dollar two years ago. It is currently trading at 1.71 to US$1. That is, the dollar has lost 30% of its purchasing power against the real in two years. That US$725 payment is now US$1,050.
Of course, if you had paid cash for your real estate purchase in Brazil two years ago, your investment would have increased 30% in value in that time, even without any change in real estate prices. If you did that, congratulations.
If you bought on time, as the promoters were pushing you to do, you have my sympathies.
At this point, the real is probably due for a correction. The Big Mac Index shows that Brazil is home to the second most expensive hamburgers (in dollar terms) in the world, after Switzerland. The Economist magazine, which puts out the index, makes the case that the real is about 40% overvalued against the U.S. dollar right now.
All these factors–difficulties getting your money into Brazil (as my friend has been having); difficulties getting your money out of Brazil (as many investors I know have been having); the potential oversupply of new construction in the wake of speculation about the market effects of international sports events being planned for Brazil; the currency risk associated with long-term payment plans offered by developers and promoters–were too much for me from the start. I've been watching people pump this region for the past three years…and waiting for the bust.
What can you learn from all this?
First, check, double check, and then re-check the rules for moving money into and out of any country where you're considering purchasing property abroad. Someone from South Africa wrote recently asking for advice on how to get his money out of his own country. If he can't figure it out, it isn't likely that we are going to, working from a distance and without his firsthand experience of the market and how it functions.
People in the business of promoting real estate in Brazil will tell you it's not a problem. However, the reality is that none of the real estate investors I know who have bought in Brazil has been able to get his money easily back out of the country when he wanted to. Maybe that's one reason the currency is so strong.
It can be a good idea to buy a piece of real estate in a foreign currency with a mortgage if the purchase is a rental property and the local currency rent will cover your local currency mortgage. In this case, your short-term currency risk is mitigated.
However, you can't rent out an apartment that doesn't exist yet, which is why you need to be prepared for currency fluctuations when buying pre-construction. Construction time for condo towers is typically two to three years. Meantime, which way will the currency go? Nobody has any idea.
Finally, pay attention to inventory supply and demand. How much more of the same kind of product is going to be or could be built? If the potential exists for a dramatic increase in supply, buy only in the heart of the zone.
As I've mentioned, in the case of Fortaleza, anyone who invested frontline in the center of things should be ok. Anyone who bought back row or down the beach is likely going to find it hard to sell his condo. He'll be competing with all new inventory coming online.
Lief Simon