Retiring Grandly, On A Budget
According to our editors' careful calculations, you could retire well and comfortably right now for as little as $660 per month…in Ecuador.
What would your life be like? Our man on the ground, Mike Sager, tells you:
"I started looking for the 'perfect retirement haven' more than 15 years ago. My search took me all over Latin America and, finally, to Ecuador, where I've been living for three years.
"Why, after all that looking, did I choose Ecuador?
"First, this is a safe country, definitely one of the safest in the region.
"This is also a very family-oriented place. The people really care about one another and their children. I'm starting a new family here (my wife and I recently had a baby), and I feel good about that.
"Second big advantage to Ecuador is the health care, specifically the cost of both health care and medical insurance. Remember that the average yearly income is $3,000. If you're in good health and have no ongoing health concerns, I'd say you could forgo health insurance altogether in this country…that's how affordable medical care is.
"I had to go to a hospital emergency room a couple of years ago (because it was Sunday…not because it was a critical situation). I was suffering from chest and sinus infections. I was ushered in immediately and saw the doctor (not a nurse) right away. I was with him for more than a half-hour; he gave me a head-to-toe once-over to make sure there was nothing else going on. Then he gave me a prescription for the infection and sent me on my way.
"The bill? Are you ready for this? Remember, it was Sunday…in an ER. I had a half-hour consultation with the doctor and a prescription. The total cost was $25. The facility was super-clean and modern.
"Then there was my trip to the dentist when I chipped one tooth and lost half of another. I went to the dentist's office intending to make an appointment to come back another time, but the receptionist told me to 'Go sit in the chair.'
"I headed for the waiting room, and the woman said, 'Not those chairs…the chair.'
"I walked into a dentist's office and was seen on the spot. He repaired both teeth. I was with him for 45 minutes. He had an excellent chair-side manner and did great work.
"When the time came to pay, I was thinking a couple of hundred dollars at least, probably more. The bill was $45.
"Now here's the kicker. I went back to the States for my daughter's wedding, and, while I was there, I went to see my old dentist in Washington State to have my teeth cleaned. While he was working on my teeth, I asked him what he thought of the work I'd had done in Ecuador. His first comment was, 'What work?' He couldn't see what had been done…yet the dentist in Ecuador had reconstructed two teeth. I pointed to them, and my U.S. dentist said, 'You better stick with that guy. He does excellent work.'
"But perhaps the biggest advantage to Ecuador is that not only health care, but everything in this country is affordable…or downright cheap.
"I'm not talking about downsizing, minimizing, scraping by, and doing without. I'm talking about living well, maybe better than you've been living in some ways. And doing it very, very affordably.
"You can build a beautiful home here for $35 to $60 per square foot. So a modern and comfortable home of 3,500 square feet would cost $122,500 to $210,000 to build new…and to build with hardwoods, marble, and custom tile. Now imagine placing that big, beautiful home on a nice Pacific Ocean lot…
"How much for the lot? I know of some priced from $25,000 to $35,000. These are a minimum of a quarter-acre apiece.
"The coast is the big opportunity in this country right now. With more than 1,000 miles of undeveloped coastline, this country hides some of the world's best beachfront buys right now. You can buy on the beach for a fraction the cost in Costa Rica, Panama, and even Nicaragua. If cost of living is your primary concern, this is the country to be considering, especially if you have your heart set on living or retiring beachside.
"Where, specifically, might you look? I like Olon, where the beach is the safest and most 'user-friendly' in the country. The sandy bottom seems to go on forever as you wade out. The waves are perfect for body surfing, boogie boarding, and beginner surfers. There is no rip tide…just eight miles of incredible beach for romping in the surf.
"This area is popular among Ecuadorians, who visit with their families, as well as government officials and businessmen who own homes along the beach. As a result, the beach stays clean and, again, very safe.
"You could rent a home here for about $500 a month.
"Don't discount the country's interior, though. The Pan American Highway that divides the coast from the jungle passes through a number of stunning areas that I believe are going to see good growth in the not so distant future. Quito continues to develop, and its colonial district is full still of bargain renovation buys.
"This is the time to be looking at this country. You're getting in early. We're just at the start of our real estate appreciation cycle. Big American retailers are beginning to move, for example…while back in the States, they're making cutbacks.
"My best advice is, if you're thinking about Ecuador, come visit. This is the best time to travel for the lowest rates (we're in the off season, June through November). The trade-off is that there are more overcast days than sunny ones this time of year. However, from a trying-a-place-on-for-size point of view, that's a good thing. You want to see a place at its worst if you're considering committing to it."
Kathleen Peddicord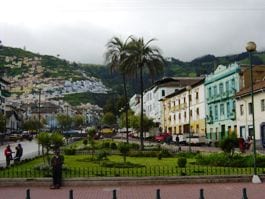 Quito
P.S. I promised you that you could enjoy the life Mike describes for as little as $660 a month. Take a look at our editors' careful budget for the details.
P.P.S. For more on living, retiring, and owning real estate in Ecuador, write to Ecuador@LiveandInvestOverseas.com.
***
Globe-trotting bon-vivant Paul Lewis checks in again today, this time from London:
"For visitors to this city this summer, the public transport picture could scarcely be worse. The city's outgoing Mayor, 'Red Ken' Livingston, put more busses on the street but also slowed the traffic lights, thus worsening congestion.
"Meanwhile, a constant stream of delays, breakdowns, and 'engineering works' reminds travelers that the city's subway system, The Underground, remains the world's longest, but also its oldest. And it is showing its age.
"However, Old Father Thames is coming to the rescue. A number of earlier attempts to organize a reliable river-based transport system across the city came and went. But since 2006, the American entrepreneur Philip Anschutz has been running a fleet of catamarans up and down the Thames and their success has sparked a revival in river transportation.
"This is hardly surprising. From medieval times until the 19th century, a barge on the Thames was the preferred way of getting around this town.
"These days, the Thames Clippers, as the catamarans are called, speed up and down the Thames between Millbank Millenium Pier beside the Tate Gallery and the QEII Pier several miles downstream close to the distinctive yellow Millennium Dome (down which James Bond slid in a recent adventure). It is now known as O2 , the chemical symbol for two atoms of oxygen, and is a popular performance site for pop singers and rock bands. Mr. Anschutz owns that site, which is why he is prepared to subsidize transport to it.
"Along the way, these Clippers zigzag across the river, stopping at lots of useful places where you can hop off, look around, and then hop back on board the next vessel 15 minutes later. After the Tate Gallery in Chelsea comes Westminster Pier by the Houses of Parliament and St. James' Park; then Waterloo Pier for the Ferris wheel known as the London Eye; Embankment Pier for Trafalgar Square and Covent Garden; Festival Pier for the National Theatre; Blackfriars for St Paul's Cathederal; Bankside Pier for Shakespeare's Globe Theatre and the Tate Modern, London's premier contemporary art gallery. Museum to museum on the water.
"Then downriver to London Bridge Pier for the museum battleship HMS Belfast and Southwark Cathedral (where John Harvard, the university's founder, was christened); on to the new financial center at Canary Wharf; across the Thames to Greenwich for Sir Christopher Wren's Royal Naval College and Royal Observatory; and, finally, O2 and lots of loud music.
"The boats seat around 200 passengers in comfortable glass-enclosed cabins offering excellent views of London from the unusual perspective of the middle of the river. An all-day roaming ticket is 8 pounds, and individual fares between particular stopping places are between 2 and 4 pounds. Most of the boats have on-board bars and Internet access.
"But a host of smaller ferry companies has sprung up alongside the Clippers, usually making fewer stops, perhaps to Greenwich, London Bridge, and Westminster. Many have open-air seating. Some broadcast unpleasantly loud and vulgar tourist commentaries. And some make day excursions quite far up the Thames to visit Hampton Court or down the river to the anti-flood barrier across the North Sea estuary. You can visit all the London sites, just as kings once did on their Royal Barges."
Comments